10 National International Mango Festival Day Celebration 2023
We all love mangoes. It is celebrated with love internationally.  Like every year, We celebrate the International Mango Festival Day celebration in Delhi and Kolkata, Bangalore, and foreign countries like Florida, Miami, etc.
It is the main fruit festival in India and other countries. The king of all tropical fruit and our national fruit – 'Mango' makes our hot summers hydrate and yummy; the mango festival celebrates the mouthwatering fruit and everything about it the mango.
Do you know that mango is the national fruit of three countries: India, Pakistan, and the Philippines? And mango tree is the national tree in Bangladesh.
National International Mango Festival Day Celebration
1. Delhi Indian International Mango Festival
The International Mango Festival It's a two-day festival held in Delhi at Dilli Haat, Pitampura. It is an excellent occasion for mango lovers and a great tropical fruit festival for fruit lovers. Over eleven hundred varieties of Mangoes are exhibited in this mango festival.
The "Vedas" and "Upanishads" say that the mango – the bright fruit- is considered a symbol of life. Therefore, the festival is conducted to promote the trading of fruit worldwide and promote tourism.
The mango festival is a massive platform for farmers from Uttar Pradesh, Bihar, Gujarat, West Bengal, and Delhi to interact with the consumers and the agents.
Vanue: Delhi at Dilli Haat
Delhi Mango Festival's main attractions
At the International Mango Festival, the main attraction is to taste various kinds of mangoes for free and remember the unforgettable experience.
Activities for Mango Day
The International Mango Festival celebrates many exciting events and activities for Mango Day, like mango eating completion, mango fruit games, quizzes, slogan writing, mango carving, mango judging, children's shows, dance performances, arts, crafts, mango tasting, and lots more.
Here, famous chefs have their stalls, and they share their recipes. The mango festival menu includes different kinds of mango-based sweet dishes, the main course, snakes, etc.
The mango food festival is equally famous among the local people and tourists. However, the mango festival in India is for breathing space or business purposes. Delhi government also sells mango plants in this mango fest, supports the mango trade, and enhances business from all around.
In The International Mango Festival, music is a unique concept. Therefore, many kinds of events are arranged, like several versions of folk songs on mango and mango folk performances.
Traditional mangoes like Langda, Chausa, Dasheri, Sindhuri, Alphonso, Totapari, Mallika, Rataul, Himsagar, Amrapali, Mumbai Green, Kesar, Fazli, and Banganpalli, etc. along with new hybrids are displayed.
In The mango fest, the organizer arranges many sales counters of processed and preserved mango items like mango juice, jam, jelly, chutney, pickles, aam papad, mango pulp, mango quiz, Aam Panna, etc.
Look at Jagannath Rath Yatra in India
2. Mango festival in Kolkata
"Amantran" is the Biggest Mango Festival in Kolkata, West Bengal. In Kolkata, the Mango festival is also known as mango Mahotsav or mango day celebration.
This mango festival in West Bengal is held in the city centre. The West Bengal Government Mahatma Gandhi Grameen Integrity Project and Panchayat and Rural Development Development West Bengal Panchayat organized this fair.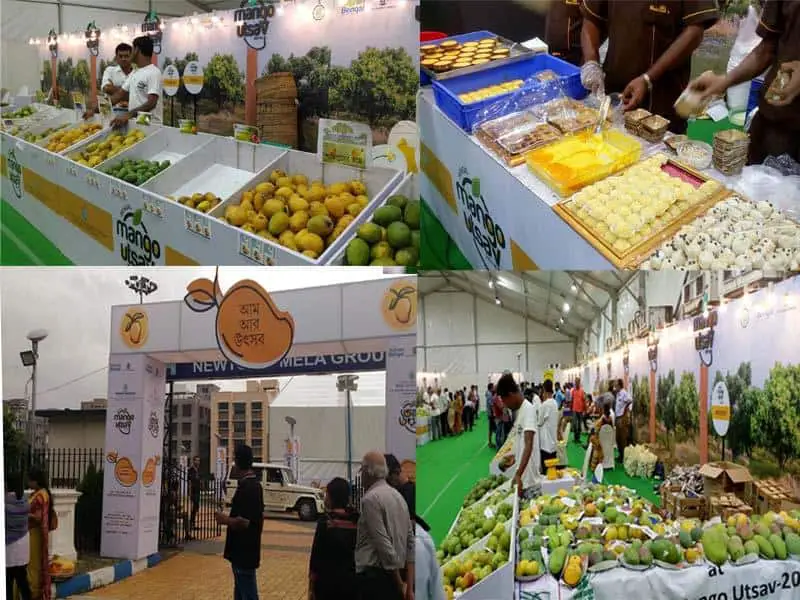 Mango Fair Kolkata programs
About 100 types of mango are found at this fair. Farmers from almost all the districts of West Bengal come to this mango Mahotsav. However, most of the mangoes of West Bengal are cultivated in Nadia, Malda, Bankura, Hugle, Murshidabad, and 24 Parganas, so the maximum variety of mangoes has come from this district. You can buy mangoes directly from the farmers at a reasonable price.
On this mango day, you can get lots of processed and preserved mango items like mango fucka, mango juice, aam chur, aam sukhno, mango jam, aam era char, mango jelly, aam er papad, aam er panna, aam er payesh, and lots more.
At this fair, the organizer also organizes the cooking competition and the recipes made with mango. Some renowned judge comes here to test and comment on those recipes. They also announce the best recipes get 1st, 2nd, and 3rd prizes.
The contestant made pomfret curry with mango, kancha amer porota, aam alur dam, aamsotto sondesh, mango twin roll, mango kofta malai, and more. The contestant is very happy to participate in this fair, and they said they would try their best next year.
Address: New Town Mela Grounds
Date: Not confirmed.
Mango festival in Kolkata with street children 
In addition to this mango festival in Kolkata, many other small mango festivals happen in this city. Among them, "Aloi Ferar Bondhu Street Child Lovers" is a local organization that celebrates the mango festival with street children of Nimtala Street.
This year, the organization arranged a mango festival at Nimtala Street with the street children.
Last year, many people bought mangoes to give to the children, and the organization distributes them to them to make them happy. So I think we have to appreciate this social work, which will give a slight smile on those little faces.
3. Mango festival in Ahmedabad
The Great Indian Mango Festival in Ahmedabad is famous for its exclusive and uncommon mango dishes. This year, the organizer's concept of The Great Indian Mango Festival Ahmedabad theme is 40+ unheard and never seen before mango dishes.
The venue: Vastrapur Amphitheater, Vastrapur Lake, Vastrapur, Ahmedabad.
Date: Not confirmed.
4. Mango Festival Bangalore
It is a famous festival in the hot summer.
The venue, Pavagada (150km from Bangalore)
Date: Not confirmed.
Activates and Included for Mango Day
Mangoes picking, climbing trees, dancing, listening to Mango Lores and Welcome drinks, Organic Lunch, Snacks, Dinner, Return gifts, etc.
5. International Mango Festival Florida
In South Florida, they grow the most juice and delicious mangoes in the world. It's the prime mango season in Florida, so they arranged a mango festival, and this is the second year of the mango festival.
This festival is offering you 40 types of local mangoes. You get different dishes to prepare with mango, mango recipe books, mango jewellery, etc.
The venue: 12th Street & Ocean Drive. Miami Beach, FL 33139.United States
Date: Not confirmed.
6. Fairchild Mango Festival
At the festival, you can enjoy lectures, cooking presentations, tips, annual events, kid's events, food combine, mango testing, buying mango directly from farmers, preparing mango gardens, etc.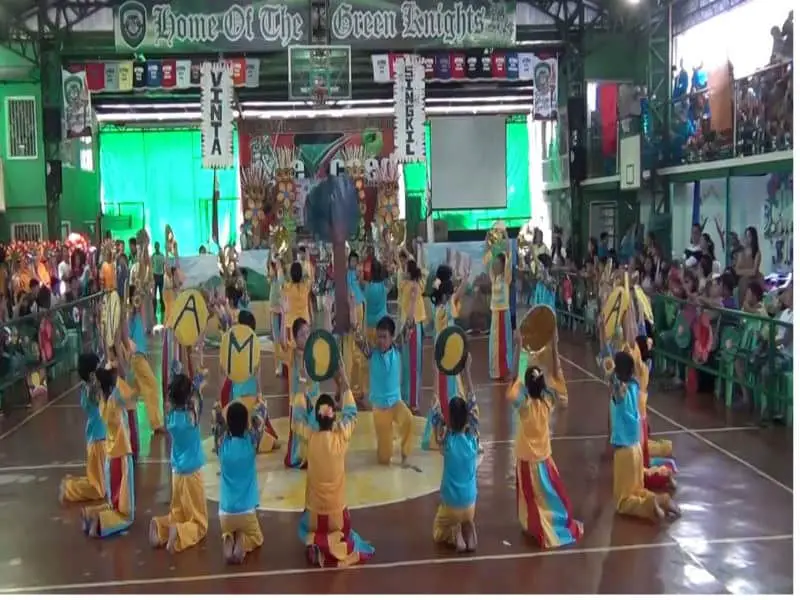 Fairchild Gardens Events
At the festival, you can enjoy lectures, cooking presentations, tips, annual events, kid's events, food combine, mango testing, buying mango direct from farmers, preparing mango gardens, etc.
Venue: Fairchild Tropical Botanic Garden
Date: Not confirmed.
7. Mango Festival the Philippines Zambales
In ZAMBALES, Philippines, the biggest mango festival is held in April. The festival first starts in the year 1999. The festival is famous all around the world. In 1995, the Guinness Book of World Records approved that the Zambales mangoes are the sweetest mango in the world. In the mango festival the locals and tourists celebrate this iconic festival with the Zambales Street Dancing Parade at the People's Park, Iba, Zambales.
So whenever you plan to travel in April, think about the Dinamulag mango festival, Philippines, Zambales.
 Mango Festival in Zambales events
The mango festival committee arranges many events like the Mango Eating Competition, Street Parades, Float competitions, Mango-themed Street dances, Trade Fairs, and other Shows.
The venue: Govic Hwy, Iba, Zambales, Philippines
Date: Not confirmed.
8. Mango Festival Guam
Guam, the district of Agat's mango festival, is this season's most entertaining festival. The local people and the visitors both enjoy this festival. This fair is being held for 11 years.
Mango Festival Guam attraction
Over 75 booths, contests, dancing, displays, demonstrations, drawing entertainment, food, fireworks, games, giveaways, music performances, rides, samplings, and many more.
The venue: Agat Mango Festival, Guam.
Date: Not confirmed.
9. Guimaras Mango Festival
During the summer of the Philippines, mangoes are its peak season, and mangoes are overflowed in the local market. Mangoes grow all over and anywhere in the Philippine islands. But Guimaras Island claims that they produce to be the world's sweetest mango.
This mango festival was arranged for Guimaras' 25th-anniversary celebrations. So the Guimaras organised a 12-day mango festival. This festival is widespread among tourists. Locals and visitors celebrate this festival both in Guimaras Island. Along with the mango festival, this beautiful atmosphere makes everyone's mind even more cheerful.
Mango Festival of Guimaras Island events
Sponsors and stakeholders' parade, street dancing competition, opening program, agri-trade and truism fair, photo contest, press conference, art exhibit, mango eat all you can, bike fest- a tour de Guimaras final leg, drama concert, painting concert, acoustic afternoon, social welfare day, Agri –eco day, cultural presentation, and live performers, etc.
The venue: Capitol Grounds, San Miguel, Jorddan, Guimaras.
Date: Not confirmed.
10. Mango Festival Miami
Since 1992, the mango festival has celebrated the colourful mango of Miami. You will get all of your favourite mangoes at this festival and enjoy your weekend and make it very delicious.
Mango Festival Miami events
In the mango festival, they arrange many events like various kinds of mango trees for sale, mango and other fruit markets, cooking competitions, lectures about cultivating, growing, and caring for mango trees, educational activities, craftsman's vendors, tasty food, and the world's biggest mango auction.
The venue: Fairchild Tropical Garden, 10901 Old Cutler Road, Miami, FL 33156
Date: Not confirmed.
History of the Mango Festival in India
The first International Mango Festival was held annually in Delhi in 1987. This festival is organized by
The Delhi Tourism and Govt. of NCT of Delhi.
The Agricultural and Processed Food Products Export Development Authority (APEDA).
The National Horticultural Board (NHB)
The New Delhi Municipal Council (NDMC).
The horticulture department of the West Bengal government.
The food processing industries of the state.
The Delhi Tourism and Transportation Development Corporation, etc.
It's held at Talkatora Stadium in Delhi.
Indian National Mango Day
India's national mango day is July 22.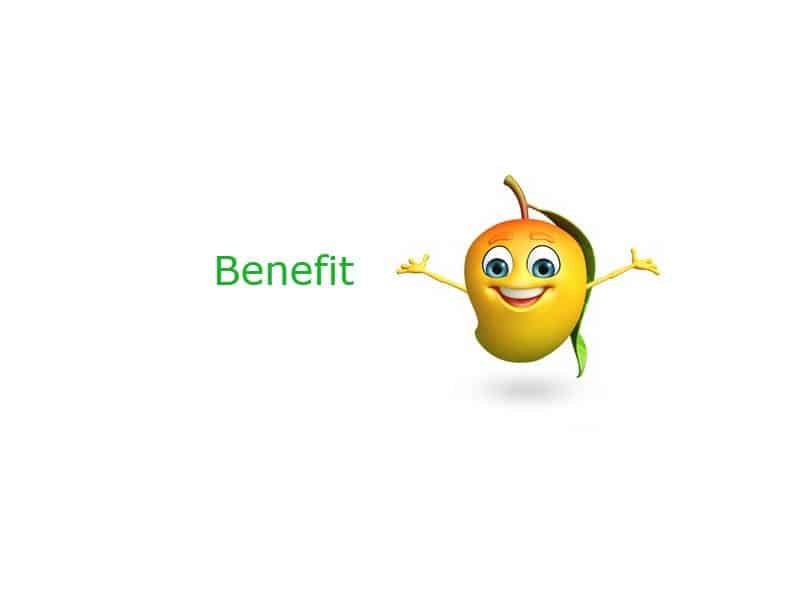 Interesting facts about mangoes
India cultivates

around 1,000

kinds of mangoes, and all over the world, 1365 varieties of mangoes are grown.

Mango is the national fruit of India, Pakistan, and the Philippines.

India is the largest country in mango production. But India exports only one present mango in the international market because Indians

consumed 99 present mangoes.
Excessive sweating in the summer is very harmful because of excessive sodium chloride and iron loss. Raw mango juice protects our bodies from that.
Dry Mango Powder is called 'amchur powder. ' It is highly beneficial in scarve treatment (Vitamin C deficiency).
Eating raw mangoes with salt protects the body from excessive harmful water and eliminates body thirst. In addition, it protects us from the adverse effects of very high temperatures.
Raw mango is a rich source of pectin; Treating Gastrointestinal Disease is very beneficial by mixing raw mango, honey, and salt. It is considered very effective for summer diarrhoea, dandruff, piles, chronic cough, indigestion, and constipation diseases.
The high vitamin C properties of raw mango increase the elasticity of blood vessels and help form new blood cells. It boosts the body's immunity against tuberculosis, leukaemia, cholera, and diarrhoea.
Raw mango, Sugar, cumin, and a pinch of salt mix them all and drink this juice in summer. It helps prevent acne and protects from the summer's stroke risk.
The mango helps us treat liver disease, looks after the liver from bacterial infections, and reduces bile acids.
Raw mango has antioxidants and vitamin C. This antioxidant looks after the body by fighting against cancer and cardiovascular disease.
It works as a helpful tool for morning sickness treatment.
Raw Mango is a rich source of Vitamin C, and it enhances immunity and helps fight against the disease.
Tartaric, malic, and

citric acid helps keep alcohol in the body by cleaning the strained mango blood.

Mango Herbal Benefits – Mango cures many complex diseases, including skin cancer.
Which country has the sweetest mangoes?
India's mango is very famous worldwide. But the Philippine Carabao mango is the world's sweetest mango.
Which variety of mango is best?
Alphonso or Hapus mango is the best variety of mango in the world. Mainly found in Portugal/ Western India.
What is the meaning of the Mango Festival?
DTTDC holds this festival for two days every summer in Delhi. The main reason is to show mango lovers varieties of mango. Also, this festival is celebrated in Kolkata/ Chandigarh/ Lucknow, etc.
Email Us to Enlist Your Business Here.. We Need 5 Second More From You To Share this On Your nearby Circle.