Top 14 Jagannath Rath Yatra Festival Celebrations 2023
Do you want to be part of the Rath Jatra? I share the top Rath Yatra details in India and other countries organised annually. It is a Hindu festival associated with Lord Jagannath and one of the most famous festivals in India.
The main carnival is performed in Odisha. Other countries like New York, Japan, London, Prague, South Africa, etc. celebrate Jagannath rath yatra with love.
The "Sidha Rath" procession starts on 20 June 2023, and the "Ulta Rath" date is 28 June 2023 in many places in India like Kolkata, Orissa, etc.
Top 14 Jagannath Rath Yatra
1. Puri Shri Jagannath Rath Yatra – The cart festival
Every year, Puri celebrates the Rath Yatra/ Bahuda Tour on the 'Shukla Tithi' of the Bengali month of "Asar", and in June, celebrate it in Puri. This year, on 20th June, Shri Jagannath will celebrate in the Puri Rath Yatra / Bahuda tour.
Well decorated and colourful designed, these chariots look like a temple. In the same street, they travel one by one; they call the place Baddand. Gundicha Temple (Masir bari) is 2 Km from the main Jagannath temple, where this chariot begins.
On regular days, only Hindus are allowed to enter the Jagannath temple. People from every caste and other countries see the Lord on the only festive day. Entire world devotees and pilgrims become part of the chariot festival. The prime wishes of the pilgrims are to touch and pull the rope of the holy chariot.
During this chariot journey, there is so much crowd that anyone can even know. But, even so, people reach the rope regardless of their lives and find themselves happy.
With the three chariots of Shri Jagannath Rath Yatra, they make the three chariots for Jagannath, Balram, and Subhadra every new year. These three chariots were decorated uniquely with bright red and yellow, blue, and black flags. The decoration is done on the temple's east side's main gate (the Lenghar).
Related Rabindra Jayanti | 25th Baisakh | Rabindranath Tagore
Description of 3 chariots of Rath Yatra
Nandighosa Rath 
Nandighosa Rath is the name of Lord Jagannath's chariot, and it is also called caricature and Kaplagwaza. In this, Madan Mohan is given to God.
Clothing colour – Red and Yellow colour

Rakhwala – Garuda

Name of Sarathi – Baru

Flag (flag) – trilokyamohini

Horses – Shankha, Balahankha, Suwayta, Haridas

Rope – Shankhachuda Naguni

Chairing of nine deities – Varah, Gobardhan, Krishna (Gopi Krishna), Nursingha, Ram, Narayana, Thikrikrama, Hanuman, Rudra
Talwjaja rath
The name of Lord Balabhadra's chariot is called Talvwaja, Nangalwaja.
Total wheel-14

Clothing colours – red, blue-green cloth

Rakhwala – Basudev

Name of Sarathi – Matalee

Flag (flag) – Avadhani

Horses – Tribur, Ghorra, Dargasharma, Swarnavan

Rope – Basuki Naga

Chairmen of nine deities – Ganesh, Kartikeya, Saramangala, Prahlembari, Hatayudha, Girirajay, Natwar, Mukteshwar, Sheeshdeva
Darpadalana rath
Subhadra Devi's chariot mane is Dharadalna, Devadhan, and Padmavaj. In the chariot, goddess Subhadra gives goodness.
Total wheel-12

Clothing colour – red, black colour

Rakhawala – Jaidurga

The name of the surname – Arjun

Flag (flag) – Nadambika

Horses – Rocica, Mochica, Won, Aparajita

Rope – Golden Nuggets Naguni

Subhadra Devi is Surrounded by nine deities – Chandi, Chamunda, Ugrata, Vanadurga, Shulidurga, Varanhi, Shyamalkali, Mangla, and Vimala.
Duration of Jagannath Rath Yatra ceremony
Rath Yatra is celebrated for seven days in Puri. The ceremony starts from the temple by installing Lord Jagannath, Balabhadra, and Subhadra on the chariot.
It continued till the day of his return, and after one week, the statues were restored and reposed in the temple. Puja Archana and Hari Sankirtan continued in this period. Brahmin and beggars are fed up, and Downers donated clothes and food.
In the procession of Rath Yatra, there is an immense crowd of people on both sides of the road. Everyone wants to see the idol of god in the chariot and get blessings. Throughout the entire path, there are raining flowers on chariots.
Read When is Navroz Parsi New Year
Ending of Jagannath Rath Yatra
The Jagannath temple is one specimen of ancient architecture. Special police arrangements are being made to investigate accidents. Police officers stay on the spot to direct the police activities. It's a unique sample of ancient architecture. Special arrangements are made to control heavy crowds in Puri on this occasion.
Interesting Facts about the Puri Rath Yatra Festival
Rath Yatra is a very mythological festival, and we celebrate it in India and other world countries. This festival is especially famous in Dublin, New York, Toronto, and Laos.
"Poda Peetha" is one of this festival's main desserts, which is very famous.
Three gods, Jagannath, Balabhadra, and Subhadra, are decorated with 208 kg of gold.
During British rule, the celebration of Jagannath Rath Yatra was called Juggernaut because of its large and weighty chariots.
Every time the Rath Yatra was celebrated, it constantly rained.
Jagannath temple is the only temple in the world where the stupa or statue of the god is pulled out of the temple.
All three chariots are made entirely new every year during this Ratha yatra.
Read Daringbadi Tourist Places in Odisha
2. Baripada Rath Yatra Mayurbhanj
Baripada Rath Yatra, the 2nd most popular after Puri, is Dwitiya Srikshetra. In AD 1575, the first Rath Yatra was celebrated at Baripada. This Rath Yatra is famous because only women pulled the chariot of Devi Subhadra, and women first pulled the chariot on 1st International Women's Day in 1975.
Baripada has two temples dedicated to Lord Jagannath. The bigger one arranges three chariots to take the deities to Gundicha temple. Banthia Jagannath (dwarf god), the smaller temple, organizes one chariot to carry the deities. Only children pull the chariot at Banthia Jagannath Temple.
Thousands of people gather at Baripada to pull the chariots on Bada-danda (grand road). They decorate the chariots with pure cotton and chandua (a type of fabric).
Read Pandal of Durga Puja in Kolkata
3. ISCKON Rath Yatra in Kolkata and West Bengal
Kolkata's Rath Jatra Festival is the world's second-largest Rath Yatra festival. About 100 years ago, the most memorable monk from Calcutta, "Srila Prabhupada", organized the Rath Jatra festival in Kolkata when he was only six.
After 70 years, he again organized this festival in Calcutta in 1972. When the huge chariots carrying Lord Jagannath, Lord Baldev, and Subhadra Devi were drawn from the Radha Govinda temple in Kolkata. Beautifully arranged, the huge chariot and Lord Jagannath's idol were about 30 feet tall and perfectly replicated by Orissa's Jagannath Puri.
The chariot crosses Camac Street, Park Street, Chaurangi, Chittaranjan Avenue, and Mahatma Gandhi Road. Finally, the chariot arrives at the Radha Govinda Temple at Thakurbari of the Mallik family. People are on the road to see a glimpse of this glorious event.
At the end of the 5-hour journey, reach the house at 7 am, Mallik's Thakurbari. The Lord was garlanded, and the women offered fruit and sweets to the Lord on the Silver Plate. Thus, the Rath Yatra festival was celebrated for seven days in Mallik's Thakurbari.
Kolkata Ratha Yatra Route
After the procession starts from Albert Road, Minto Park – Sarat Bose Road – Hazra – Exide more – and finishes in Brigade Parade Ground. A "Mela" will be held on Brigade Parade Ground for seven days.
The Ulta rath starts from Brigade Parade ground and covers Esplanade – Lelin Sarani – C.I.T. Road Shakespear Sarani – Hungerford Street – Minto Park. Contact – 03340403300
Note:- In West Bengal and Kolkata, regional fairs are held in every locality during this festival. Some of the most widely known Ratha Yatra in West Bengal are:-
Iskcon Kolkata Rath Yatra or Rashbehari Ratha Yatra 
Iskcon Mayapur rath yatra
Mahesh Ratha Yatra in Hooghly District 
Mahishadal Ratha Yatra in East Midnapore District 
Guptipara Ratha Yatra
Rajbalhat Ratha Yatra
Kolkata Ratha Yatra Dates 2023 (Sidha and Ulta Rath)
The "Sidha Rath" procession starts on 20 June 2023, and the "Ulta Rath" date is 28 June 2023.
4. Ratha yatra in Mayapur Iskcon
The Mayapur Iskcon devotees celebrate Jagannath Rath Jatra on Gaura Purnima. Here, the idol of Lord Jagannath, Baldev, and Subhash will sit in the three chariots. The chariots took a massive procession from the Iskcon Jagannath Rajapur to the Chandradaya temple at Mayapur.
The most promising feature of the Mayapur Rath Yatra is that equality and integration become symbols because people from different communities participate enthusiastically. It has been a practice for several years in Mayapur; there is no caste, religion, or community segregation, and many people join in this Ratha Yatra.
The preparation and planning of the festival begin on the day of the Akshaya Tritiya. Since then, over 100 devotees have spent the night and the day working extremely hard for the Ratha Yatra festival. Therefore, the inauguration of the festival will start in the morning.
The devotees will be decorated with the chariot with colourful flowers, necklaces, flags, lamps, etc. Then, in the afternoon, the students of the Gurukula chanted the Vedic Mantra, and they carried the idol and placed them in their respective cars – Taladwaja of Lord Baladeva, Devadanala of Subhadra Devi, and Nandighosa of Lord Jagannath.
How to reach Mayapur rath yatra
Reach Mayapur By train from Howrah or Sealdah station to Krishnanagar and then take a bus or book an auto/toto.
From Howrah railway station
Take Intercity Express, around 3:15 pm from Howrah. It reaches Nabadwip Dham at around 5:15 pm. The second option is to get a local train, Howrah, which passes through Nabadwip Dham. It takes about 3 hours to reach Nabadwip.
From Nabadwip Dham station, take a rickshaw to Mayapur Ghat, cross the Ganga River and reach Hular Ghat at Mayapur. Take a rickshaw to come to ISKCON's Mayapur Chandrodaya Mandir.
But getting down at Bishnupriya Halt Station, nearer to Mayapur Ghat, is better.
From Sealdah station
Take Krishnanagar or Katwa local and get down to the Krishnanagar Jn station. Reaching Krishnanagar by express train takes about two hours; on the local train, it will take two-and-a-half hours.
You can also take Katwa local and get to the Nabadwip Dham station. Then, by rickshaw, reach the Mayapur ferry ghat, cross the river, and take another rickshaw to the ISKCON's Mayapur Chandrodaya Mandir.
From Krishnanagar
From Krisnanagar, you can catch a rickshaw to the bus terminal and take a bus to ISKCON Mayapur. Or, you can get into an auto to go to Mayapur Ghat in Swarup Ganj or get on a boat to cross over the Jalangi River to reach Hular Ghat at Mayapur. Then, take a rickshaw to come to ISKCON Mayapur.
Reach Mayapur By bus
Iskon Kolkata branch provides A.C. and non-AC bus services. It runs thrice on Fridays, Saturdays and Sundays weekly and takes tourists from the Kolkata ISKCON temple to Sri Mayapur.
For more info – 033 64588777, 033 32488041, or +91-3330-289258.
Iskcon Kolkata Center also provides cars for hire, 033 64588777.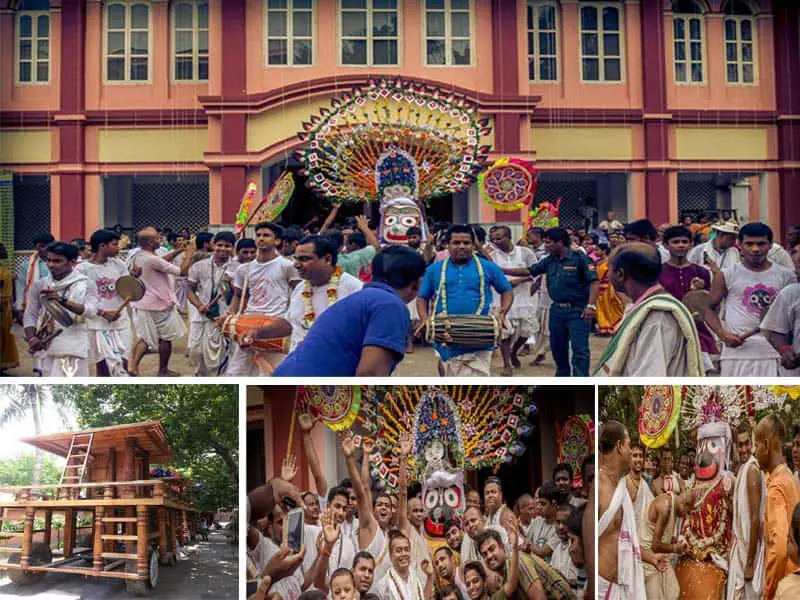 5. Mahesh Ratha Yatra in Hooghly District
Mahesh is today's main centre of the Jagannath shrine and India's second oldest, "Rath Jatra", or the festive home after puri. It's the oldest chariot festival in Bengal. Devotes take the chariot to the Lord's garden house towards the north of the Mahesh and return it to its original place after eight days. A huge fair is held on this occasion. Since 1397, the chariot has been constantly renovated every year.
Mahesh's Rath Jatra was completed 623 years this year on July 01. There is a mention of the Rath Yatra in Bankim Chandra's 'Radharani' story, and Chaitanyadev himself came here to the chariot festival.
Organizers of Jagannath Mandir organized this event. Four hundred years after the festival began, in 1797, the grandfather of Balram Basu, the famous disciple of Sri Ramkrishna Dev, donated a chariot to Sri Krishna Naram Basu temple. In 1835, his son Guruparup Basu renewed the chariot. But a fire destroyed this chariot.
Kali Chand Bose created another chariot in 1825, but it was abandoned when someone committed suicide. Bishamma Basu made another chariot in 1857, but it was also burnt.
Dewan Krishna Chandra Bose of Martin Burn Company probably donates the current chariot. It is still alive because it's made with iron. It is 45 feet long and is built in the traditional "non-nominal" style of Bengal. The 45-foot chariot has ten wheels and nine turrets. A big fair is set up during the festival and continues for one month.
Read Best Jagadhatri Puja pandal in Chandannagar
How to reach Mahesh Ratha Yatra in Hooghly District
Train from Howrah to Sreerampur and take an auto to Mahesh. Then, by car, take the G.T. Road to Mahesh.
Time: Mahesh Rath Yatra starts at about 3 pm.
6. Mahishadal Ratha Yatra in East Midnapore District
Mahishadal in East Midnapore is famous for the chariot festival of West Bengal. The Mahisadal wooden chariot is the world's highest Rath (chariot), and the wooden Rath's height is 75 feet. In 1766, the Mahisdal Rath Yatra was started by the Rani Janaki Devi. The chariot has changed several times, but its primary structure has been in the same position for the last 242 years.
The walls of the chariot are brightly painted and decorated with small statues. The vast chariot is on 36 wheels.
Mahishadal Rath Jatra started at around 3 am. But it is suitable to reach earlier because the vehicle road is closed for a few hours before. So, arrive as early as possible to get the opportunity to explore Mahishadal Rath Jatra.
Mahishadal Rath Jatra organized a "Mela" (Fair), where all kinds of accessories were sold. Local King Hariprasad Garg inaugurated Rotha Jatra. The queen (king) came to a palanquin to start the first tug in the chariot. Gunshots marked the opening and continued throughout the whole Ratha yatra.
Ratha is pulled by four thick ropes, one reserved for women. The chariot is pulled through a muddy and slippery land, and we believe it to be a miracle that the incident goes without a stamp. But, of course, the chariot puller has to follow some instructions.
The volunteer who stands high on the chariot with a red and green flag stops them at one point and pushes it, respectively. To celebrate the ceremony, Young people played with mud, threw dirt at each other, and played an active role in the chariot festival. The local volunteer and N.N.C. cadets with the India Rescue Clash monitored the entire program.
How to reach Mahishadal Ratha Yatra
By car Kolkata -> Mecheda -> Nandakumar -> Mahishadal.
By train Howrah -> Panskura -> Satish Samanta Halt.
Both distances are over 100 km and take around 3 hours.
Ratha Yatra Time
The Ratha Yatra begins at 3 pm.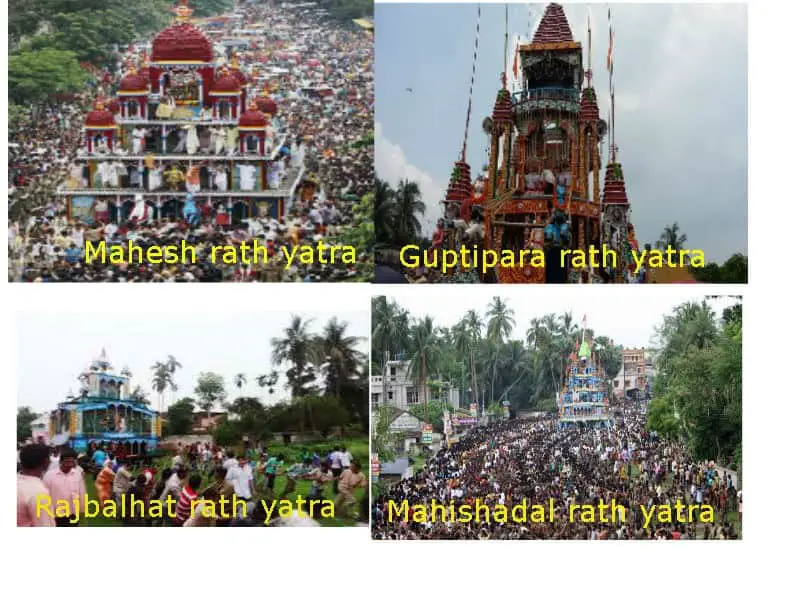 7. Guptipara Rath Yatra
Hooghly Zilla Guptipara (Prantik Station towards East Bardhaman District) Rath Yatra is one of the ancient rath yatras of West Bengal. Guptipara Rath Yatra is as old and famous as Puri, Mahesh, and Iskon. The first thing about Guptipara is that it has huge and colourful chariots. It is entirely a Vaishnav centre. Here, Rath Jayatra (Rath festival) is the major festival and prime attraction.
While seeing the Guptipara Rath Yatra, you can visit many ancient terracotta temples.
The famous temples of Guptipara
Brindaban Chandra Math and Mandir campus next to Jagannath Dev's house.
There are 7 temples
Brindaban Temple
Ram Chandra Mandi
Krishna Chandra Mandi
Chaityano Dev Temple

Desh Kali Bari

Banglar Prachinotomo (Oldest) Baroyari: Bindho Basini Jagadhatri Baroyari

Jagannath Dev of Masir bari (Auntie house)
(Among them, Brindaban Chandra and Krishna Chandra Mandir are the "Atchala" Temple and Ram Chandra Temple "Ak Chala", and those temples are made with terracotta work. Chaitanya Dev Mandir is the oldest ancient temple.)
How to reach Guptipara Rath Yatra
Boarding from Howrah railway station or Bandel railway Jn. and arrive at Guptipara station, which is just before the Ambika Kalna railway station.
You can also reach Guptipara from Santipur by crossing the river Ganga in the Nadia district. Feri or launch service is available here.
Santipur is well connected with Krishna Nagar station and Santipur station. Regular bus service is also available.
You can visit entire places in Guptipara by a toto within 3 to 4 hours. All the places like Guptipara, Ambika Kalna, and Mayapur are just a little distance away.
8. Rajbalhat Ratha Yatra
Rajbalhat Rath Jatra is famous for the other festivals in West Bengal. In Rajbalhat, the Radhakanta temple was built in 1733 at Gtatakpara. Ghatkapara Radhakanta Temple is renowned for the Rath Jatra.
There is a unique feature of Rajbalhat's chariot yatra. Here carry statues of Jagannath, Balaram, and Suvadra; they have Radha Krishna statues.
Now, Rath Jatra organized the Rajbalat School Committee, and a large fair was held on the school grounds. Fairs sell home decor items, and there is a great variety of mouthwatering food.
How to reach Rajbalhat Ratha Yatra
From Howrah railway station, take Tarakeswar local for Haripal, which will take one hour. After reaching Haripal, you can take a bus or trekker for Rajbalhat; it's a 30-minute journey.
Another option is to take a bus from Dharmatala Sahid Minar Bus Terminus and reach Rajbalhat directly. It will take around 2 hours.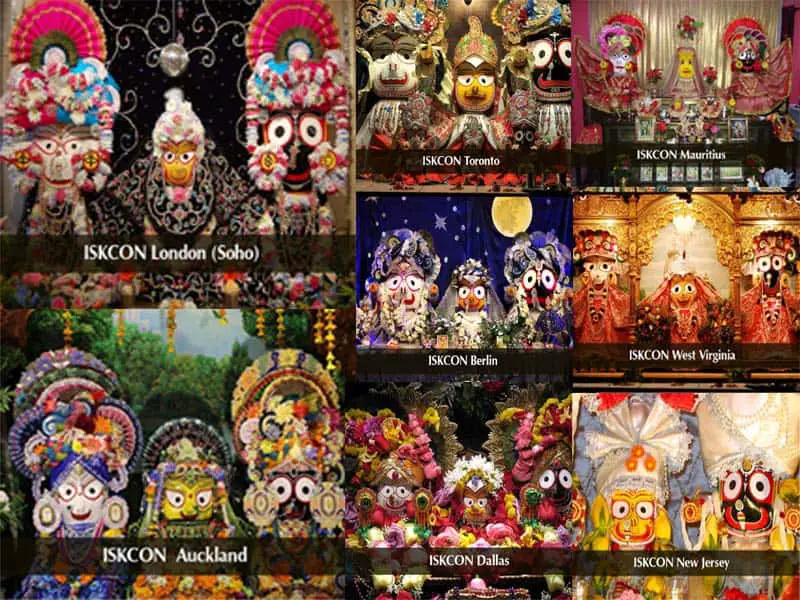 9. Keonjhar Rath Yatra
As per legends, King Laxminarayan Bhanj saw the location of the idol of Sri Baldev Jew in his dream. He went to the banks of Baitarani and found it. King Bhanj enshrined the idol on a huge rock in 1961. Years later, a temple was built there by Raja Gopal Sandha of Kujang. Rath Yatra has been celebrated in the area since then.
Keonjhar Temple is the oldest temple in Odisha. It's in the Old Town in Keonjhar city, and many small temples are inside. The temple is a famous pilgrimage place in Keonjhar. The Rath Yatra is popular because of its 72-foot-tall chariot of Lord Jagannath, even taller than that of Jagannath in Puri (45.6 feet).
Earlier, the tribal people conducted Jhinka Bibah (unique marriage) during Rath Yatra. While dancing, they selected their partner and put vermilion on their forehead. However, this tradition has become extinct now.
10. Rath Yatra (Ahmedabad)
Jagannath Temple Ahmedabad organizes the Rath Yatra every year. The third-largest Yatra is celebrated as Lokotsav (public festival). According to legend, Lord Jagannath appeared in the dreams of Mahant Narasimha Das Ji. After that, he celebrated Rath Yatra on every Ashadh-Sud-Bi (beginning of rainfall). The Khalas caste devotees build chariots from coconut trees.
The "Netrotsav ritual" (rituals of eyes) is performed two days before the Rath Yatra. It's a belief that the deities overeat "Jamun" (Indian, blackberry) and "Baur" (plum). Due to this, they suffer from conjunctivitis. Hence, their eyes are covered with cloth, and "Netrotsav Puja" is performed.
On Rath Yatra, "Mangal Aarti" is performed, and raths are carried out. The Chief Minister of Gujarat conducts the "Vidhi ritual" (cleaning the path for Yatra).
11. Durban, South Africa Rath Yatra
The Hare Krishna Movement started with a Rath Yatra in Durban. Sri Sri Radha Radhanath temple conducts this in Durban, South Africa.
The festival introduces Vedic traditions in Western countries. Chariots decked with Hindu gods are hauled into the city. Rath Yatra (chariot festival) symbolizes harmony and peace, and devotees believe that pulling the rope of chariots is honourable. Thousands of people gather and celebrate Rath Yatra in Durban together.
12. Prague, Czech Republic Rath Yatra
The Czech Republic will celebrate this traditional Indian festival on September 5th. The parade departs at noon from Republic Square to Prague centre streets. Organizers try to create a joyful atmosphere for all classes and ages, and their primary aim is to popularize Indian culture.
After the parade, other cultural events will run on stage from 15:00 to 20:00. Prague organizes Vedic exhibitions based on human existence and Vedic philosophies.
People can enjoy gluten-free and vegan snacks at the Damodara.CZ and Jamuna.CZ e-shop. They arranged a tent serving a vegetarian menu for all visitors for free.
GovindaButik.CZ e-shop offers spices, gifts, clothing, etc., from India. There will also be a corner for children and creative work. The BBT bookstand offers henna painting and talking to the monks.
13. New York Ratha Yatra
Since 1976, this annual Jagannath Rath Jatra festival has been celebrated by Hare Krishna fans in the heart of New York City.
On July 09 1967, San Francisco started the first "Rath yatra" outside India. The Rath Yatra was started by Bhaktivedanta Swami Prabhupada (founder of ISKCON). Today, the Ratha Yatra is celebrated worldwide in London, Paris, New York, Durban, Rome, etc.
The Rath Yatra Festival was held at Washington Square Park. You can enjoy free, delicious vegetarian food from the Hare Krishna devotees. You can also enjoy cultural events like Bharat-Natyam Dance, dramas, Hare Krishna Bhajans-Kirtans, and lots more at the festival.
New York Ratha Yatra Parade and Festival Information
The Rath Yatra starts approx. At 11. am.
The three chariots will move from 45th Street, Fifth Avenue, down (S.E. corner) to Washington Square Park.
14. Ratha yatra London
Rath Yatra is celebrated all over the world. Pilgrims and devotees organized a massive procession for the Ratha yatra. They made substantial wooden chariots for the Deities, which were pulled by hand.
After the procession, a beautiful celebration with a feast, tearing and chanting distribution of books, and more.
Schedule:
The procession begins: South Carriage Drive, noon from Hyde Park.
The parade ends 2 pm at Trafalgar Square.
Festive ends: 5 in Trafalgar Square.
Enjoy complimentary water and free vegetarian food when you visit Trafalgar Square.
Rath Yatra History
In the 12th century, King Chodagan Dev built the Jagannath Puri shrine using the Kalinga style of architecture. Rath Yatra is celebrated to honour Queen Gundicha's devotion. She was the wife of King Indradyumna, who consecrated Lord Jagannath in Puri. Lord Jagannath was pleased and promised to visit her palace (now Gundicha temple) yearly.
The celebration begins on the Dwitiya (second) day of Sukala Pakhya (moon's waxing cycle) in Ashadh month (Odia calendar's third month). Shri Jagannath Ji (tenth incarnation of Lord Vishnu), along with Balabhadra Ji (his brother) and Subhadra Ji (his sister), ride to their aunt's home in separate chariots.
Idols of the gods are removed from the main temple of Puri in a ceremonial procession and placed in their colourful chariots, drawn by thousands of devotees.
The chariots leave for Gundicha Temple (three kilometres from Puri). During its journey, the chariot of Lord Jagannath waits near Bhakta Salabega's (a Muslim devotee) cemetery to pay tribute.
On their way back, the chariots stop at Mausi Maa Temple (their aunt's home) for a while. There, they are offered Poda Pitha (a type of pancake), a favourite of Lord Jagannath. After seven days, the gods travel back and return to their home at Puri temple.
Rath Yatra significance
Rath Yatra is an important Hindu festival. It's celebrated by worshipping Lord Jagannath (the world's ruler), Balabhadra Ji (his brother), and Subhadra Ji (his sister). For the Yatra, three big wooden chariots are made from neem trees. The festival symbolizes unity, peace, and brotherhood. Devotees from every part of the country take part in the Yatra. They believe pulling the Lord's chariot will bring them good fortune, wealth, and pleasure.
The Yatra is important for a person who wants spiritual merit and liberation. It's a belief that pulling (or even touching) the rope of the chariot frees a person from several penances.
Rath Yatra rituals
Chhera Pamhara ritual
Ritual of pulling the chariots
Hera Panchami
Sandhya Darshan
Bahuda Yatra
Suna Besha
Adhara Pana
Niladri Bije
Chhera Pamhara ritual
Gajapati Maharaj performs the Chhera Pamhara ritual (chopping chariots with a golden broom). After boarding them in their chariots, the deities are decorated with "Malachula" and "Besha."
Maharaj is bought in a Tamjan (palanquin) from Shreenhara (king's palace). He offers camphor in a golden Diya (lamp) to the deities. Gajapati sweeps the chariot's floor with a golden broom and sprays sandal paste.
The ritual of pulling the chariots
After Chhera Pamhara, the chariots are tied to wooden idols of horses. The trumpets are blown, and sevakas beat gongs. Ratha Dahuk (jester) sings songs and motivates people to pull the chariots toward Gundicha Temple. Lord Jagannath, Lord Balabhardra, and Devi Subhadra are taken inside the temple by Daitapati (Brahmin priest). They are placed on their Simhasana (throne). All rituals similar to Srimandir (Jagannath temple, Puri) are performed in Gundicha Temple for seven days.
Hera Panchami
Hera Panchami is celebrated on the 6th day of Asadha Shukla (full moon). It's also called the "Goddess Lakshmi ritual." As per the legends, Goddess Lakshmi expresses her anger to Lord Jagannath. When Lord Jagannath, along with his siblings and Sudarsana (divine weapon), goes on an outing, leaving her behind.
Devi Lakshmi visits Gundicha temple as Subarna Mahalakshmi and threatens the Lord to return soon. To please her, Lord Jagannath offers "Agyan Mala '' (consent garland). On seeing the goddess angry, the main gates of Gundicha Temple are closed. Mahalakshmi returns to Srimandir through Nakachana gate. 
In another ritual, goddess Lakshmi hides behind a tamarind tree outside Gundicha. She orders her attendant to damage a part of the Lord's chariot. After that, Mahalakshmi escapes to the main temple through Hera Gohri Lane (secret path).
At first, this ritual was celebrated by chanting mantras. Raja Kapilendra, during his reign, made a golden idol of Goddess Lakshmi to make the ritual more realistic. 
Sandhya Darshan
Sandhya darshan means getting a glimpse of the deities during the evening. This ritual is performed before the Bahuda Yatra (return car festival). Seeing Lord Jagannath and his siblings in the evening gives unlimited bliss to the devotees. 
Bahuda Yatra
Bahuda Yatra is moving the chariot towards the south. On the Dashmi of Ashadh Shukla, "Dakshinabhimukhi Yatra" (journey towards the south) or Bahuda Yatra is celebrated. Rituals like " Senapatalagi", " Mangalarpana", "Bandapana", etc are performed.
The three chariots visit Mausi Maa Mandir (their aunt's home). There, they are offered Poda Pitha (a type of pancake). After that, the chariots of Balabhadra and Subhadra move forward and are stationed at Singhadwara. Nandighosha (Lord Jagannath's chariot) is stationed at Shreenahara. A palanquin carries Goddess Lakshmi to that place. Then, "Dahapati '' and "Lakshmi Narayan Bheta" rituals are performed there. 
Suna Besha
Suna Besha is the adornment of deities with gold ornaments. It's the last phase of the Gundicha Yatra. The ritual is performed on Shukla Ekadasi before the Lion's Gate. 
Adhara Pana
Adhara Pana is a special sweet drink offered to the deities. The drink is prepared by mixing cheese, milk, sugar, and spices. This ritual is performed on the Dwadashi (twelfth lunar day) of Ashadha Shukla. It's offered after the noon meal and is followed by Sodasha Upachara (16 forms of worship). 
Niladri Bije
Niladri Bije, the last phase of Sri Gundicha Yatra, falls on the 13th day of Ashadha Shukla. With his siblings, Lord Jagannath returns to the main temple in a ceremonial procession. He offers Rasgulla sweets to Goddess Lakshmi for entering the temple. The day marks the end of Rath Yatra.
Why is Jagannath Rath Yatra celebrated?
They celebrate this festival in the memory of Lord Jagannath, the ten incarnations of Vishnu. Fifteen days after his annual bath, they bring him out. Lord Jagannath was placed on a Rath or car with his elder brother Balabhadra and his sister Subhadra.
The holy chariot is ready to go to Jagannath's "Masir Bari". Here, Jagannath rests for a week. After that, devotees continue with their offerings to god for a week. After a week after Jagannath's return from his 'Masir bari', Balabhadra and sister Subhadra will return to their temple.
How is Odisha Ratha Jatra celebrated?
On this occasion, Lord Jagannath's statue is placed in a gorgeous chariot made of wood with 16 wheels. They have statues of his elder brother Balabhadra and sister Subhadra. The chariot passes through the major markets of Orissa city.
The chariot stands for a week on the banks of the Ganges. In the meantime, the devotees offer their prayers and provide various offerings. After one week, the resumption begins, and in the same way, they reproduce the idols and bring the chariot to the main temple. It's called 'ulto rath '.
How old is Rath Yatra?
Rath Yatra is more than 464 years old. It is mainly held in Puri, in July every year.
When did the Rath Yatra start?
Rath Yatra was started in the year 1968. Every religion of people takes part in this event.
Why do we celebrate the Rath Yatra?
Every year, we celebrate the rath yatra by praying to the god Jagannath-Balram-Subhadra. This festival is held for the journey of Lord Jagannath Dev to his aunt's house.
What number of years passed of Rath Yatra in Jagannath Puri?
Rath yatra was started approximately 464 years ago in Puri.
Which is the biggest Rath Yatra in the world?
The Puri Rath Yatra is the biggest in the world.
Email Us to Enlist Your Business Here.. We Need 5 Second More From You To Share this On Your nearby Circle.