Nabadwip Dham [Mayapur] Krishnanagar All You Need To Know
Nabadwip Dham & Mayapur Iskcon tour is one of the holy historical pilgrimage sites in West Bengal, and people come worldwide to visit here. Both places can cover in a single day from Kolkata, but I suggest you stay one night in Mayapur and be present in the Arati time. A heavenly feeling touches you at the moment. 
Nabadwip Dham [Mayapur] Krishnanagar
About Nabadwip Dham
In the past, the island had just begun to emerge from Ganga, and a dwelling place was built up. The rumour is nine islands raised from the sea, so it's called together 'Na Diyas' and after it's called Nadia. But it's a wrong theory. Nadia means new island (Natun dwip), the district headquarters in Krishnanagar. 
Direct buses and reserved Toto's from Krishnanagar come to Mayapur after crossing the river 'Jalangi', and you can reach Nadia Nabadwip. The bus journey is approx one hour. Frequently bus service is available.
Read Ambika Kalna
Nabadwip is situated on the banks of the river Bhagirathi and Janalgi. It's 120 km from Kolkata and 19 km from Krishna Nagar. The daily train is available from Howrah and Sealdah. Sri Chaitanya was born here in 1486. He developed the Vaishnava religion. This place is one of the main Hindu pilgrims in West Bengal, having 186 temples.
The "rash" is a trendy festival in Nabadwip. It's a Vaishnava festival, but deities like Durga, Kali and others are worshipped. Thousands of people take part in this festival. "Dol festival" is also celebrated with a grand gesture. Almost every house in Navadwip has a temple dedicated to Sri Chaitanya Mahaprabhu.
The main Nabadwip temple holds the golden statue of Sri Chaitanya, the most important shrine here.
Mayapur is one of the nine islands on the river Hoogly, and bus services connect it from Krisnanagar and Kolkata, and a ferry ride across the Bhagirathi River from Nabadwip. This place is the root of Vaishnavism.
Read Ayodhya Hills Purulia tour
Nabadwip Dham tourist attractions – 23 Places
Sri Keshavaji Gaudiya Math Nabadwip
Sri Chaitanya Saraswat Math
Sri Chaitanya Saraswat Math (Jal Mandir)
Sonar Mandir
Narahari Dham
Bharat Sevashram sangha Nabadwip
Narahari sri chaitanya seva mission (60 feet Chaitanya murti)
Nadia nodi ghat
Jagannath mishra house (birthplace of Chaitanya Mahaprabhu)
SRI SRI BALADEB JEW TEMPLE
Sri Krishna Chaitanya Seba mission (gupto Vrindaban)
Poramatala temple
Bhabatarini mandir
Ektil shiv mandir
Nityananda milan mandir
Gauranga mahaprabhu upanayanam
Buro shiv mandir
Birth place of Vishnu Priya devi
Harisava mandir
Sonar Gouranga Mandir
Sri Sri Samaj Bari Ashram
Manipur rajbari Nabadwip
Sri Saraswata Gaudiya Asana
Read Bolpur Santiniketan tour plan guide from Kolkata
Recommended hotels
Nabadwip Dham Mayapur tour- How we reach
We took the train from Sealdah station in the early morning, and it will take 2 hours to reach the Nabadwip station. Next, we took Riksha (Toto's are available now) from the station to visit all the spots, and the rickshaw dropped us at the Nabadwip Launch ghat. The rickshaw takes 500 rs for two hours.
We found a few hotels to stay in and ate at the ferry ghat. We finished our lunch and took a small ferry to cross the river for Mayapur' Hulor ghat '. It charges .50 paisa (now 3 rupees) per person. Government boats also run from the same ghat for 7 rupees to cross the river. The river has two colours (green and black). So we were very excited when we saw it. After, we reach Mayapur by a riksha car.
Nabadwip Dham Rash yatra
Go with Bakkhali Tour Guide and sightseeing
We visited Navadwip this year, and we travelled with Toto at that time. The Toto cost is 350 rupees to see all the places in Nabadwip Dham. And the ferry fare is 7 rupees for the govt steamer like the Kolkata Howrah ferry, and the local ferry is 4 rupees only.
Bus route to reach Mayapur from Kolkata
Route: E38 – Kolkata to Mayapur,
Via – Dharmatala, Ultodanga, Airport, Barasat Colony Mor, Amdanga, Jaguli, Kalyani Mor, Ranaghat, Krishnanagar.
Departs Kolkata (Dharamtala) – 6:15 am
Leave Mayapur ISKCON – 3:30 PM
Ticket Price – 108 Rupees.
Visit Mayapur Iskcon from Nabadwip
After reaching Sri Mayapur, there are many hotels near Mayapur. You can get Iskcon accommodation with vegetarian food inside the temple. So it's better to contact them earlier to stay in Mayapur. You can get a room in Mayapur Nityananda Kutir for rupees 150 only.
Read Mayapur Iskcon temple room booking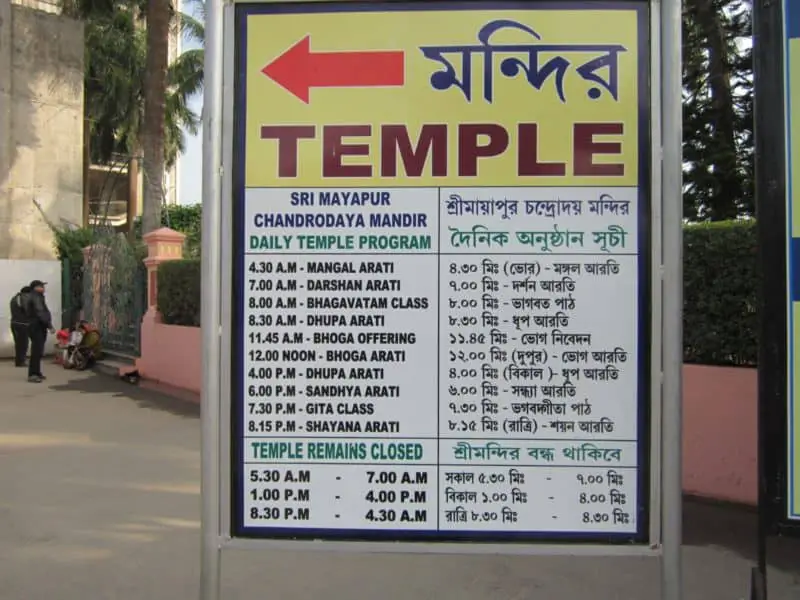 Read more How to reach Gangasagar Mela from Kolkata
Mayapur Tourist Place
Mayapur is the headquarters of ISKON, and this society took first place in spreading Vaishnism into the world. Iskon stands for "International Society for Krishna Consciousness". Iskcon' Chandrodaya temple' in Mayapur is the main attraction of the entire ISKCON tour, and Arati is a unique attraction in Mayapur.
Iskcon Chandrodaya temple Mayapur is also known as Mayapur Krishna mandir, Gouria math, Sri Chaitanya temple, Bhakti Saran math, Gosala etc, Mayapur new mandir is just created. It will complete very soon
Iskcon Mayapur lunch price
The prasad starts from rupees 30, and the Rajbhog prasad price is 120 rupees. You can do lunch at Govinda restaurant ISKCON. The Veg thali price is 200 rupees; it has ten types of items.
Mayapur accommodation booking
The Iskcon also has numerous arrangements to stay over in four houses: Sankha, Chakra, Gada, and Padma. Sankha is for VIPs, Padma's for the life member, Chadra- is ordinary and Gada- is for the Dormitory system. They also have Dharmashala's. The Janata Prasad is also available in the afternoon to the right of the gate.
As it's a Hindu religious place, please note that shoes and cameras are not allowed in the inner zone. There is a Gosala with lots of cows, and the area is vast.
Mayapur Hare Krishna aarti timings (Sri Mayapur Chandrodaya Mandir)
04:30 am – Mangal arati, 7:30 am- Darshan arati, 8:00 am- Bhagabat Gita Path, noon -Bhog arati, 4:00 pm- Dhoop arati, 6:30 pm- Sandha Arati, 7:30 pm – Bhagabat Gita Path again, 8:30 pm- sandhya arati continued.
Mayapur Iskcon Kirtan
In Sri Mayapur, many foreigners are chanting Hare Krishna kirtan, they also stay there, and it happens 24 hours non-stop. So the Aarti will happen eight times a day.
Go with Kurseong to Darjeeling travel guide from Kolkata
Mayapur Iskcon Prasadam
There are various categories of Prasadam (food offered to God and then distributed among the devotees) that we can buy from the temple premises. A little distance away is the Vishwa Pradarshani.
With the unique effect of the magic mirror, one can see distorted images of oneself. At night the colourful display of light is another sight word seeing. ISKCON Mayapur lunch price starts from 30 rupees.
I tested 60 and 120 rupees Mahaprasad, and it's good. One hundred twenty rupees Mahaprasad is good, but it's not available during occasion time for general devotees.
Find New Digha Sea Beaches travel guide
You may like Bakkhali Tour Guide
End of our Holiday Story 
In return, many buses from Mayapur to Krishnanagar and trains are available from Krishnanagar station to Sealdah. The other option is to cross the river again and catch the express train from Nabadwip, but the train frequency is low. So if you decide to return to the Nabadwip Dham, the sandhya arati will miss in Mayapur.
In the late evening, we reach Kolkata city. It's a one-day round tour from Kolkata, and our Nabadwip Dham, Mayapur Iskcon tour ends here.
All the mentioned places covered in one day is tough. So I advise staying at least one day in Mayapur or Nabadwip to enjoy the trip.
Read Famous places in Kolkata city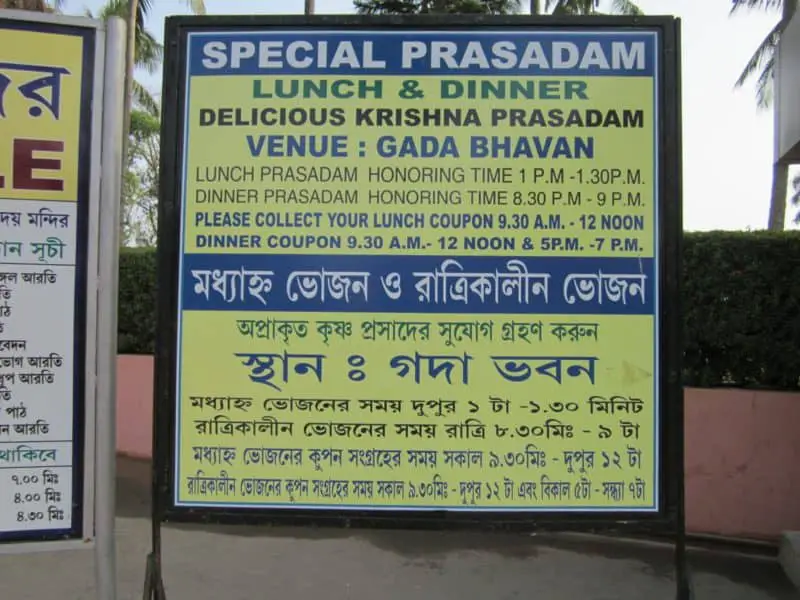 Read more story about Bankura Bishnupur Mukutmanipur Tour
Krishnanagar Tourism
In ancient times, Krishnanagar was known as Reui. Maharaj Rudra renamed it Krishnanagar. Nadia developed in the reign of Maharaja Krishnachandra.
Krishna Chandra was titled Raja Rajendra Bahadur as an award for fighting against Sirajuddowla on the battlefield of Palasi. Mayapur and Nabadwip can reach Krishna Nagar easily. Krishnanagar can get by Sealdah within 1.5 by Krishnanagar local train (frequent trains are available). Few hotels are found in this area.
Read Digha Udaypur sea beach in West Bengal
Krishnanagar Places of interest
The Krishanagar Rajbari is the major attraction in Krishna Nagar, and the Durga Mandir on its premises has its value. The Nut Mandir, the last work of Krishna Chandra in Pankha, is rare and almost nonexistent. The four-towered Singha Duar of the royal palace was built in the Muslim style of architecture.
Roman Catholic Church is an exclusive example of architectural and sculptural example. On the church's wall, 27 paintings describe the tale of Jesus.
Besides all these, there is the ancestral house of author Pramatha Chowdhury's Rani Kuthi, an association with Sri Rabindranath Tagore. Others are Krishnanagar Academy in Rantanu Lahiri's house, and the Protestant church has its value.
Another attraction is Sadhakzafar Khan Dargah, where Hindus and Muslims offer Sinni and light lamps in his memory.
Read Puri Tourism Guide
Tips for Navadwip and Mayapur
If you want to visit Mayapur first, reach Bishnupriya railway station and cross the river, which is a shorter distance. Mayapur official website for tour and hotel booking
10 facts about Mayapur Iskcon
You can take photographs at the main Radha Madhav temple by contacting the security office under the Lotus Building between 9 am, and 10 am. You can take pictures, but videography is restricted.
If an older person needs a wheelchair, he can get it with a refundable amount of Rs 500 by contacting the Padma Bhavan office on the left side of the main temple. We must submit a copy of the photo identity card.
Before entering the Radhamadhab temple, we should deposit a mobile phone, shoes, and power bank at the counter next to the temple at Rupees 10.
Most of the room bookings were from the Gada Bhavan building.
Tea and coffee are prohibited anywhere inside the ISKCON complex. However, special hot water called Ayurvedic tea is available.
Every Saturday afternoon, an elephant-drawn procession goes out to the temple premises.
Car parking is available.
Mahaprasad starts from 30 rupees. Those who want a full lunch or dinner can eat at Govinda Restaurant (as per the rate card).
Harinam chanting is done 24 hours at the Mayapur temple.
To maintain decency of dress.
Read Digha Tour Plan from Kolkata
Mayapur Iskcon mandir phone numbers
Gadabhavan 03472 245219, 03472245494 / 03472-245620 / 03472-245495
Nityananda Kutir-08609874554 / (03472-245043)
Gouranga Cottage- (03472- 245043)
Chaitanya Bhavan-03472-245362 / [email protected]
Ishodyan Bhavan- 06295547507
Harekrishna Dharamsala- 03472245240
Namahatta Bhavan- 03472245305
Banshi Bhavan- 03472245355
Hotels and monasteries outside Mayapur Iskcon premises
Chaitanya Swaraswat Math- 01246201617
Jagannath Guest House- 07602876051
Sri Krishna Guest House- 0894 484 4794
Budget hotels and accommodation in Nabadwip Dham Near the railway station
03472240227- Bharat Sevashram Nabadwip,
0933 322 2775- Sri Keshavji Gaudiya Math, Navadwip,
03472240068- Sri Devananda Gaudiya Math,
03472248218- Srimad Bhaktisiddhanta Saraswati Gaudiya Math,
03472240132- Sri Sri Samaj Bari Ashram,
03472241319- Sri Sri Ramakrishna Seva Samiti,
Guest House of Navadwip Municipality- 03472240413
Nandita Guest House, 03472240518- Near Poramatla
Poddar Guest House-9433939997
In front of the station 0915 329 4859 – Hotel City Pride
How can I go to Nabadwip from Howrah?
The train route is the fastest and best way to reach Nabadwip, which takes approximately 2 hours.
Popular train Howrah to Balurghat Express. Dep: 7:50, ARV:9:42. (Exp: Saturday, Sunday).
How can I reach Krishnanagar from Nabadwip?
First, take a ferry from Nabadwip ghat and reach hulor ghat (Mayapur ghat). Then take a bus and reach Krishnanagar it takes 1 hour. Reserve auto/toto is also available from hulor ghat.
Another way is from Nabadwip ghat and reach Swarup Ganj ghat. Local autos/toto are available forms Swarup Ganj ghat. And arrive in Krishnanagar within 30 minutes.
How do I get from Nabadwip to Mayapur?
The ferry is the only way. Arrive at Mayapur ghat from Nabadwip Ghat in 15 minutes. The frequency is 30 minutes. Both options are available for the ferry (3rupees) and launch (7 rupees). Then take a toto to reach Mayapur within 1 minute. 10 minutes walking distance.