Bolpur Santiniketan Tour Plan & Guide from Kolkata [Visit 23 Places]
What are the best places to visit in Santiniketan Bolpurat at less cost? I assume these might be the primary concern about your Bolpur Santiniketan tour plan. It's a complete guide about a day trip or a 3-day plan from Kolkata to Shantiniketan in West Bengal.
3 Days Santiniketan tour Itinerary
Day 1: 

Gitanjali Rail Museum,

Kankalitala temple west Bengal, Sayar bithi park, Biswa Bangla Haat, Prakriti Bhavan Nature Art Museum,34 ft buddha statue bolpur, Amar Kutir, Kopai River, Amar Kutir Eco park, Srijani Shilpagram, Ballavpur wildlife sanctuary/Bolpur Deer park, Palashboni Salboni forest,

Khoai sonajhuri bolpur or sonibarer haat

.
Day 2: Surul Jamidarbari/Rajbari, Sriniketan, Pratichi shantiniketan, Visva Bharati Kala Bhavan, Visva Bharati Museum,Visva Bharati Santiniketan ashram, Raipur Rajbari.
Day 3: 

Kalikapur Rajbari, Ghursia, Fossil Park.
পড়ুন:- ৩ দিনের বোলপুর শান্তিনিকেতন ভ্রমণ ও দর্শনীয় স্থান এর গাইড
Bolpur Santiniketan Tour Plan & Guide from Kolkata
Bolpur Santiniketan tour plan guide from Kolkata
Santiniketan is famous for Rabindranath Thakur. The prime attraction is Biswa Bharati Campus. There are many other places of interest in Shantiniketan like Kankalitala temple, Amar Kutir, Khoai boner hat, etc.
My total tour cost is 5120 rupees for two days, two people and one child. This article helps you to save your hard-earned money.
How to reach Shantiniketan from Kolkata by train 
Several trains from Sealdah and Howrah reach Bolpur station every day. Local trains are also available. Reach approx 3 hours from Kolkata. Bardhaman to Sealdah and Bardhaman to Bolpur frequent local train is available.
How to reach Santiniketan Bolpur from Kolkata by bus
Kolkata to Bolpur distance is 163 km. Kolkata to Bolpur bus service is available from Esplanade to Bolpur bus stand.
1st option is to take a bus for Durgapur and reach Panagarh Darjeeling more, from there you will get a bus for Bolpur. (Durgapur to Bolpur direct buses are also available).
2nd option is to take a bus for Suri to get down to Ilambazar and reach Bolpur by Toto car or bus.
3rd option is suitable for a return to Kolkata. Come to Bardhaman by rail and reach the Bardhaman bus stand(5 km from the station) and get a bus for the esplanade. It's a 2 hour 15 minutes journey.
Read Bankura Bishnupur Mukutmanipur Tour from Kolkata
Santiniketan tour Cost
| | |
| --- | --- |
| Update Date | 2022 |
| Train fare | 320 |
| Room fare | 1150 |
| First day Toto fare | 350 |
| 2nd day Toto fare | 470 |
| 3rd day Toto fare | 1000 |
| Food cost at Amar Hensel (First day) | 580 |
| Food costs the Second Day | 600 |
| Guide for Biswabharati and Kala Bhaban | 300 |
| Food cost 3rd day | 350 |
| Total (for two people, shopping extra) |  Rupees 5120 |
Santiniketan tour Cost from Kolkata
How to reach Kolkata from Bolpur?
The departure time of Rampurhat Sealdah passengers from Bolpur Station was 14:24. Around 18:35, the train arrived at Sealdah railway station.
It's a good train from Bolpur Santiniketan to Kolkata. Or you can avail the Maa Tara Express, Kanchanjunga Express (PT), Viswabharati Fast Passenger etc. All reach Kolkata in around 3 hours.
Best hotels
Our Holiday Story – The Ultimate Shantiniketan travel guide
We started our tour from Sealdah with Kanchanjanga express at 6.35 am. We reach the Bolpur station around 9.30 am.
In my Santiniketan tour plan list, first, we visit the Gitanjali Rail Museum opposite the Bolpur railway station. It's my first visiting place for Shantiniketan Bolpur sightseeing.
Next, we booked a Toto to reach Amar Kutir from Gitanjali Rail Museum. In this way, we visit Kankalitala temple, then Biswa Bangla Haat, Prakriti Bhavan, and go Amar Kutir, where we stay the 1st day in Bolpur.
After that, we had lunch and rested at our hotel, and in the evening, we visited Amar Kutir premises, Kopai River, and went shopping there. Last, we came back and took dinner at Amar Kutir Hensel again.
The next day we left Amar Kutir and visited Santiniketan, where we booked another budget hotel. While on this journey, we visited Srijani Shilpagram, Ballavpur Deer Park, and reached the hotel. The Toto cost is 300 rupees.
We kept our luggage in our new room and went to Biswabharati Santiniketan ashram, Kala Bhavan, Biswa Bharati museum, etc.
Next, we take our lunch in the hotel Ayojon. Then we went to the Khoai boner hat, held every Saturday. 
We shopped local handmade items like the saree, dress, clay ornament, metal jewellery, a wide variety of Kantha stitch work on the garment, etc. The 'Sonibarer haat' is very popular. We returned to the hotel in the evening as we had almost completed the Bolpur Santiniketan tourist spots.
Last day we visited some unique places near Bolpur, usually tourist does not stay there. First, we saw Kalikapur Rajbari, which is 60 km approx from Bolpur. Next, we visit Ghurisha, where you can find two terracotta temples, the oldest temple in the Birbhum district. Please note that we keep our first Toto in Ilambazar and take another for Ghurisha.
After, we visit Wood Fossil Park. It is a newly created tourist destination. While returning, we saw Raipur Rajbati and Surul Rajbari. This day the Toto cost is 1000 rupees.
In the evening, we took the Kanchanjanga express and returned to Sealdah. Train Kanchanjanga expresses timing is 4.11 pm, but it reached 4.30 pm. And in Sealdah, the time is 7.25 pm, but it reached 9.25 pm. Our Shantiniketan from Kolkata completes here.
We miss some tourist spots in Shantiniketan like Hetampur Rajbari, SABUJ BAN or Plant Museum, Joydeb Kenduli, Itonda, Fullora Temple, etc.
Go With Alipore zoological garden Kolkata
Travel hacks / Tips for Bolpur
You can skip the 3rd-day Toto car fare; it will reduce your tour cost up to 1000 rupees, but I suggest visiting there while you are in Bolpur.

Several Toto car is available in Santiniketan, so there is no need to book a single Toto for your entire tour will cost almost double.

Train fair 80 rupees per person. Whenever you book your e-ticket, always do IRCTC travel insurance. It will help you in the future.
Read Rabindranath Tagore house in Kolkata | Jorasanko Thakurbari Museum
23 Places to visit in Shantiniketan B0lpur near me
Gitanjali Rail Museum
Kankalitala Temple travel guide
Biswa Bangla hat
Prakriti Bhavan Nature Art museum
Amar Kutir
Amar Kutir ECO-Tourism Park
Srijani Shilpagram Shantiniketan Bolpur
Ballavpur wildlife sanctuary Bolpur Shantiniketan
Kopai river
Visva Bharati Santiniketan
Visva Bharati Kala Bhavan
Rabindra Bhaban Museum
Sonibarer hat / Khoai boner haat
Kalikapur Rajbari
Ghurisha Terracota temple
Wood fossil park Birbhum
Raipur Rajbari Birbhum
Surul Raj Bari
Sriniketan
Santiniketan Poush Mela
Basanta Utsab
Jaydev Kenduli Mela
Magh Mela
1. Gitanjali Rail Museum
Gitanjali Rail Museum is about 3 kilometres from Viswa-Bharati premises and right next to Bolpur Station. It is the Indian Railways' famous museum. This museum has very enriched information about Rabindranath Tagore and Viswa-Bharati.
This museum has full of unknown information and images of Rabindranath. Like other museums, you don't get to see Rabindranath's used anything here, except just a single armchair and a table. But we can find many histories of Rabindranath and Santiniketan on this large museum's first floor.
Inside the walls are beautiful craftsmanship and fresco of Plaster of Paris. Here is the special Saloon Coach of the railways, by which Rabindranath left the Santiniketan forever in July 1941.
Read also  Digha [Udaypur sea beach] in West Bengal tourism
2. Kankalitala Temple travel guide
Kankalitala is situated on the bank of the Kopai river of Birbhum. This place is one of the holy places in West Bengal. It's the 51st "SATI PITH." As per Hindu mythology. Sati maa's waist fell here. Every Saturday, a huge crowd gathers for Kankali maa's puja.
3. Biswa Bangla hat
Biswa Bangla hat in Santiniketan is a new travel destination for tourists and shopping lovers. It is near PRANTIK station. Here you get a wide range of handmade art and craft products, all unique in style. The product or art like jute bags, painted umbrellas, hand-painted saree, other tribal paintings, wooden and clay sculptures, etc., is mind-blowing.
Flip into Rabindra Jayanti | 25th Baisakh | Rabindranath Tagore
4. Prakriti Bhavan Nature Art museum
Prakriti Bhavan Nature Art museum is situated Ballavpur area and is the way to Amar Kutir. Here you can see a fascinating collection of natural art and craft, all created naturally in a different place in India.
This museum is made with this natural craft. The craft is made of wood, metal, stone, etc.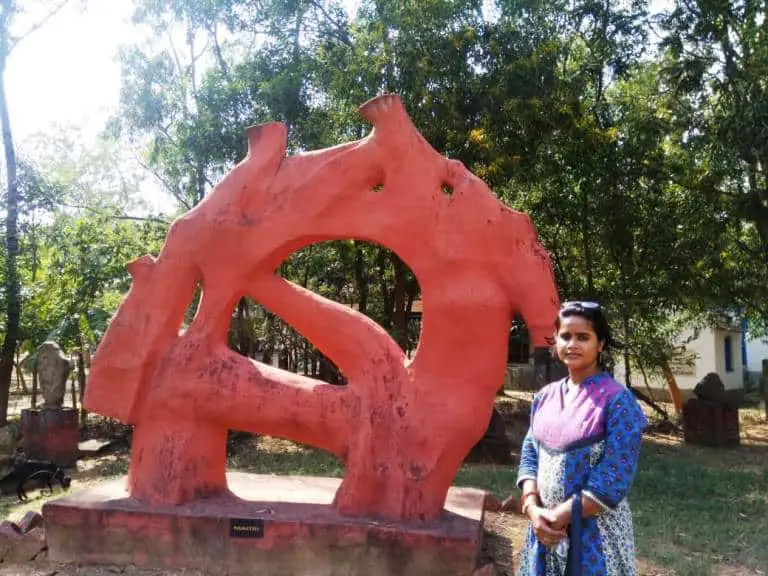 Read Digha Tour Plan from Kolkata
5. Amar Kutir
Amar Kutir was founded by the freedom fighter Late Mr Susen Mukhopadhyay in early 1923 with objectives as envisaged by Rabindranath Tagore in his experiments in rural reconstruction at Sriniketan. It's the must-visit place in my Santiniketan tour plan.
After, Amar Kutir Society for Rural Development (AKSRD) in 1978 as a self-supported voluntary organization for rural development. The society has been organizing training and production of traditional handicrafts of the district and now supports more than a thousand artisans with marketing, technical Improvement, and design development.
6. Amar Kutir ECO-Tourism Park
While in Amar Kutir, we visit Amar Kutir ECO-park, a walkable distance from Amar Kutir premises. You can have a beautiful evening in this wide area. The time is from 8 am to 5 pm, and the entry fee is 10 rupees. You can do boat riding in the surrounding pond for 20 rupees for spending 2 hours.
Read Nabadwip Dham [Mayapur] Krishnanagar All You Need To Know
7. Srijani Shilpagram Shantiniketan Bolpur 
Srijani Shilpagram is a place that displays the homes, lifestyles, and handicrafts in the eastern and northeastern states of India. This place has been designed as a hub for rural artists to sell their clothes and handicrafts. A government initiative, Srijani Shilpagram, started in 2008. West Bengal, Orissa, Bihar, Sikkim, seven sisters in the northeast, and the Port Blair and Andaman Nicobar Islands are also represented.
8. Ballavpur wildlife sanctuary Bolpur Shantiniketan
Ballavpur Wildlife Sanctuary is locally known as the Bolpur deer park. Here you can see lots of deer. The entry ticket is just 10 rupees. Inside the Ballavpur deer park, you can see many deer walking here and there.
There you can see a watchtower you can climb to see almost the park's total area. It is a large area for walking. You can take a long walk and enjoy the peaceful atmosphere.
Read more Ambika Kalna [Sabuj deep] 108 Siva temple tourism guide
9. Kopai river
Kopai River is also known as the Sal River. It is the tributary of Mayurakshi, which flows among cities like Santiniketan, Bolpur, Kankalitila, and Labpur in the Birbhum district of West Bengal state of India. It is a small river in the dry season but an overflow in the monsoon season. Rabindranath Tagore, sitting on the bank of the Kopai River and wrote Amader Choto Nadi..
10. Visva Bharati Santiniketan
In 1863, Debendra Nath Tagore, the father of Rabindranath Tagore, founded this ashram in the northern part of Bolpur city for God-oriented and ritualistic worship. In 1901 Rabindranath established Brahma Vidyalaya in Santiniketan, which gradually became the University of Viswa Bharati University.
Rabindranath spent most of his life in the second half at Santiniketan Ashram. In the Shantiniketan premises, Rabindranath built many architectural buildings for the residence of himself and other Co-operators.
Later, this building became an important tourist spot by decorating various artists and sculptors of the ashram. In 1951, Viswa Bharati University got the Central University of India status.
Biswa Bharati divide into tow parts Sriniketan and Santiniketan. Both places have many historical houses. They are:-
Santoshalaya
Singha Sadan
Gairik
Sanskarbhawan
Dwarik Bithika
Deholi
Notun-Bari (New House)
Prak-kuthir
Satish Kuthir
Satya Kuthir
Gour Prangan
Patha Bhavan Office (Old Library)
Visit Ayodhya Hills Purulia tour
11. Visva Bharati Kala Bhavan
The Kala Bhavana compound is an extensive area full of sculptures and other art objects in Santiniketan. Many of these are in the open air, created by the renowned sculpture artist Ramkinkar Baij.
I visited and walked in the Kala Bhavana compound for about 45 minutes to see these. Don't miss "Kalo Bari" or "the Black House." It looks like a primary school in a village.
Nandan Mela
The fair happens every year on the 3rd December in Kala Bhavan Santiniketan before Poush Mela. The student celebrates the birth anniversary of Mr Nandalal Bose with drama, Painting, and various cultural programs.
12. Rabindra Bhaban Museum 
The Rabindra Bhaban Museum is made up of 5 houses. The five houses' name is Pratichi, Konark, Punocho, Raktakorobi, and Shyamoli. These are the names of his literature, and these names have named his houses. Rabindranath Tagore has spent a significant part of his life, and not only that, a lot of his great work has been produced here.
Rabindra Bhaban Museum has 40,000 books and 12,000 journals, and they also preserved the poet's photographs, memories, images, and objects. It is one of the most exciting and must-visitable places in Santiniketan, and photography is not allowed here.
13. Sonibarer hat / Khoai boner haat/ Sonajhuri haat
Khoai boner hat, local people also called it Sonibarer hat. In this hat, Tribal people perform their unique traditional Santali dance with the bits of Madol. Many people are selling handmade products like saree, dresses, clay ornaments, metal jewellery, a wide variety of Kantha stitch work on the garment, etc.
Khoai boner Haat is usually held every Saturday (now Sunday also), and the hat starts from 2 pm onwards and goes up to sunset.
You may like Best Kurseong to Darjeeling toy train travel guide from Kolkata
14. Kalikapur Rajbari
Kalikapur rajbari was a very famous rajbari in Kalikapur village. It is 25 km from Bolpur and 5 km from Ilambazar. This rajbari has a Durga corridor and a terracotta Shiva temple next to the palace.
Today this rajbari is tottering. These family members live in a part of the house. In the history of West Bengal, this house has a historical value. Include it on your Santiniketan tour plan.
15. Ghurisha Terracota temple
Ghurisha village is located less than 7 kilometres away from Ilambazar. Here you can see two old terracotta temples: the Charchala temple of Raghunathjee and the Nabaratna Gopal – Lakshmi-Janardan Temple. The '
Charchala temple' of Raghunathjee is the oldest temple in Birbhum. Both temples are built in the middle of the eighteen century. You should add this place when you tourism to Bolpur.
16. Wood fossil park Birbhum
In 2015, archaeologists found some plants because of digging soil in the small village of Amkhoi, which is in the Chawpahari jungle of Ilambazar, Bolpur. The woods are parts of the plants of thousands of years ago. After recovering many more wood fossils, the government created the park. It is open now.
Go with [New Digha] tourist spots travel guide | Sea Beaches in West Bengal
17. Raipur Rajbari Birbhum
Raipur zamindar bari is near Bolpur, about 7 km away from the Bolpur station. This house is 150 years old. Now the house is almost ruined. Rabindranath's family had a close relationship with the zamindar of Raipur. Rabindranath Tagore's father bought land from the Raipur zamindar to construct Biswa Bharati Ashram.
Read Bakkhali Tour Guide
18. Surul Raj Bari
The Rajbari at Surul, Shantiniketan. The Surul rajbari is 275 years old. Surul village is near Visva-Bharati University Sriniketan campus.
In the Surul village, a large number of Bagdis, Bauris, Haris and Doms, are live. The Sarkar's family, who were Zamindars of Birbhum District, brought a group of Brahmins and other upper castes.
Surul, the Sarkar family, played an important role in the socio-economic development of the entire area and the establishment of a global organization of national importance. Durga Puja is very famous in the family of Surul zamindar.
19. Sriniketan Bolpur
Sriniketan is another Biswa Bharati University campus situated on another site of Bolpur railway station. It has many schools and hostels inside the premises.
20. Santiniketan Poush Mela
In the year 1250, Bengali year 7th poush Debendranath, take Brahma dharma with his 20 followers. Debendranath had thought about the Bolpur Poush Mela on that day. To fulfil his father's desire, in 1302 Bengali year or 1895, Rabindranath started the Paush festival. Initially, the fair was held on the grounds of Braha mandir or the Northern Kanchmadir area.
Later, when the fair area increased, it was held in the East Palli ground and known as Bhuban Danga Mela. It is not only the memories of Robi Thakur, but it felt the importance of festivals in the cultural life of Bengal during the Poush festival. It started in December every year. Add this to your Santiniketan tour plan.
21. Basanta Utsab
Rabindranath Tagore introduced Basant Utsav, or the spring festival in Shantiniketan, to restore the joy of the Holi festival. Now it is one of the prime festivals of Bengali culture.
Occasionally, the students of this university dressed in yellow colour. University students and teachers jointly organize cultural events on the Mela ground. Remember that hotel rates are very high this time, so make a proper budget for your Santiniketan tour plan.
22. Joydev Kenduli Mela (Bonus tip)
You can visit Joydev Kenduli Mela, famous for Baul and kirtan Mela in West Bengal. It happens in the Birbhum district. You can reach Bolpur and Durgapur both ways. See the video; you will get the complete guide.
23. Magh Mela Sriniketan 
The famous Magh Mela started in Bolpur Sriniketan and is now 97 years old. The date is 6th to the 8th of February. The 7th of February is the fireworks day.
The fair is mainly for agricultural products, Santiniketan's handmade products, and artists. This year 125 stalls on the Mela ground. The speciality is there is no advertisement shown in the entire Mela ground.
Festivals of Santiniketan
Following are the festivals of Santiniketan
Santiniketan Poush Mela
Basanta Utsab
Joydev Kenduli mela
Magh Mela Sriniketan
Nandan Mela
Briksharopan and Halkarshan
How can I go to Shantiniketan?
The best way to reach Shantiniketan is by train. The nearest station is Bolpur.  The train is available from Howrah/ Sealdah station. Many buses reach Bolpur from Asansol/ Suri/Kolkata etc.
On which day Shantiniketan is closed?
Viswa Bharati Campus and Shantiniketan Museum remain closed on Wednesday.
What is the best time to visit Shantiniketan?
People visit Shantiniketan every Saturday/ Sunday throughout the year. But the best time to visit Shantiniketan is the monsoon and winter season between July to February. The famous events are Basanta Utsav and Poush Mela.