Ambika Kalna [Sabuj Deep] 108 Siva Temple Tourism and Guide
Well, you may be searching for Sabijdwip or Ambika Kalna or Purbasthali tour and get my guide. You might think it's not what you are searching for. Let me assure you it's relevant to what you need. I combined all those West Bengal places for you to get an easy idea about those places. Let's start with Sabuj deep.
Ambika Kalna [Sabuj Deep] 108 Siva Temple Tourism and Guide
Sabujdwip and Ambika Kalna tour details
Sabujdwip island has been developed 75 km away from Kolkata. It's under the Hooghly district. This island is at the confluence of Hooghly and Behula rivers, and it's 2 km long, shaded with various trees like tamarind, Akasmoni, palm, eucalyptus, Arjun etc.
Greenery is all around, and hence the name is the gaps of leaves of the trees. In winter, Sabuj deep picnic spot is ideal. The roads are rows of coconut trees. There is also a children's park, and watchtower. From Sabujdwip Ambika Kalna is just a little distance.
Sabujdwip 
– Train from Howrah
Sealdah – 5:35 am (Jagnipur memo) 3 hours 25 minutes approx. – Somrabazar.
For Sabjudwip ghat, take a van or toto, Sarkari boats(10rupees) are available in the winter, or Small boats are available for crossing the reviver and enjoying the riverside at an hourly cost.
Return train from Somrabazar to Howrah- 4:08 pm 4:54 pm Please carry your food because there is no such good hotel. Please note Sabujdwip Ambika Kalna can not be rounded up is the same day.
Our holiday story – How We reached Kalna
We visited Ambika Kalna by train from Howrah. Kalna the historical place is in the Purba Bardhaman district of West Bengal. It's a two hours journey from Howrah; the available train is Katwa local. The railway station's name is Ambika Kalna.
From the station, we hired a rickshaw and visited all the places within 3 hours and came back in the same way. The rickshaw (nowadays Toto's are available) charges 200 rs per hour. Please carry food or finished lunch outside of the Kalna station. The best time to go is in the winter season. Bishnupur Mukutmanipur Tour terracotta art is also famous in Bengal.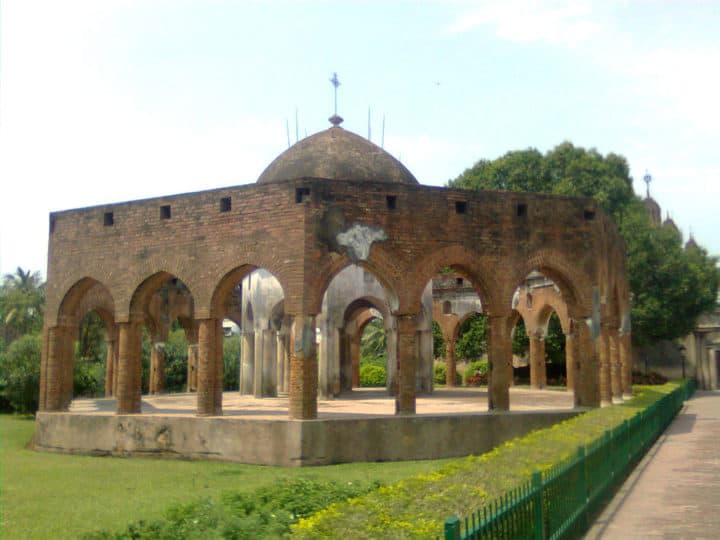 Kalna is just 82 km from Kolkata. It can reach buy Howrah and Sealdah also. Kalna and Santipur are located on either side of the Ganga. In 1975 the temple was built by king Burdwan Chitra Sen. In his kingdom, the Siddheswari Debi temple was made, which is the main attraction. Ambika Kalna is a Vaishnav and Shakta pilgrim center.
Read  New Digha travel guide | Sea Beaches in West Bengal
Places to see in Ambika Kalna – All tourist spots
Siddheshwari Temple
Debi Bhabani temple
Sri Gauranga Mandir
108 shiv Mandir Kalna
Pratapeswar Shiva Temple
Siddheshwari Temple
Siddheshwari Devi temple is dedicated to Devi Ambika, and it is after her that Kalna is also known as Ambika Kalna.
Debi Bhabani temple 
The Debi Bhavani temple is established by Bhabendramohan Chowdhury, popularly known as Bhaba Pagla. The temple has beautiful needlework by Bhaba pagla.
Sri Gauranga Mandir
According to rumour Sri Chaitanya/ Nimai comes alive through the idol. Cut from the need tree under which Nimai was born.
108 shiv Mandir Kalna
It was built in 1809, and It is also known as Nava Kailash. The temples are constructed in two circles. One consists of 74 temples, while the other has 34. The temple was made of white marble and the "Shiva linga" was made of black stone. We can see all the deities from the center of the temple. Terracotta work was found there.
Find Digha Udaypur sea beach in West Bengal
Pratapeswar Shiva Temple
The temple is also rich in terracotta work. The wall is described the daily activities of the women, and it tales from the Purans.
And others are Krishna Chandra Mandir, Buddhist temple etc.
Go with Famous places in Kolkata city
Dumurdaha
On the way to Kalna, Dumurdaha can be reached. I have a special interest in this place. Swami Uttamanadaji Maharaj's ashram is there. It's called Uttam ashram. The ashram is very near Dumurdaha station.
He has many ashrams all over India, and it's the main ashram. Monks stay there. The place is very peaceful. There is also a staying facility for outsiders. Only veg food is allowed in this place. Lots of flower gardens and trees surrounded that place.
The prayer and the arati are very memorable for me. There is a special place for ladies also. There is a very beautiful river just a few feet left. At the time of Sivaratri and Magh Purnima, their calibration is the most popular. That time another 'shishya' is coming from another location to celebrate the occasion.
Purbasthali / Chupi one-day trip from Kolkata 
The Purbasthali is a haven for migratory birds. The lake belongs to Burdwan and Nadia. Fishers are interested in boat rent and fishing; they need to keep the lake clean. Every year lots of birds are coming from different locations.
The birds returned when the temperatures are rising in the lake. There is a picnic spot also. Everything is very disciplined. No loudspeakers are allowed throughout picnics, and huge vehicles are created to park at a distance. It's a very good one-day return trip from Kolkata in winter.
Related Bakkhali Tour Guide and travel sightseeing | tourist spot trip
HOWRAH – SEALDAH – KATWA LOCAL -8 AM- 10:45 am- PURBASTHALI- VAN -CHUPI- SMALL BOAT (2HOURS)8967492608- VAN- PURBOSTHOLI -KATOA LOCAL- 3:55 pm HOWRAH REACH 6:48 pm
| | |
| --- | --- |
| Journey | Expenses |
| Sealdah to Purbasthali by train | 30 |
| Purbasthali Station to Chupi island by van | 10 |
| CHUPI boat fair | 400(100 per head ) |
| Katoa (Purbasthali ) to Howrah – 25 | 25 |
| Total | 175 (pp) |
Read more stories about Nabadwip Dham [Mayapur] Krishnanagar All You Need To Know
Burdwan tour guide
The Burdwan city is located 95 km from Howrah on the bank of the river Damodar. The GT road through the center of the city. On the 24th, Jain Tirthankara started his preaching of Jain religion from the bank of Damodar in this place. He even was born here. So the name, too, was after the Tirthankara Bardhaman to Burdwan.
In 1903 the honour of Lord Curzon, the star of India gate portal, was constructed 1 km away from the rail station. The Curzon gate is a beautiful example of architecture; it's also called  Bijoy toron by the name of the person who builds it.
Read Ayodhya Hills Purulia tour from Kolkata
Burdwan Tourist Place 
At alamgung, on the way to sadarghat, there is massive Bardhamaneswar shiva situated. The famous Burdwan 108 shiva temple at Nabaghat is just 4 km from the Burdwan station. At the time of Shivaratri, there is a grand fair here. Besides this, in the GT road, the Goalp bag rose garden is there. Kankaleshwari Kali mandir is there also. A little distance away, Talitgarh spread out over an area of 3km. Tourist is enchanted even today by the haya mahal, Krishna Sagar lake, Manjilbahar where the royal family spent leisure time in the past. Megnath Saha planetarium is there also. Burdwan rajbari is a tourist place. You can reach Burdwan by Sealdah and Howrah by local train.
One special note whenever I thing about Burdwan, I thought about Mihidana, Sitabhog and Saktigarer Langcha.