Visit 18 Most Famous Places in Kolkata City in 1-day
Kolkata is called 'The CITY OF JOY. The culture of this city is ancient, and it is a metro city in India. In this article, I describe how to smartly visit the 18 most famous places in Kolkata cheaply (160 rupees only) in one day.
Visit 18 Most Famous Places in Kolkata City in 1-day
Kolkata sightseeing at a Cheap Cost
This city has many famous places, where different cultural people live with their different entities. In central Calcutta, the esplanade and park street is the prime place. Those two locations are famous for their style. Esplanade is a shopping destination, and Park Street is a Modern place in West Bengal, where you can find Bar, Disc, Night Club, etc.
Many people from different states are asked where to visit Kolkata, so this guide is the one-stop solution for every traveller.
Beautiful Kolkata history
In 1690, Job Charnock assembled three villages, namely Sutanuti, Gobindapur, and Kalikata, and these three villages were known as Calcutta. But later, Calcutta's name changed to Kolkata. The population of Kolkata currently has 45 lahks (2011 census). Howrah Bridge, GPO, Principe Ghat, Victoria Memorial, Indian Museum, and Birla Planetarium are famous places in Kolkata.
Go through Bankura Bishnupur Mukutmanipur Tour
Famous places in Kolkata Tour cost
Note: – I calculate this cost from Esplanade.
| | | |
| --- | --- | --- |
| Cost | Indian Citizen (PP) | Foreigners (PP) |
| Tram museum entry fee  | 10 | 10 |
| Esplanade to park street metro fair  | 5 | 5 |
| Indian museum entry fee | 20 | 500 |
| Nehru Children's museum  | 5 | 5 |
| Birla Planetarium entry fee | 80 | 80 |
| Victoria Memorial (garden and museum) | 20 | 200 |
| Nehru Children's Museum  | 20 | 20 |
| Other visiting sites | Nil | Nil |
| Total | 160 Rupees | 820 Rupees |
Famous places in Kolkata Tour cost
Kolkata list of places Travel Guide (short) – How I visited
Our first spot in this Kolkata tourism guide is the Smaranika Tram Museum. After visiting the tram museum, we went to Sahid Minar. This 'Minar' is a built-in memory of freedom fighters of India. The "Sahid Minar" is the landmark or junction of Kolkata.
From here, you can ride the oldest metro in India. The metro station is called Esplanade. Now reach Park Street Metro station from here and explore the Indian Museum. It's the oldest museum in India.
After reaching the Maiden metro station from Park Street and visiting Elliot Park Kolkata beside the metro station. The Eliot Park is well-maintained; sit there and go to the Birla Planetarium.
Enhance your knowledge in this planetarium and next move for Saint Paul Cathedral Church. The church is beside the Birla Planetarium. On the 25th and 31st of December, they decorate this church so well, and at that time, it looked gorgeous.
Your next stop is Victoria Memorial, walking from St. Paul Cathedral church. It's a historical place, a copy of the Tajmahal in Agra, and a must-visit place in Kolkata. Then go to Mahanagar Peace Park, beside Victoria's exit gate.
The next spot is Mohor Kunja Park. It is located just opposite the Victoria Memorial. Previously, the light and sound show happened here, but it's closed. The show is now at Eco-park Kolkata.
Our next stop is Nandan; this is a cinema hall. The place is famous for gossiping, and people of all ages come here. The Rabindra Sadan, Academy of Fine Arts, Paschim Banga Bangla Akademi (West Bengal Bengali Academy), Gaganendra Shilpa Pradarshashala, or Gaganendra Art Gallery, Sisir Mancha, The Calcutta Information Center is in the same place.
Your next destination is Nehru Children's Museum, opposite Rabindra Sadan. This place is famous for kids. A regular puppet show was done here, and now finished your tour.
Read Digha Tour Plan from Kolkata
List of 18 Must Popular Places to Visit in Kolkata
In central Kolkata, the main attraction is the Esplanade. Different garment shops, food shops, shopping malls, etc. All the items available in this area are not costly.
Smaranika Tram Museum
The Sahid Minar
Indian Museum Jadughar
Elliot Park
Birla Planetarium Kolkata
St Paul's Cathedral
Maidan
Victoria Memorial
Mahanagar Peace Park
Mohor Kunja park
Academy of Fine Arts Kolkata
Rabindra Sadan
Nandan
Paschim Banga Bangla Akademi (West Bengal Bengali Academy)
Gaganendra Shilpa Pradarshashala or Gaganendra Art Gallery
Sisir Mancha
The Calcutta Information Center
Nehru Children's Museum
1. Smaranika Tram Museum – Kolkata New point of interest
The museum is a form of a tram vehicle. Once upon a time, the tram car was very popular in the UK and Kolkata. The museum is near the Esplanade Tram Depo. The Tram Museum has two coaches. The first coach is used for the coffee shop, and the second coach in the museum.
You can enjoy the coffee shop and the museum for 45 minutes. The entry ticket is 20 rupees per person, and 16 people enter the tram at a time. You can enjoy tea, coffee, cold drinks, snacks, etc. In the museum, you can see the history of the tram.
The museum is open every day except Thursday; the best part is that the tram is fully air-conditioned. You can buy a bus and tram Ticket online from the tramways department website or physically go there and buy a ticket. No queue at all, but you may wait for some time.
Read Chintamani Kar bird sanctuary
2. Sahid Minar
Formerly called the Octarloni Monument, it was built for Rs 35000 in 1828-30 to commemorate the win over Nepal by the British East India Company in 1814-16. In 1969, the name changed to Sahid Minar in memory of the freedom fighters of India. Ascending the stairs to the top of the Minar is prohibited for security reasons. There are 218 steps in this 52-meter-high miner.
J. P. Parker built this monument. The team dug eighty-two logs of sal trunks (10-inch x 20 feet long) into the earth to make the 80-foot-deep pedestal modelled after Syrian columns. The foundation pillar is in Egyptian style. Whereas the round-shaped dome is made in Turkish architectural style, Of late, it has been renovated.
The Minar is illuminated every evening. Buses to the city's various places and destinations in Eastern India are available from the foot of the Sahid Minar. 
Chowringhee Road, also called Jawaharlal Nehru Rd, is east of the Minar. It is an upmarket area with shops, hotels, and cinema halls and the busiest shopping destination in Kolkata. The largest shopping complex, New Market, is very near to it.
Go through
3. Indian Museum Jadughar
The museum in Kolkata, with its unique collections, is the best among the museums in India. The best in Asia is known as 'Jadughar.' Rare collections ranging from the prehistoric age to the modern era are exhibited in this museum. The address is 27 Jawaharlal Nehru Rd at its intersection with Park Street. This museum is world-famous for its zoological and geological collections.
Indian Museum Kolkata History
First, the museum started in the Asiatic Society premises in 1814. The existing palatial building, a built-in Italian architectural style, was constructed in 1878. The collection of fossils and stuffed animals, especially the fossils of jaws of the whale, giant-sized crocodiles, and tortoises, are splendid.
The evolution of Indian culture is presented in the 36 galleries. A 4000-year-old mummy in the Egyptian Gallery and collections of 414 pieces of meteors that fell in Asia.
The largest being 56287 grams, which fell in 1920, the collection of 50000 coins, precious jewellery, the fossils of a 12-inch long crab, the emerald cup of Emperor Sha-Jahan, and the ash urn of Lord Buddha. All have been added to the status of the museum. 
Bharat Gallery of the 2nd century BC, the Gandhara Gallery, consisting of Buddhist architecture and sculpture collections, and the Theme Gallery, with rare paintings, are all added attractions.
Similarly, Tibetan thangkas, Kalighat pat, and many other paintings are rare museum assets.
Indian Museum Entry fee and timing
For Indian citizens, 20 rupees and Children below five years require no ticket.
For foreigners, the entry fee is 500 rupees.
Indian Museum opens between—10 a.m. to 5 p.m. and is closed every Monday.
4. Elliot Park
Elliot Park is beside the Maidan metro station. The Park is well decorated with various flowers surrounding the small pond where you can see many fishes. Several benches are along with the pond, and an ample open lawn invites visitors to relax. There are some big trees and a small pagoda for shelter. But it has become a lover's point more than a family park.
It's a perfect place to go for morning walks. the upkeep of the Park could have been better, but still, this is a good option because nowadays, parking near Victoria is nearly impossible. It has a lovely feel in the mornings, with birds chirping and the sound of the wind passing through the leaves.
Elliot Park Timings and entry fee
It is only open briefly, from 1 p.m. to 4 p.m. daily. There is no entry fee, but plastic bags and food items are prohibited. The Park is maintained by the municipal corporation and Kolkata police and is dedicated to the people of Kolkata. Elliot Park Kolkata is under the Kolkata police and opened in 2004.
Go With Rabindranath Tagore house in Kolkata | Jorasanko Thakurbari Museum
5. Birla Planetarium Kolkata
The second-largest planetarium in the world is at the intersection of Chowringhee and Theatre Road to the East of Victoria Memorial. It was built on September 29, 1962, at Rs 20 lakh. Two widespread ends, like the horizon, meet on the floor.
The diameter of this single-storied planetarium, built-in style Buddhist Stupa at Sanchi, is 23 m. During the daytime, the whole universe is shown on the umbrella-shaped ceiling.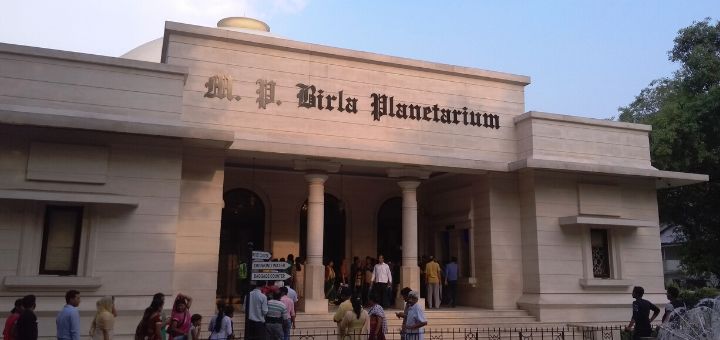 People are introduced to the solar system in the specific shows through English, Hindi & Bengali commentary. The show is held every hour every day between 12-30 and 06-30. Extra shows are arranged for holidays. Ticket: Rs 80, student discount available. It's another Famous place in Kolkata city.
An exhibition Concerning astronomy & astronomers in painting and sculpture is available on the terrace. One has to take a seat before the start of the show. By metro, get down either at Rabindra Sadan or Maidan Station.
Birla Planetarium Show Time
Birla Planetarium showtime is held every hour daily from 12.30 p.m. (Hindi) to 06.30 p.m. (English), and the Sunday and holiday show starts at 10.30 a.m. (Hindi) and 11.30 a.m. (Bengali).
Read more Irctc Sealdah executive lounge | My honest review
Birla Planetarium ticket Price and booking
Eighty rupees per person and student concession are also available for 35 rupees ( for a group of 25 or more)—tickets are available half an hour before the show.
6. St Paul's Cathedral
It's the most famous church in the city. The cathedral was built in 1847 by Major W. N. Forbes in Indo-Gothic architectural style at the initiative of Bishop Wilson. The cost involved at that time was Rs 5 lakh. The height of the church is 201 ft, while the length & breadth are 247×81 ft.
On October 8, 1847, the church was appointed Episcopal Church, the first in the East. The earthquake in 1897 destroyed its peak and was renovated again. It was destroyed by the earthquake of 1934, then in 1938, after being rebuilt as a Henry Tower replica of the Canterbury Cathedral.
The communion plate presented by Queen Victoria to Bishop Wilson is placed in the cathedral. The bow-shaped pin-pointed windows and colourful artwork on the eastern windows.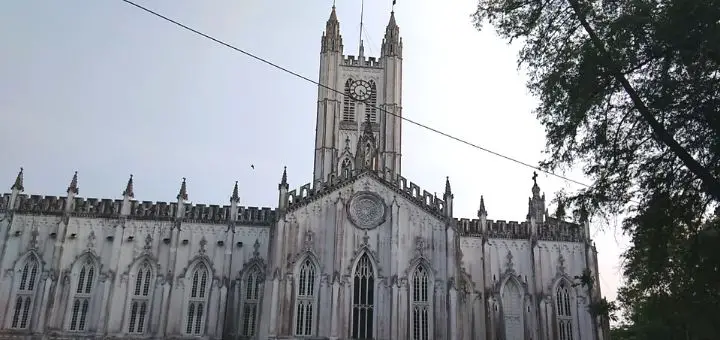 The reflection on the designed stained glasses during sunset is a treat to watch. Sir Edward Burne Jones made these glasses designed in honour of Lord Mayo in 1880. Two Florentine frescos are unique.
The plaques dedicated to the memory of British patriots killed in various struggles are engraved on the wall. The Cathedral Hall, including the premises, is available for rent for any function. It is also a historical place in Kolkata.
View  Alipore Zoological Garden Kolkata
St Paul Cathedral Timings
Weekdays- 10.00 a.m. to 06.00 p.m. Sundays – 06.00 a.m. to 12.00 noon and 03.00 p.m. to 06.00 p.m.
St Paul's Cathedral Address
This Catholic Church is between Birla Planetarium and Rabindra Sadan, on the left of Victoria Memorial, to the South East of Maidan.
7. Maidan
It is a unique feature of Kolkata. Such vast greenery on 400 hectares in the city's heart is unparalleled worldwide.
The journey starts with the waving hand statue of Netaji in the north. Going past the Race Course ends at the feet of the statue of Swami Vivekananda in the south.
Maidan is called the Mecca of Indian politics. Political meetings are held in the afternoon, and politicians address their followers on a high pitch. From around Kolkata, long processions led to Maidan, making the city standstill.
Similarly, religious discourse and discussion of many sadhus are arranged in this area. You can add to your Kolkata site seen bucket.
8. Victoria Memorial
Victoria Memorial of Kolkata is another landmark of the city. It is a historical place. If you visit Kolkata, then definitely visit Victoria Memorial Hall. The Victoria Memorial Park is big and well-maintained inside the Victoria Memorial monument.
Where is Victoria Memorial situated?
Victoria Memorial is located opposite the planetarium and to the south of Maidan.
Historical background of Victoria Memorial
On January 4, 1906, the Prince of Wales built the Victoria Memorial. Later, King George the 5th Laid the foundation of this Victoria monument. On December 21, 1921, the Duke of Windsor inaugurated the Taj of Kolkata. Sir Rajendra Nath Mukherjee built this memorial with Sir William Emerson's design.
After the demise of Empress Alexandrina Victoria in 1901, Lord Curzon took the initiative to build this memorial on 26 hectares of land. To please the British, the native king had subscribed Rs 10 crore towards the cost. It took 15 years to build this 200-foot-high memorial of white marble. It may be called the Museum of British Raj in India.
Information on Victoria Memorial
It has 25 of its galleries and Contains 3,500 different articles associated with the memories of the queen. The architecture is a combination of Mughal and British styles. There are tombs in every corner; the inspiration was the Taj Mahal. They brought stones similar to that of the Taj from Makrana. Immediately after climbing up the stairs, one will find a bronze statue of the queen.
On top of the memorial is a bronze fabricated revolving angel of victory 4.9 feet high, weighing 3 tons. It was made in Italy. If you see the top of Kolkata's Tajmahal, you will notice an angel on top. This angel can move with the air. These are the most famous places in Kolkata.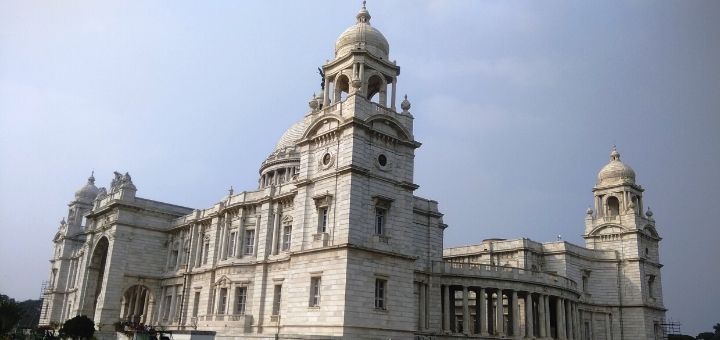 Victoria museum attractions 
Victoria Hall Museum is also called Victoria Bhawan. There are paintings and Statues of Queen Merry, King George the 5th, Queen Victoria, and other British royals who had participated in the administration of India.
Various war episodes like the Battle of Plassey, the Jaipur tour of King Edward the 7th in 1876, the coronation of the queen, and marriage with Albert are depicted in watercolour by William & Thomas Daniel.
Dresses of the queen, rose-wood piano murals, manuscripts of letters, the Whispering Gallery in the dome, a miniature of the Fort William, the black stone throne of Siraj, French canons used by Siraj in the battle of Plassey, the sword of Tipu Sultan, firearms & many other things are on display. It's the most beautiful house in Kolkata.
The attraction of the Kolkata gallery portraying Kolkata during 1690— 1911 is also unique. Otto put (the pot containing afar) of Dwarakanath Tagore. Ivory chair, presented by Munni Begum (wife of Mirzaffar) to Warren Hastings, the pen-stand of Vidyasagar, and the snuff pot of Hastings are all on display with a chronological history of Kolkata. Researchers will be interested in 11000 books on Kolkata in its library. It's also the best photography place in Kolkata.
Victoria Garden
The premises adjoining the Kolkata memorial are attractive for people who want to walk and get fresh air.
Victoria Memorial timings and entry fee
Victoria Memorial Garden's timing is 5:45 a.m. to 5:30 p.m. (October to February) and 06:30 a.m. to 06: pm (March to September); the garden is open all day. The Victoria Memorial Museum's timings are 11:00 a.m. to 12:00 p.m., 01:00 p.m. to 02:00 p.m., and 3:00 pm to 04:00 p.m. (Monday museum is closed).
Indian citizens pay 20 rupees for the garden and museum; for foreigners, it's 200 rupees.
Victoria Memorial 3D Projection Mapping Show
A 3D hologram show is being conducted on the grounds of the magnificent Victoria Memorial To celebrate the 125th birth anniversary of Netaji Subhash Chandra Bose and the 75th Independence Day of India.
This beautiful project is displayed daily except on Mondays or national holidays. The show lasts 25 minutes, and a ticket per person costs 100 rupees.
Tickets are available in both online and offline modes. Offline tickets are sold from 5:30 p.m. at the east gate (adjacent to St. Paul's Cathedral). You can buy online tickets from the BookMyShow app or website. The show starts at 6:30 pm.
9. Mahanagar Peace Park
Mahanagar Peace Park is the best place in Kolkata to hang out, and you can say hangout places in Kolkata for couples. The Park is at the back gate of the Victoria Memorial. Although not nearly as magnificent as the neighbouring Victoria Memorial, it adds to the area's aesthetic brilliance.
The beautifully manicured park features foliage pruned to resemble giraffes and a central jet fountain. As the sun sets, this entire space is a visual treat as the musical fountain comes to life in various colours, perfectly choreographed to soothing Bengali music.
You can't miss the symbolic handhold dove at the entrance as one approaches the park. Mornings are full of people doing their own thing in the form of exercise. Walking, jogging, doing yoga, or just sitting around soaking in the beauty of the lush greenery and the brilliantly hued flowers.
The park has a fruit orchard with pomegranate, chikoo, mango, lemon, guava, wax apple, and other fruit-bearing trees. And this park is also a dating place in Kolkata for couples.
Perfectly maintained with garden benches, toilets, and dustbins. And not to forget those lovely message-bearing placards blending nicely with the surroundings. Mahanagar Peace Park Opening time is 9 a.m. to 6 p.m.
10. Mohor Kunja Park
Mohor Kunja is one of the most peaceful places in Kolkata. The Park is also called Citizen Park. It is a famous park in Kolkata, where you can come with your family and spend your free time here without any cost. You can enjoy peaceful music here.
It's the most peaceful place in Kolkata. The Park is also called Citizen Park. It is a famous park in Kolkata, where you can come with your family and spend your free time here without any cost. You can enjoy peaceful music here.
Mohor Kunja Park is located on Cathedral Road, beside the Victoria Memorial and opposite the Rabindra Sadar. The park was built in 2005 by the Kolkata municipal corporation and opened as a Citizen park in Kolkata. In 2007, the Government changed the citizen park name to Mohor Kunja. And Rabindra Sangit Shilpi, Kanako Bandyopadhyay.
The construction cost of the Park was around 64 lakh. Earlier, the musical fountain was shown in the evening, which was a joy. But it has been closed in the last few years. There is an open sky stage, sometimes organized by various organizations and cultural programs of different types. The entry fee is free for all. The Park is famous among Kolkata people and tourists.
Mohor Kunja timings
Morning walkers throng the place from 5 a.m. until 9 a.m. Then again, the Park reopens at 3 p.m. and closes at 8 p.m. every day. When people from various parts of the city come to spend leisurely time amidst lush greenery. Plastics and food items are generally not allowed inside.
Read also Wholesale Flower Market Kolkata and Howrah [Mullick Ghat]
11. Academy of Fine Arts Kolkata
Lady Ranu Mukherjee established an Academy of Fine Arts in 1933. It was initially located in a room loaned from the Indian Museum, and the annual exhibitions used to take place in the adjoining verandah. A small Indian Museum room is used for the art society.
After Jawaharlal, Nehru visited Kolkata in 1950 to attend a violin concert by Yehudi Menuhin. A small discussion between Nehru and Dr Bidhan Chandra Roy occurred, and Calcutta (now Kolkata) got its art gallery.
Miss Ranu Mukhopadhyay was responsible for selecting an appropriate land to build an art gallery. The Academy of Fine Arts, the Kolkata building, was built between 1959 and 1960. After, the Academy was shifted to a much larger space on Cathedral Road, beside St. Paul's Cathedral, the present location.
The Academy of Fine Arts attractions
Academy of Fine Arts Kolkata is at 2 Cathedral Road, Maidan, Kolkata, West Bengal 700020 in South Kolkata. Rabindra Sadan is the nearest metro rail station, and the nearest railway station is Howrah.
A Jamini Roy collection and Desmond Doig's pen and ink sketches of Calcutta's nostalgic landmark are also on view.
Local theatre and dance programs are performed in a hall with a stage. The Rabindra gallery contains paintings and manuscripts of the great man of letters. The carpet and textile museum is also a must-visit in the Gallery of Contemporary Art.
The state-of-the-art auditorium of the Academy serves as another major attraction. The Studio and Sketching Club of the Academy of Fine Arts is another must-visit place in Kolkata. Painting and sculpturing classes are regularly held here.
The Academy of Fine Arts Kolkata admission fee is nil. A visit to the Academy of Fine Arts in Kolkata would present a vivid picture of Bengal's fascination with art.
Those who enjoy art can visit the Academy of Fine Arts. The Academy of Fine Arts shows are mainly organized in the evening every day. So that ends our tour, and within a short period, one can easily cover all those places. These are the most famous places in Kolkata (Central).
Academy of Fine Arts Kolkata Timings
Galleries are open daily from 3 PM to 8 PM (except the Rabindra Gallery – 12 PM to 6 PM daily, closed on Mondays).
Academy of Fine Arts location
Academy of Fine Arts Kolkata is located at 2 Cathedral Road, Maidan, Kolkata, West Bengal 700020 in South Kolkata. Rabindra Sadan is the nearest metro rail station, and the nearest railway station is Howrah.
12. Rabindra Sadan
Rabindra Sadan is Kolkata's pride and cultural hub and one of the most prominent locations in the metropolitan city of Kolkata. The centre of rich Bengali culture and entertainment presents vivid opportunities for dance, drama, cultural programming, and exhibitions every evening. Rabindra Sadan was established in the memory of the Gurudev Rabindranath Tagore. 
People come here to sing, chat and spend a warm evening. Artists sit down on the grass, engrossed in their artworks. Rabindra Jayanti is celebrated here pompously. The place epitomises Bengal's fascinating culture, fine art, and rich traditions.
It is a premier venue for theatre and cultural activities of the city, attracting footfalls from around the world and a must-go for cultural art lovers.
Rabindra Sadan is well known for its big platform events. That is why it is an important place for the Bengali theatre and the traditional place of the Kolkata Film Festival. Rabindra Sadan is a treasure for its rich cultural heritage and peace.
Rabindra Sadan is located on Belvedere Road, Bhawanipur in Kolkata, and well connected with Rabindra Sadan metro station surface and 2nd Hoogly bridge or Vivekananda Setu.
13. Nandan
Nandan is another landmark of culture located behind Rabindra Sadan. Regular cultural programs are held here. Satyajit Archive in Nandan is another attraction.
Adjacent to it are Bangla Academy, Sisir Mancha, and Kolkata Information Centre; opposite Nandan is Calcutta Club. The famous Bengali commercial theatre or Nandan cinema hall is on extinction.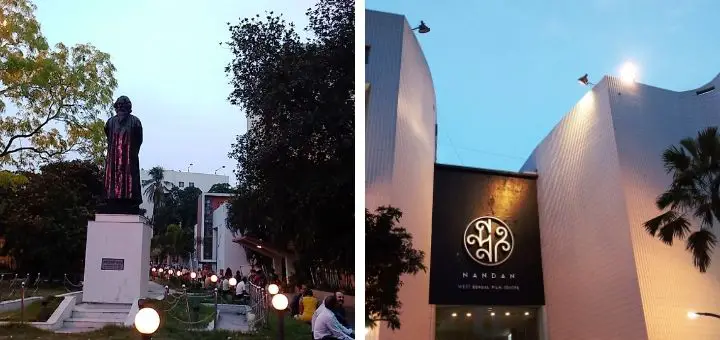 Truly, those places are alluring and exciting. Likewise, Esplanade is the central heart of Kolkata. Nadan is also a Hart of Kolkata, where people of different ages have come, expressing their feelings and sometimes becoming delighted at that moment. This popularity is burgeoning day by day.
At a glance  Top 5 snow world park | Kolkata | Mumbai | Hyderabad | Bangalore | Imagica
14. Paschim Banga Bangla Akademi (West Bengal Bengali Academy)
The Bengali Academy of West Bengal, also known as the Bengali Academy of West Bengal, is the official regulatory body of the Bengali language in West Bengal.
Bangla Academy was founded on May 20, 1986, in Kolkata as the official authority of the language and undertook a reform of Bangla spelling and grammar, compiling dictionaries, encyclopedias, and terminology and developing Bengali language and culture.
This Academy regularly organizes literary shows. It is in the Nandan Film Complex.
15. Gaganendra Shilpa Pradarshashala or Gaganendra Art Gallery
Gaganendra Exhibition Centre Hall, located within the Nandan Complex. It is not very large but suitable for a medium exhibition of arts and photography.
The art gallery is very close to Nandan. The gallery is immaculate and very well organized. Once I had an art exhibition with a friend of mine. It hosts many Nandan-related programs like the West Bengal Children Film Festival.
A lovely art gallery allows new talents to showcase their photography or painting skills. It is newly renovated with a great environment. This exhibition hall was built in the heart of Rabindranath's nephew, Gaganendranath Tagore.
16. Sisir Mancha
Sisir Mancha is a hidden treasure of Kolkata. The "Mancha"(stage) is for art lovers. There are a lot of paintings on the wall, and to understand the inner beauty, you must oversee this—one of the most beautiful places but not an overhyped place.
Sisir Mancha was named after Dramatist Sisir Kumar Bhaduri ESTD in 1978. Excellent auditorium with over 400 settings capacity. Neat and clean. Photograph and sculpture exhibition place. You should come here in the evening and spend valuable time seeing the art exhibition.
17. The Calcutta Information Center
The Calcutta Information Center is a valuable resource for anyone who wants to learn more about the city of Calcutta and its history. The centre provides information (digitally and on paper) about the city's culture, art, architecture, and political and economic history. It also offers tourist information about attractions in Calcutta and nearby areas.
18. Nehru Children's Museum
It is a museum for children. A regular puppet show of the two great epics, Ramayana and Mahabharata, is demonstrated here. Entertaining dolls from 88 countries have enriched this museum. Various entertainment programs for children and an aquarium with many colourful fishes can be seen here.
The Nehru Children's Museum has 3 Galleries, an extensive collection of dolls from all over the world, and a third demonstration of Mahabharata and Ramayana. Suitable for kids: If you enjoy craftwork with your kids, you must visit the Nehru Children's Museum.
Nehru Children's Museum entry fees
Sixteen years and above 20 rupees per person, and under 16 years, it's 10 rupees per person. Here we finish our tour. If you are hungry, you can eat at Haldiram. Please note I am not promoting anything here. Moreover, the Exide Crossing is the junction where you get buses for almost every place you can think of, and Rabindra Sadan metro is just a foot away.
What is the famous of Kolkata?
Heritage buildings, Bengali culture, literature, friendship, politics, and street foods/shopping are famous in Kolkata.
What is Kolkata's famous food?
You should try various Bengali sweets along with Rasogolla.
How many places are there in Kolkata?
A lot of tourist places follow this Famous Kolkata Tourist Places guide.
As a traveller which places can we visit in Kolkata?
You can visit many places like – The Victoria Memorial, Howrah Bridge or the Rabindra Setu, the Indian Museum, the Marble Palace Mansion, St. Paul's Cathedral, Birla Mandir, Belur Math, etc.
Which is the best area to stay in Kolkata?
Both north and south Kolkata are the best for your stay. But north Kolkata is cheaper than south Kolkata.