12 Places to Visit Near Chintamani Kar bird Sanctuary
Chintamani Kar Bird Sanctuary is a must-be-visited place for all bird and nature lovers. It is situated in Sonarpur Rajpur, one Of the best bird sanctuaries in West Bengal.
In 1982 the place was recognized as a bird sanctuary under Sundarban Biosphere. Narendrapur Rathtala Kayaler Bagan is another name for this wildlife sanctuary.
12 Places to Visit Near Chintamani Kar Bird Sanctuary Kolkata within 50 KM
1. Chintamani Kar bird sanctuary review
In 2004, this local bird sanctuary was undertaken by the West Bengal government. It's also called the Nanerdrapur bird sanctuary. In 2005, on 21 October, these local bird sanctuaries got the name Chintamani Kar bird sanctuary of the famous sculpture artist Chintamani Kar.
Chintamani Kar bird sanctuary My experience
In the Chintamani Kar Bird Sanctuary, Indian Forest species are commonly found here. Include Black-naped Monarch, Orange-breasted Green Pigeon, Emerald Dove, Streak-throated Woodpecker, Common Hawk Cuckoo, Crested Serpent Eagle, Orange-headed Thrush, White-throated Fantail, Large-tailed Nightjar, Little Spiderhunter, Ashy Woodswallow, Lineated Barbet, and Greater Flameback.
Rarities include Tickell's Thrush, Greater Racket-tailed Drongo, Slaty-legged Crake, Eurasian Woodcock, Scarlet-backed Flowerpecker, Asian Paradise Flycatcher, Grey-headed Fish Eagle, Scaly Thrush, Eyebrowed Thrush, Blue-throated Flycatcher. The recently rediscovered Large-billed Reed Warbler was found at the edges of the sanctuary.
In addition, the sanctuary also hosts some small wildlife like Sultanpur National Park, namely jungle cat, civet cat, monitor lizard, jackal, three-striped Palm Squirrel, Buff-stripped Keelback(Hele Saap), Vine Snake (Laudoga Saap), Water Monitor Lizard(Goshaap), etc.
Chintamani Kar bird sanctuary entry fee
The entry fee is 50 rupees per person.
Chintamani Kar bird sanctuary opening time
Chintamani Kar bird reserve sanctuary is open in winter from 7:00 am to 5:00 pm and in summer from 6:00 am to 5:00 pm. Night stay is not allowed.
Read  Kolkata Dakshineswar Kali mandir and Belur math Adyapith with Skywalk
Chintamani Kar Sculpture Museum
There is a museum of Chintamani Kar sculptures and an art collection by Chintamani Kar. The name of this museum is BHASKAR BHAVAN. This museum includes the Department of Culture of the Government of West Bengal.
It is a perfect weekend destination in West Bengal but restricted to the picnic. This bird shelter is very safe and comfortable for all kinds of birds.
How to reach Chintamani Kar bird sanctuary
A convenient option is taking an auto from the Garia bus stand or Rajpur towards Baruipur to reach Chintamani Kar Bird Sanctuary. And come down at the Rathtala stop.
Emergency Contact Numbers for Animals and Birds Protection Kolkata
| | | |
| --- | --- | --- |
| Friends of Dogs | | Kolkata Pinjarapole Society |
| 1- A, Rainey Park Lane, Kolkata – 700001, India | | 34, Armenian Street, Kolkata – 700001, India |
| Phone: + 91 (33) 475 0022. | | Phone:033 2268 8933 |
| | | |
| Kolkata SPCA | | The All Lovers of Animal Society |
| 276, Bepin Behari Ganguly Street, Kolkata – 700012, India. | | No 30, Chowringhee Mansion, Kyd Street, Kolkata – 700016, |
| Phone: 91-(0)33-267738 / 2434727 | | Phone: 91-(0)33-296930 / Fax: 2473567 /  2403017 |
| | | |
| Mother of Stray Dogs and Cats | | Hitaljore Kishoribala Databya Chikitsalaya |
| 57/2 A, A-T, Chatterjee Road, Kolkata – 700031, | | C/o Principal –  Sabang Sajanikantha Mahavidyalaya, |
| Phone: 91-(0)33-440878 | |  P.O. Lutunia, Dist. Midnapur – 721166, India |
| | | Phone: 9434802060, 03222-205050 |
| | | |
| Compassionate Crusaders Trust | | Love "n" Care for Animals |
|  (Debasis Chakrabarty Animal Welfare Charitable Trust) | | 96 /1, Dr N.G. Saha Road, Kolkata, West Bengal, India |
| 1 / 13 A, Olai Chandi Road, Kolkata – 700037, India | | Phone:  +(91)-33-24881222, +(91)-9433075715 |
| Phone:  +(91)-33-21135558, 22104365, 22309311, 22309312 | | |
| | | Burdwan district SPCA |
| Darjeeling Goodwill Shelter for Animals | | 60 Station Road, Dhakuria |
| Bong Busty, Kalimpong Dist. Darjeeling, West Bengal – 734301 | | Kolkata- 700031 |
| Phone: + 91 (0)3552-270101 (Clinic), | | |
| 91 (0)3552-270534 (Office), +91(0)9233388937 (DAS Office) | | |
| | | |
| Howrah SPCA | | 15 B, Clive Row. 1st. Floor, Kolkata- 700 001, West Bengal, |
| 22, Strand Road, | | Phone: + 91 (33) 22104365, 22309311/2 |
| Kolkata-700001, West Bengal | | Fax: + 91 (33) 22305665 |
| People For Animals | | |
| 6/1 Wood Street | | |
| Kolkata- 700016, West Bengal | | |
| Tel: + 91 (33) 5567149 | | |
| | | |
| Shahanshah Jehangir, Pashu Pakshi Suraksha Sangh | | South Kolkata Animal Welfare Society |
| 66 Shakespeare Sarani | | 21 South Road, Santoshpur |
| Kolkata 700 017, West Bengal | | Kolkata 700 075, West Bengal |
| Phone: + 91 (33) 247 1721 | | |
| Fax: + 91 (33) 243 4727 | | |
| | | |
| World Wildlife Fund (WWF) | | Animal and Bird Welfare Society |
| Blarampur Terrace, 5th Floor | | Village Singti, P.O. Singti – Sibpur |
| 43 Chowringhee | | P.S. Udayanarayanpur |
| Kolkata – 700071 | | District Howrah – 711226 |
| Phone: (033) 2889530 | | |
| | | Maslanapur Sarada Sevasram ( MSS) |
| Uluberia SPCA | | Village- Betpul, P.S.- Habra, District- 24 Parganas North |
| Vill. & PO. Uttarmanasri, P.S.Udaynarayanpur, Dist.Howrah | | P.O.- MASLANDAPUR, West Bengal |
| UTTARMANASRI 711 412, West Bengal | | Phone: + 91 (3216) 63 711 |
Emergency Contact Numbers for Animals and Birds protection Kolkata
Read Best Kurseong to Darjeeling toy train travel guide from Kolkata
2. Floating market Patuli Kolkata
It is the first floating market in India and the third after Bangkok and Thailand in Asia. There are 121 ships in the lake, which came from Hooghly's Balagarh area. Many beautiful coloured boats were scattered around. By the middle beautiful wooden bridges have gone through all the sides.
The bridge's railing height is up to the waist. With these bridges, you can reach any part of the lake. Installing small gates on the sprawling gates of railings, from which you can purchase goods. Every boat has a power connection. The walls around this huge pond are painted in different colours. There are many benches all around the lake for resting. The place has been made more attractive by planting various types of trees.
In each boat, two vendors could sit easily. There is no doubt that another feather will be added to the crown of the Kolkata tour. Since then, when people worldwide come to Kolkata, they will see this fantastic floating market. I am proud of all my pride in India's first floating market.
The surrounding area of Patuli is charming. You can spend a delightful evening in this entire place. Outside the floating market is another attraction; you can sit between a small lake and a busy wide road; some big idol is there. You can see the Debi Durga Maa structure, Ganesha, and the small Howrah Bridge. We can include it with the Sonarpur trip.
How to reach Patuli in Kolkata?
Metro: Arrive at Shaheed Khudiram Metro Station and come to the EM bypass; you will get closer to Patuli crossing.
Sealdah railway station: Get down at Garia Railway Station and take an auto for Patuli.
Howrah railway station: The buses going via EM bypass go to Garia or Baruipur, then get down to Patuli Crossing.
You may like
Floating market Kolkata address 
Baishnabghata, Patuli Township, Patuli, Pond Block E and H, Kolkata, West Bengal 700094.
3. Tripura Sundari temple
Tripura Sundari Devi Temple is a spiritual place goddess Sundari is related to Hindu Goddess Kali and Lord Shiva. The environment is calm and peaceful, also well maintained. I feel it is a hassle-free experience for temple visitors or tourists. It is very near to the Garia bus stand.
At the temple gate, there is a small shop too on the premises. Anyone can buy prasad, flowers, incense sticks, and candles for Tripura Sundari devi's puja offering. The Place and the Puja they did were heart-touching and satisfying.
The Tripura Sundari temple opening time is Morning, 10:30 am to 12:00 noon, and evening from 05:00 pm to 08:00 pm. Almost all rituals are performed, like Shraddha, batsarik, marriage, etc., and all the rituals are executed perfectly.
Price Chart for all the rituals, please get in touch with the mandir office. The Archaeological Survey of India should take care of this place because many archaeological evidence is available here. It can reveal many new facts about the ancient history of Bengal. Forgoing this place, take an auto from Garia to Boral and get down to the Maa Tripura Sundari temple stoppage.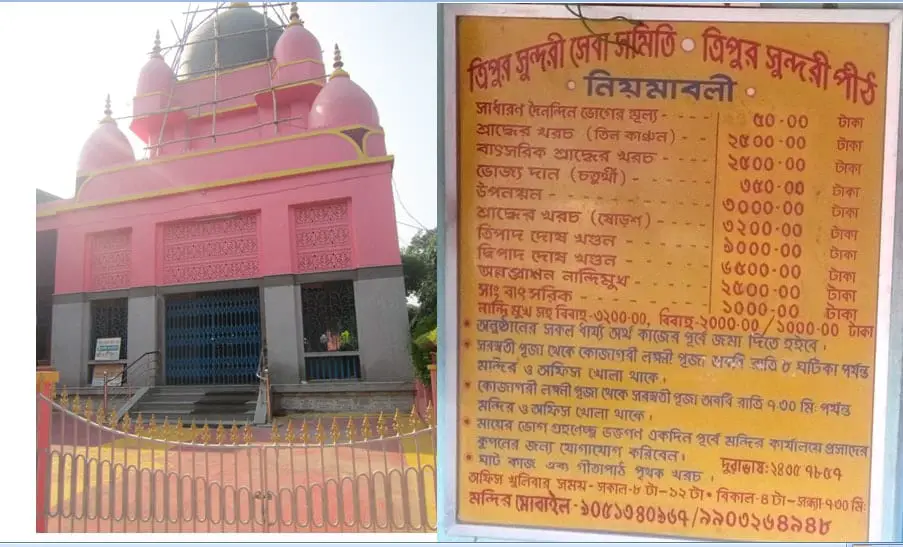 4. Narendrapur Ramakrishna mission ashrama
It is a unit of Ramakrishna Mission and the headquarters at Belur, established in 1957. The mission school is one of the top schools in India. It is a residential school affiliated with WBBSE(West Bengal Board of Secondary Education and WBCHSE(West Bengal Council of Higher Secondary Education).
The school has huge playgrounds, a gym, high adrenaline tournaments, an Annual exhibition to display students' creativity, drawing classes, tabla, singing, sitar classes, gardening classes, handicraft classes, and drama/theatrics characterise.
A posh auditorium that can make the largest cinema halls shy is a celebration of cultural festivals. There is a handcuff store next to the RKM gate. Various handmade items, honey, incense, etc., are available. (Another Ramakrishna mission, Kolkata, is situated in Gariahat, Golpark).
5. Jora Shiva Temple Rajpur
First, we saw a 300-year-old Jora Shiva temple in Rajpur. There are two Shiva temples. Nature destroyed one of the temple's many parts, but The local people did some renovation of the other temple.
6. House of the Zamindar Nabin Chanda Ghosh
Our next visiting place was Zamindar Nabin Chanda Ghosh's house. Now their tenth generation is going on. The Zamindar house was made in 1720 – 1730. Prafulla Chandra Ghosh is the last zamindar of this dynasty. Here Durga Puja was worshipped at Durga Dalan of Zamindar's time. There was a temple on its side. "Rash Mela" was held there a few years ago.
Read more Alipore zoological garden Kolkata | Entry timings and new animals
7. Hainavi Banga Natya Samaj
Harinavi Banga Natya Samaj is the oldest Bengal drama society in Bengali theatre history history history. Bengal's first playwright Pandit Ram Narayan Tarkaratna established it in 1862.
They play mainly Bangla dramas In West Bengal. It became a prime platform for actors and actresses. Natak(Drama) in Kolkata is a vibrant and cultural part of Bengals society.
8. Netaji Subhash Chandra Bose Paternal House
Another main attraction in Harinavi is the paternal house of the patriot Netaji Subhas Chandra Bose. It is heard from the local people that Subhash Chandra Bose childhood has been spent many days in his parent's house. The Subhash Chandra Bose house will open on Netaji's birthday, Republic Day, and Durga Puja.
Besides the house of Netaji, there is a museum. The museum presented Netaji's life and works and lots of information about Subhash Chandra Bose's family. It is open to the public throughout the year. This place is also connected to Subhash Gram station. According to the name of Subhash Chandra Bose, this station is named Subhash Gram.
9. House of the Salil Choudhury
There is a village named Changripota. There is the house of singer Salil Chowdhury. You can also take a look at the place.
Related Famous Places in Kolkata City
10. Bipadtarini mandir in Rajpur Kolkata
It's the religious place of Maa Bipodtarini, a Hindu Maa Kali Idol. Out here, the disciple of Goddess Maa Kali comes to devote their prayers.
Rajpur Bipodtarini mandir puja timing
The temple opening time is in Morning from 06:00 am to 11:00 am and evening from 02:30 pm to 05:00 pm. There Aarati begins at 4 pm.
At the temple, hundreds of people gather every day. The place is maintained very nicely by the Bipadtarini temple Committee and is held very disciplined. Bipod Tarini Chandi bari Kolkata, one of the holiest temples of Kolkata and its surroundings.
Rajpur Bipodtarini mandir address
To reach Bipodtarini Mandir, take an auto from Sonarpur station. Go towards Rajpur and come down to the Banshtala stoppage. From there, Bipodtarini Mandir is 3 minutes' walking distance.
Read Bankura Bishnupur Mukutmanipur Tour
11. 500 years old Chakrabarty's Kali Mandir
The Chakrabarti family built the Kali Mandir. They are still in charge of this 500-year-old Kali temple. The Kali temple surround is very decorative, also neat, and clean. Also, there is a lake in front of the Kali temple. Here you can spend plenty of time.
Take an auto from Sonarpur, towards Ghasiyara or Kalikapur, and get down to the Gramkalikapur stoppage. Then it's a 10-minute walking distance.
12. Sonarpur Book fair
 Another attraction of Sonarpur is the book fair. This book fair is held in the second week of December every year and lasts for a week. It's held in the field of Sonarpur Railway Quarters. There is a theme of this book fair every year. Apart from the books in this book fair, there is an open stage for drama, dancing, singing, etc.
There are also food parks, entertainment parks, science parks, etc. The entry fee for the fair is 10 rupees. Many book publishing houses and book writers gather together every year to publish their books at this fair.
Read also New Town Eco-park | Mother's wax museum | seven wonders Kolkata
Plan for Chintamani Kar bird sanctuary and Sonarpur Tourism
You can come by metro or train. Details are given below.
Metro route for Chintamani Kar bird life sanctuary
First, I came to the Kavi Nazrul metro station and took an auto for Boral to reach Tripura Sundari Mandir. Again return to Garia metro station. Take another auto for Baruipur, and get to the Narendrapur stoppage to attend the Narendrapur Ramakrishna Mission.
After, take another auto and go to Harinavi. After reaching Harinavi take riksha, visit Jora Shiv Mandir, the Zamindar Nabin Chanda Ghosh house, Bangiya Natya Samaj, Netaji Subhash Chandra Bose Paternal house, and Changripota village to visit the house of the Salil Choudhury.
Finished Harinavi Rajpur, take another auto towards Baruipur, come down at the Rathtala stoppage, and go to Chintamani Kar bird sanctuary; from there, take another auto for Rajpur.
From Raipur hired an auto for the Banshtala stoppage and went to the Bipodtarini mandir. Then take another auto to Sonarpur station. From there, take an auto for Ghasiyara and get down to the Gram Kalikapur stoppage to visit 500 years old Chakrabarty's Kali Mandir. Finally, take an auto from there and come to the Sonarpur station.
Read Rabindra Tirtha New Town Rajarhat Kolkata [FULL DETAILS]
Train route for Chintamani Kar bird sanctuary
Sealdah to Sonarpur distance by train is 18 km. It's also a part of Kolkata now. Sonarpur to Sealdah station list – Park Circus, Ballygunge, Dhakuria, Jadavpur, Baghajatin, New Garia, Garia, Narendrapur, and Sonarpur.
First, visit the 500 years old Chakrabarty's Kali Mandir from Sonarpur station road by auto and return as planned.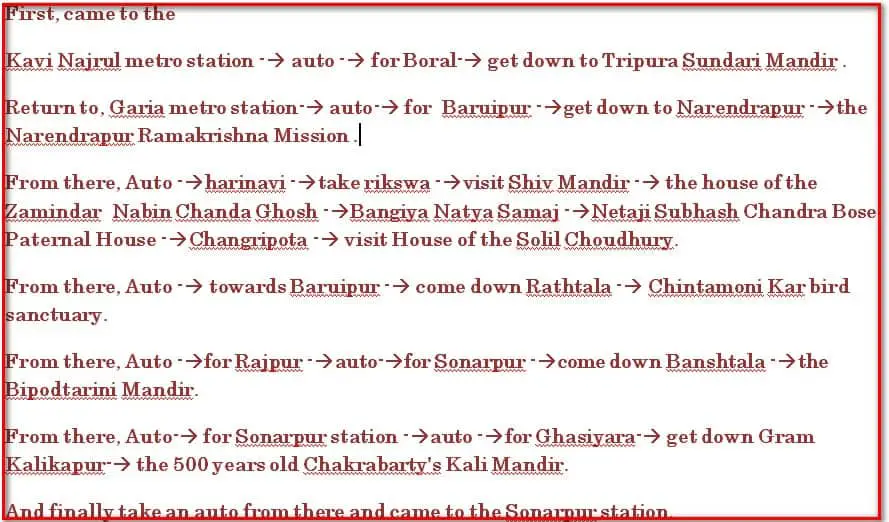 What is a bird sanctuary?
A bird sanctuary is a natural place where birds are preserved. The main motto is to provide Special attractions to Extinct birds.
How many bird sanctuaries are there in India?
There are 543 bird sanctuaries in India. Example: i.Bharatpur Bird Sanctuary, Rajasthan ii. Sultanpur Bird Sanctuary, Haryana iii. Salim Ali Bird Sanctuary, Goa.
Which is the largest bird sanctuary in the world?
Weltvogelpark Walsrode is the largest bird sanctuary in the world. It is in Germany, built-in 1962.
Articles:-