Bankura Bishnupur Mukutmanipur Tour from Kolkata
Bishnupur Mukutmanipur tour can be on the same day trip from Kolkata. But, If you manage one day to stay, it's good for you. Arannayak Express and Rupashi Bangla are both excellent trains to reach Bishnupur. Currently, Rupashi Bangla running from Santragachi station at 6:25 am.
If you include Mukutmanipur, Bankura, or Jayrambati Kamarpukur, it will take a few days more. Buses are available from the Bishnupur bus stand in West Bengal. 
Bankura Bishnupur Mukutmanipur Tour from Kolkata
About Bishnupur Mukutmanipur Tourist Places to Visit
The nineteenth Malla king Jagat Malla moved from the 'Pradyumnapur' and shifted his capital to the region of the red soil Bishnupur in the fourteenth century.
Bishnupur terracotta art has taken a rare stand. This art enriched ancient Bengali temple culture. Music maestros like Jadu Bhatta, Radhika Prasad, and Gyan Goswami introduce their music to the globe and style. It's still terribly renowned as "Bishnupur Gharana."
The unique attraction of Bishnupur tourism is burnt clay's creative and architectural structures. The place is also known for Baluchari, Mallabhum sarees, and 'Tasar silk,' called Bishnupuri silk.
Thousands of people gathered in the "Shravan Sankranti" puja. Additionally, the Bishnupur fair starts on the 7th of Poush as per the Bengali calendar (December last week). Both are the most attractive event in Bishnupur.
Bishnupur Mela starts on 23rd December 2023 and ends on 27th December 2022
Read Expert holiday-saving travel tips
Bankura Bishnupur Handicrafts items
While on the way back, you may shop famous Baluchari of Bishnupuri silk, Mallabhum Sari, Tasar silk, articles made from conch shells, horses made from burnt clay in Panchmura (35km), and many Dockra artefacts for remembrance of the trip. Silk khadi of Raghunath Sayer or Mallabhumi Silk Centre of Bara Kalitala is ideal outlets for shopping.
Ten incarnations comprising 120 cards painted with gods and goddesses of Hindu mythology are another interesting souvenir of Bishnupur.
Comparable to Akbar's Raja- Ujir cards, they are bright and eye-catching, and you could even see the cards being made at Fouzdar House in Sankhari Bazar near Madan Mohan Temple. Kamarpukur, Jayrambati will reach simply from Bishnupur by bus. Mukutmanipur can be reached from Bishnupur easily.
Read more stories about Ambika Kalna [Sabujdwip] 108 Siva temple tourism guide. Terracotta art is also famous there.
Bishnupur 2 days 1-night Travel Guide – Our Holiday Story
Lying at the heart of West Bengal, Bishnupur is a popular destination with a rich cultural heritage. Famous for its Terracotta temples and handicrafts, this place was once the capital of the Malla Kingdom.
This place is excellent for a weekend trip from Kolkata. Here are two days 1-night tour guides for exploring Bishnupur:
Day 1
Start the journey by hopping into the Rupasi Bangla train departing from Santragachi railway station at 6:25 am. It will reach Bishnupur by 9:45 am and head for the trip right after. Take a toto from the outskirts of the railway station (as they charge way lesser than the ones inside the station).
Visiting the famous Madan Mohan temple is advisable without checking into the hotel. It will save the travel expense. 
It's the most famous Radha Krishna temple in Bishnupur. You can enjoy having a delightful "Bhog" (post-puja meal) for lunch by just buying a meal coupon for 60 rupees only.
After that, leave the hotel, have some food, and rest quickly. Again start your sightseeing journey by visiting the oldest music college in India – Ram Sharan College of Music. First established as a school, this college holds its reputation to date.
Bishnupur is renowned for its architectural heritage, depicted beautifully in its temples. So we recommend visiting most of them on the first day itself. 
Spend your afternoon exploring the architectural aura of the seven temples in a single place. From the Kalachand temple, walk around the terracotta-designed Nandalal temple, Radha Govinda Mandir, Radha Madhav temples etc.
Before sunset, head to the shopaholic's paradise at Poramatir Haat, a 7-minute walk from Nandalal temple, and find exclusive terracotta handicrafts and handwoven fabrics at the best prices, all made by villagers.
End the day's journey by visiting Dalmadal Cannon and Chhinnamasta temple, which lies adjacent. Finally, indulge in collecting beautifully hand-crafted souvenirs like Dokra works, 'Dashavatar Tash 'and Baluchari sarees in this area.
Read Digha Tour Plan from Kolkata
Day 2
Check out the hotel, but keep the luggage here and Start day two by exploring Bishnupur's rich cultural heritage stored in AJC Purakriti Bhawan – the district museum. It is open from Tuesday to Sunday from 10 am to 5 pm and is closed on Mondays.
Follow it up with strolling at the Lal Bandh lake via the red village roads. Ideal for boating and bird watching.
Next, take a toto and go to Bara Pathar Darja, Choto Pathar Darja and Stone Chariot built by Raja Veer Singh. Do check out the Lalji temple beside Bara Pathar Darja. The Mrinmoyee Mandir, a Durga mandir, is a must-visit when in Bishnupur.
To explore the remaining places all at once, purchase online tickets with your identity details. The Jor Bangla stands majestically, offering a reminiscence of the past. Check out the Gum Ghar, Jugal Kishore temple and Pachchura Shyam Rai temple, showcasing glimpses of the intricate architectural heritage.
Keep the best for the last and visit Rasmancha – the landmark tourist spot of Bishnupur. Festivals of Radha-Krishna were earlier celebrated here. Now all these sites are conserved as heritage sites by the Archaeological Survey of India. If you have extra time, visit Baluchari / Swarnachari saree shop in Bishnupur. Check the playlist.
Lastly, take your luggage from the hotel and depart for Kolkata, taking the same Rupasi Bangla train at 5:30 pm from Bishnupur. Your short and eventful journey to Bishnupur comes to an end here. I hope this guide helps you arrange your weekend trip to Bishnupur.
Read about 20 reasons why you visit and love India travel
Pora matir hat Bishnupur (বিষ্ণুপুরের পোড়ামাটির হাট)/ Terracotta Hat
The primary purpose of this haat is to promote and market the terracotta art of Bishnupur. Simultaneously, the government tries to promote the culture of Bishnupur and Bankura.
Beyond the Chhinnamasta temple of Bishnupur, the environment-friendly hat is open on the grounds of the Jora Mandir. The fair starts at noon (3:00 pm) and runs till the evening.
There are many shops in the shop. Burnt material stores, terracotta goods shops, girl's jewellery shops, Shusunia region stone shops, paper doll shops, clothes shops, wooden goods shops, handmade "jurugunda" shrimps (chorakata), lanterns, etc. are famous.
Baul song team and Tusu song groups are singing under trees. On one side of the field, a group of Kirtan groups, Ramayana song groups, are singing in their style. On another side of the area, you can eat tea, chopped fry, Sabudana Papad, televaja snack, etc.
If you want to take a double-decker bicycle to visit the fair, you will get the vehicle for rent. If you wish, you can also take a little camel ride. Build a high altar in front of the Joda temple. At one stage, the team came and showcased their item. Currently, the feature stopped due to corona.
They played drama, Kirtan, dance, etc. People of all age groups are dancing, starting from boys and girls to the rhythm of "Dhamsa-Madal". If you can take time on Saturday, you should visit the fancy "Terracotta Hat" or the Poramatir hat.
Bishnupur Hotels
Bishnupur tourism property earlier at Bishnupur Tourist Lodge (wbtdcl) is a good option for staying in Bishnupur. If you also plan for the Joypur forest, then Banalata resort might be a good option.
Rashmancha – Temple of Bishnupur
The Archaeological Survey of India maintained the Rashmancha. There square measure three galleries designed with 3 tier design form with sixty-four compartments and thirty-five feet high. Bir Hambir created it in 1587, and its eighty feet wide stage.
The Rashmanch is formed with a burnt brick over a mixture of Bengal "Charchala and Egyptian pyramid" style. During the time of the Malla kings, the Rash festival was celebrated on this stage. Deity Radha Krishna is accustomed be put in at the time of the celebration on the scene.
Also Read Shimla Kullu Manali tour guide from Kolkata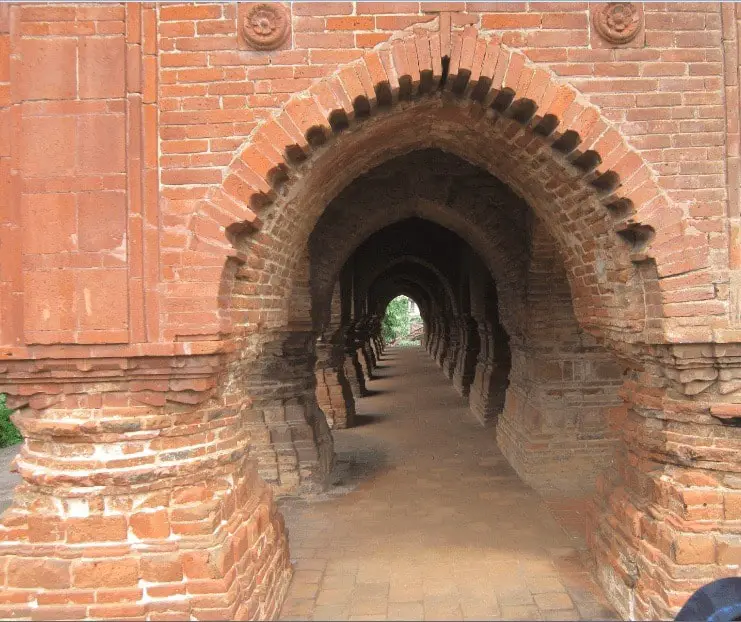 Dalmadal cannon
King Gopal Singh buy the Dalmadal cannon for Rs two lakh. He resisted Maratha Bargi's attack by Bhaskar Pandit with the help of this cannon.
The legend is that the family god 'Madan Mohan' discharged the cannon to repulse the 'Bargis'. It's the major attraction of Bishnupur Mukutmanipur.
View Bolpur Santiniketan tour plan guide from Kolkata [Visit 20 Places]
Shyam Rai Temple
Shyam rai temple was built-in 1643 by king Raghunath Singha of the Charchala Pancharatana style. The temple is exclusive in sculptures with stunning carvings. The Rash Lila of Sri Krishna with Gopini of Hindu mythology has been sculptured in the walls of the terracotta temple art in Bishnupur.
Read Ayodhya Hills Purulia tour Kolkata
Jor Bangla
Mallaraj Raghunath Dev Singh built Jor Bangla in 1655. It is made in charchala style. There also are many temples and traveller attractions like Chinnamasta Mandir, stone chariot, Radhe Sham temple, Malleswar Shiva temple, etc.
Read Puri Tourism Guide
Stone Chariot Bishnupur
A chariot made of stone is another point of interest in Bishnupur.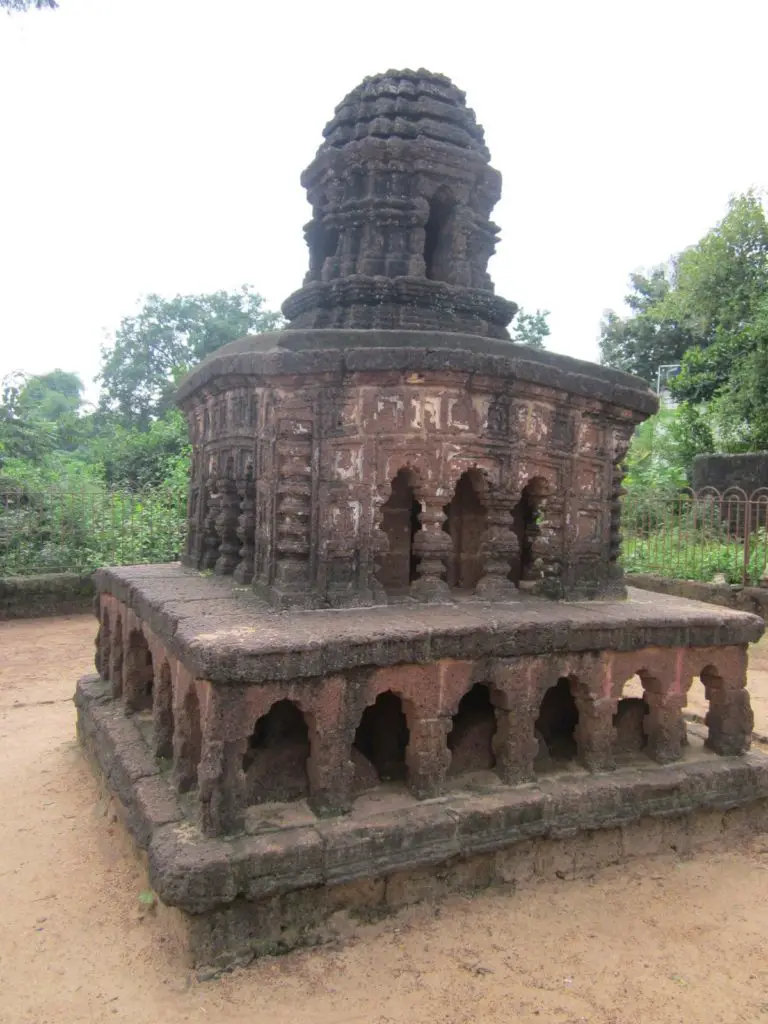 Read also 25 Cheap Hotels in Bakkhali
Famous Tourist places in Bankura
There is an archaeological treasure all around the district of Bankura. In Bishnupur, Dokra craftsmanship on the outskirts of Bikna village is world-renowned.
Beautiful artefacts assume to be the raps of equipment. Handloom wrappers, bathing towels (Gamcha), bed-covers, or handicraft items made from bamboo, cane, and wood by the tribal handicraftsman of Rajgram and Kenjakunra villages are special. Those are the lovely souvenirs of the Bankura trip.
A Sun temple was built in the 10th century about 3 km away, and an ancient Ekateswar Shiva temple. It is just 5 km away. Raghunathju terracotta temple in Bishnupur is enriched with terracotta artwork built in 1639.
Methodist Missionary Church and Darakeswar River are also places of tourist attraction. Bankura is also famous for its variety of sweets like Kalakand, Chittaranjan, Nikhuti, etc.
The interested traveller should stay overnight at Bankura and travel about 24 km to enjoy an expedition of 400 ft high lush green-covered Koro Hill.
The wall also surrounds the temple of the eight-armed goddess Parvati or Durga. Behind the temple are Shiva Linga and his consort, an ox. You can easily view Gangdua Dam on the Shali River (8km) and Susunia Hill from behind the temple.
Tapobon Asram is at the foothill, and Ramakrishna Sevadam Ashram is also there. A little away, Chenchuria Eco-park is a paradise for tourists from Bengal, 26 km from Bishnupur.
The ecology garden in Bishnupur has an extensive area surrounded by Mahua, Sal, Piasal, Amlaki, and Kendu(tobacco) leaves. There is also a lake with boating facilities. The world-famous artist Jamini Roy's birthplace is in Chhandar village, which is under Bankura.
Read 
Bishnupur Music
The classical music of Bishnupur Gharana is still renowned worldwide.
Bishnupuri Silk Saree Bankura district
Bishnupur is renowned for Baluchari and Mallabhum sarees, Tasar silk, etc. You should add this to your Bishnupur Mukutmanipur tour checklist.
Mukutmanipur Tour and travel guide
Nobody knows where heaven is, but in a moonlight light at Mukutmanipur, one gets heavenly bliss by staying overnight. There are two dams in Mukutmanipur, which are Kangshabati and Kumari dams.
We can have a Picturesque view of rural Bengal with its lush green shading and slight ripples in the lake's blue water. A boating facility is also available here.
The water released from the sluice gate creates a sweet melody and reminds us of paradise. The zig-zag walkable road seems to have disappeared into the hills, and the hillocks have covered the horizon.
Sunrise in Mukutmaniur is also well appreciated. Paresh Nath hill is 6 km along Dam Tip road and 3 km along the rustic path at the confluence of Kangshabati and Kumari rivers.
On top of the hillock, the Hindu god Lord Shiva and Jain god Parshnath swami of chlorite stone and many other goddesses can find. Please note the hotel price is very high there.
You need to come to Bankura station and take a local bus or hire a cab to get here.
You may like Rajgir Tourism Guide plan | Nalanda Pavapuri temple tour
Mukutmanipur Tour Plan
Mukumtanipur Dam is India's second-largest soil dam, located on the banks of the Kanswati and Kumari rivers. The concrete road is at the top of the dam, about 11 kilometres long.
After getting permission from the office in the lock gate, you can drive the 4-wheeler on this road. The time is from 10 am to 4 pm.
Musafirana is on this road – a beautifully arranged small hill with a beautiful topography of Mukutmanipur. Pictures of Bankura's scenes are painted on the wall of Musfirana. After that, you can visit Pareshanath temple on a small "Tila". Fari ghat is just right after that. Cross the river and visit Bonapukuria Deer Park. The deers came to eat every day at 10:00 am and 4:00 pm. At that time you will see many deer together.
Another good way to visit Mukutmanipur Dam is to rent a boat—the boat visits Musafirana, Parsnath Temple, Deer Park, Sonajhuri Prakriti Bhraman Kendra, and Mohana.
Now Mukutmanipur has been refurbished with colourful designs on the street, beautifully decorated shops, chandeliers on the road, new picking boat booking counters, and cleaned toilets. There is a plan to start water sports as well.
Places to visit in Mukutmanipur (1st option)
Now let's turn around Mukutmanipur. If you go through the right road of Mukutmanipur, you will "Baroghutu" hill – a small hill and an indigenous village you can see after. Now you are very near to the grasslands of the dam. In winter, migratory birds gather here.
Ambikanagar is 4 km away from Mukutmanipur. The first name was Amai-Nagar. Once upon a time, this place was for Jainism, but in 1898 it became desolate because of floods. The ruins of Ambikanagar Rajbari are still present. The name of one of the royal family's queens is named Mukutanipur. Near the subdivision town is Khatra.
The village of "Panpra" is on the outskirts of Khatra. You can find Mosakh Hill and the jungle of Kashipur. There is a road to the top and a temple and a cave on that top. In this jungle, an elephant comes occasionally.
However, the forest department staff spread the news before. In "​​Dhanara gram panchayat of Khatra", there are about 100 bighas of land, with one stone-made hill called Sonamani Hills. It is said that it was the temple of Goddess Sonamani, and Puja still happens here.
Go with Pandal of Durga Puja in Kolkata
Mukutmanipur tourism (2nd option)
Now let's go to the other side. Go to Ranibandh from Mukutmanipur to the Jhilimili jungle. You will see three watchtowers on the streets and a very extraordinary view of Mukumanipur Dam from the hills and thick forests. After a bit more, the road for SUTAN and you will reach the Sutan Forest Bungalow in the dense jungle.
Peacocks may fly in front of your car on the road. Waiting to re-open the damaged bungalow. A watchtower again being refined. Let's return to the main street. There will also be a road on the left to Talveria Dam, the charming picnic spot. The government newly decorates the area. Ghatashila can be visited from Jhilimili to Bandayan, from the Durasini Forest.
Apart from this, the distance between Khatra and Bishnupur is not very far. In Bishnupur, every Saturday from 2 pm to 5 pm, a fair is held in the govt initiative, where the terracotta of Panchmura, Bikaner Dokara, Baluchari / Swarnachari / Shankha of Bishnupur, the stonework of artists of adjoining villages of Susunia hills.
Adivasi dance and kirtan are also with this. If you tour from Bankura, visit the Shushunya Hills.
Go with New Digha tourist sports
Distance:-
1. Bankura from Khatra to Mukutmanipur – 50 km
2. From Khatra to Mukumanipur – 7 km
3. From Khatra to Mosquet Hill – 2 km
4. Khatra to Sonamani Hills – 14 km
5. Khatra to Bishnupur – 60 km
6. Khatra to Sutan – 28 km
7. Sutan to Talvera Dam – 24 km
8. Jhelimili from Taliberia – 7 km
9. Jhelimili to Ghatshila – 60 km
Our Bishnupur Mukutmanipur tour ends here.
What is Bishnupur famous for?
The terracotta temple of Bishnupur attracts tourists to visit. Baluchi sari, Bishnupuri culture, and music are also famous.
What is famous in Mukutmanipur?
Mukutmanipur is mainly famous for the Mukutmanipur Dam. Tourists also enjoy Parasnath Hills, Kangsabati Dam, Ambikanagar, the deer park, etc.
How can I travel from Bankura to Bishnupur?
The train is the best way to reach Bishnupur from Bankura. Adra – Midnapore MEMU daily departs at 9:20 am, and it takes 30 minutes to arrive.
Is it recommended to visit Bishnupur during DOL and Holi?
If you want to travel, Dol or Holi is not worth visiting Bishnupur. Nothing special happened till now. But it's ok if you travel to enjoy nature.
How can I go from Bishnupur to Mukutmanipur?
Mukutmanipur is about 71 km from Bishnupur. The car route is the only one. Private cars are available from Bishnupur, and it takes approx 2 hours.