7 Days Jagannath Puri Travel guide from Kolkata in 2023
Bhubaneswar is called the city of the temple, and Puri is a famous holy historical place in Odisha, India. We visited this year, and I would like to share my experience. I have done a few little tricks in this Jagannath Puri Travel guide from Kolkata, especially on transport and tourist spots. It helped me to save my budget. Follow this guide; it will help you.
Sealdah Puri Duronto Express is a good train, and the fare is 600 rupees for non-ac and 1100 rupees for AC 3 tires, including meals. The time is 8 pm departure from Sealdah, and Puri arrival is 4:00 am.
7 Days Jagannath Puri Travel guide from Kolkata
Puri Travel Itinerary
Day 1:  (Bhubaneswar) – Megeshwar temple, Rajarani temple. In the morning and afternoon, we went to Nandankanan Zoo. We reach Dhouli from Nandankan in the evening for a light and sound show.
Day 2: Dhabalgiri (Dhouli), Udaygiri, Khandagiri, Lingaraj, and catch the train from Bhubaneswar for Puri at @12:45 pm. Evening at the Puri beach.
Day 3: We visited Raghurajpur, Pipli, Shree Gundicha Temple, Shree Jagannath Temple, Markandeshwar Temple, Shree Chaitanya Gaudiya Math, Buddhist Temple, Puri Beach, and did some marketing.
Day 4: Chandrabhaga, Konark, Ramachandi Temple. We visit the flag opening ceremony at Shree Jagannath Temple in the evening.
Day 5: We Visited Puri Beach, marketing at Swargadwar market.
Day 6: Chilika Lake, watch dolphins and return to Swargadwar.
Day 7: Puri local Side seeing and picking up return train from Puri station.
Our 7 Days Puri tour guide
We started our journey with a group of 4 people, boarded from Howrah station, and the Howrah Puri Express left the station around 10:40 pm. The next morning we reached Bhubaneswar at 5:10 am. 
Bhubaneswar, a smart city, is called the city of the temple, and Puri is the most famous holy place in India; it's also called the glory of Orisa.
After reaching Bhubaneswar, we hired an auto, visited Megeswar and Rajarani temple, and checked in to our hotel. The railway station is 2 km from there and is in a perfect place. The hotel surrounds many temples within walking distance. They have an attached restaurant serving good quality food at a reasonable price.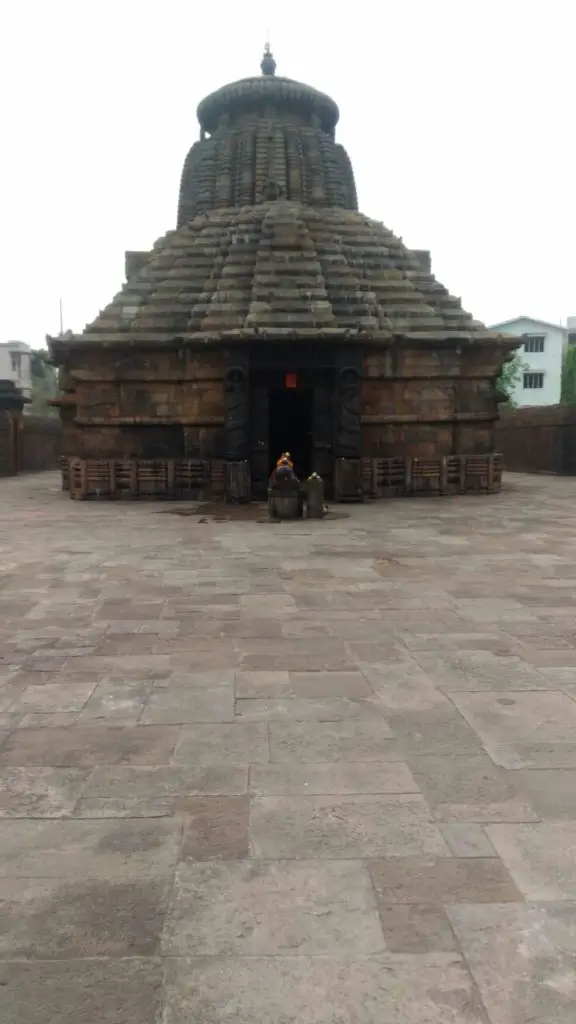 We reached the hotel, rested, had breakfast, and went for the Bhubaneswar local sightseeing. We visit some temples, Udaygiri and Khandagiri locally. In the afternoon, we hired an Uber for Nandan Kanan. We already booked an entry ticket from the Nandankanan site earlier. We save time because the queue is huge, which I saw. It's one of Asia's best and largest zoos, and kids can enjoy it a lot there.
The next day, We visited Pipli, left Bhubaneswar and reached Puri. We spend time at Puri Sea Beach in the evening and return to the hotel. 
The next day, I went to Chilika Lake and returned. You can see dolphins here. It's a full-day journey. Book OTDC for sightseeing; it's the best.
On the last day, we did a local side-seeing visit to Sri Jagannath Puri Temple, Markandeswara Temple, Sudarshan Crafts Museum, Gundicha Temple Golden Beach, Buddhist temple, Raghurajpur Gourio math etc. In the evening, we boarded from Puri station to return to Kolkata.
My Puri Packing list 
I always carry extra clothes for the beach, Tharmas, mosquito coil, power bank, Hitting cup, medicine, etc.
Puri expense for four people
| | |
| --- | --- |
| Travel | Expenses |
| Train Fare (total) Kolkata – Bhubaneswar to Puri | 4740 |
| Auto fare (Bhubaneswar station to hotel) | 200 |
| Bhubaneswar Hotel ( 2 rooms) | 1400 |
| Uber at Bhubaneswar (all the temples) | 1500 |
| Swargadar to Jagannath temple up down | 160 |
| Puri hotel | 2400 |
| Jagannath Temple to Markendeswar temple | 100 |
| Swargadar, Pipli, Raghurajpur, Gouriya math, others by auto | 1000 |
| Swargadar to Konarak  by car | 1700 |
| Food | 6000 |
| Extra | 1000 |
| total | 20200 |
| Per person | 5050 rupees (Shopping Extra) |
Puri tour cost
Read Daringbadi Tourist Places in Odisha
11 Famous places in Puri Sea Beach and Bhubaneswar near me
There are many places in Puri, but the following places are always in the hype.
Dhabalgiri temple
Udaygiri and Khandagiri
Nandan Kanan zoo
Puri sea beach
Swargadwar
Puri Jagannath temple
Pipli and Raghurajpur Artist Village
Puri local Side Seen – Gundicha, Buddhist Chinese temple, Sri Gouria Bihara, and others
Konark Sun Temple
Chandra Bhaga and Ramchandi Temple
Chilika Wildlife Sanctuary and Lake
1. Nandan Kanan Zoo
Nandan Kanan Zoo is the 2nd largest zoo in India, famous for its white tiger safari. Tourists mainly came to Puri first and took the package for the side seen like Dhouli, Nandan Kanan, etc. So it's a full-day tour plan with less time, only a long journey achieved during this travel.
But staying one or two days in Bhubaneswar will help you reach those places very comfortably, and you can spend extra time in those places after we move to Puri. On our first day at Bhubaneswar, we first visited this place.
Read Digha Tour Plan from Kolkata
2. Dhabalgiri Temple 
After 3 hours in Nandan Kanan, we booked another Uber for Dhabalgiri/Dhouli. There is a unique attraction that I should share with you. Light and sound shows happened in the evening based on the entire Dhabalgiri as a frame; they do not use any standard screen. It's a 45-minute show, and the ticket is just 45 rupees.
The show is based on King Ashoka and the story of how to make the stupa. It's a unique one. We again booked a cab from Dhouli in the evening and returned to the hotel for dinner and rest.
The next morning, we booked a cab and went to Dhabalgiri again because we could not see the entire Dhabalgiri properly on the last evening. However, the Dhabaliri and stupa looked magnificent in the sunlight. Outside there, we bought some Prasad.
3. Udaygiri and Khandagiri
That same day, we went to Udaygiri and Khandagiri. Both have historical values; Khandagiri means khanda, which means broken, and Giri means hill. In the Khandagiri temple, Jain Tirthankara's sculpture is made with "Kastipathar."
The entry fee was 2 rupees only. Beware of monkeys in Khandagiri. I had a terrible experience with them. Many monkeys suddenly jumped on me because a local person gave me some fruits in my hand, and I was very scared.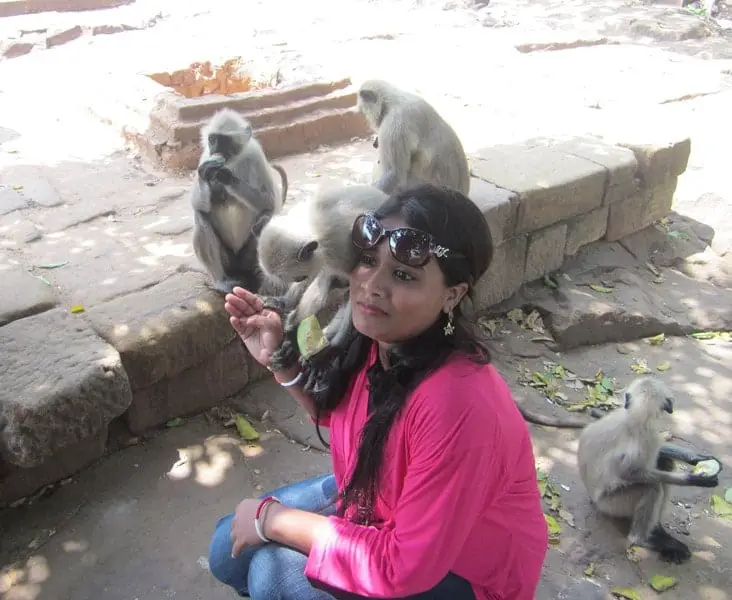 From Khandagiri, we hired an app cab for the Lingaraj temple, the most famous temple in Bhubaneswar. After that, we reach the station and catch the Dhouli Express for Puri.
4. Puri sea beach
When I reached Puri and passed the beachside road, I waited to reach the hotel, put the luggage in the hotel and ran to the Puri sea beach to enjoy the waves.
Puri is one of the significant holy Dhams in India. Located on the shores of the Bay of Bengal, It has one of the finest beaches in the world. It is just a place to witness and participate in colourful festivals. Puri is famous for its annual festival of chariots, the Rath Yatra. The pilgrimage town also abides by artisans and craftsmen who produce unique handicrafts.
But when I reached the hotel, I found it was a budget hotel in Puri Sea Beach. It's near the beach, and it has a cooking facility.
5. Swargadwar Market
Puri sea beach is also known as Swargadwar. We finished our lunch and went to the beach again in the evening. Moreover, my daughter enjoyed the beach more than us. Lastly, we buy some dinner and go back to the hotel. 'Chanapora' is a sweet item, one of the famous local sweets in Orissa. Khaja is also very famous there. In Jagannath temple, "Khaja" is treated as Prasad.
6. Puri Jagannath temple
The following day, we went to the Sri Jagannath temple at 6:30 am. Mobile shoes, etc., have to be put outside of the temple counter. A lot of pandas (priests) guide you inside the temple. There are many temples inside the main temple. You can find many exciting stories about all the temples.
Outside the temple, there is an Orissa Govt store called Banani. You can buy different clothing like Kottke sari, Sambalpuri sari, Kottke bed sheets, etc. Next, we went to the Markendeswar temple by "Riskha" for 60 rupees. After visiting the Markendeswar temple, we moved to Raghurajpur and Pipli by hiring an auto, which cost 1000 rs from there. Both places are very famous in Orissa.
7. Pipli, Raghurajpur, and Puri Local Sightseeing
After, we went to Pipli and had breakfast at a roadside 'Dhaba.' You can visit Pipli in Bhubaneswar to Puri on a car journey. We bought handmade and aplic work products like an umbrella, bag, etc., and went to Raghurajpur. Please visit Raghurajpur whenever you do sightseeing for tourist places in Puri. It would help if you appreciated the village because of its talent for crafts and painting. We finished lunch in a Dhaba, had some coconut water, and visited 'Gunchicha temple.' The entry fee is 5 rupees only.
8. Puri local Side Seen – Gundicha, Buddhist Chinese temple, Sri Gouria Bihara, and others
Gundicha temple is also known as 'Jagannath's Masir Bari". The temple has lots of a statue of Lord Krishna and other goddesses. It can be added when you visit the Puri mandir tour.
Then we visited the Chinese temple. It's a small temple, but it's a unique one. All the props which are used for the Buddhist religion are stored there. You can buy many types of Buddhist sculptures from there.
After that, we reached for "Sri Gouria Bihara" math. The environment is enjoyable, but the road is narrow and damaged. After spending some time there, we returned to the hotel and rested. In the evening, we went to the beach and hired four seated cars for the next day's Konark tour (which cost 1700 rupees). We spent the rest of the day on the Puri Sea beach and shopped in the Swargadwar market. Our tour ends on this day.
9. Konark Sun Temple
The following day, we first visited the Konark sun temple (entry fee 30 rupees). On the way to the temple, many shops sell Kaju, Pesta nuts, etc. If you wish to buy, you should bargain for the best price. Then, we take a guide ( for 100 rs) to the Konark sun temple. He describes all the engraving designs and details of the (chariot) Rath's wheel. In March, during those days, Puri's temperature is very high (38 degrees).
Know about  Best Rajgir Tourism Guide
Konark light and sound show
While in Konark, see the light and sound 3D show. It happened every day. The Program's name is "Aarunaday." The show's time is 7:30 pm, a 35-minute program. The ticket price is 50 rupees. At 6:00 pm, the ticket counter opened every day. The theme is how the Konark mandir was built at that time. There are 250 seats and three languages, Hindi /English / Oriya in the headphone.
English -Kabir Bedi, Hindi – Sekhar Suman, Oriya – Vijay mahanti.
Read Reasons why you visit and love India travel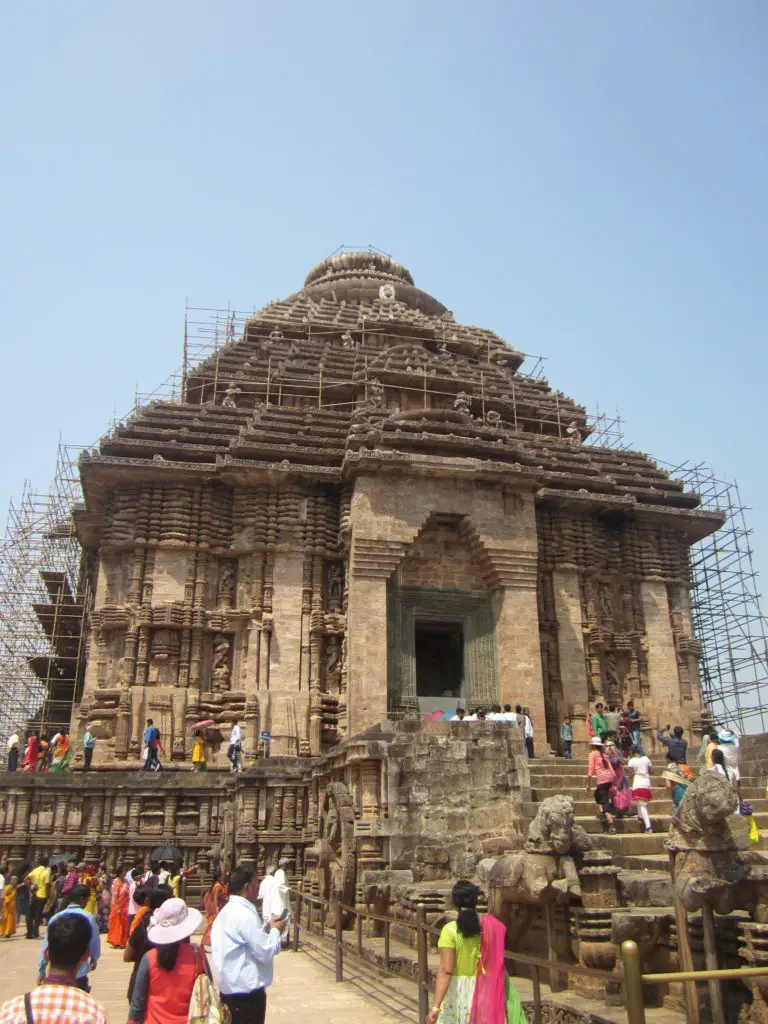 Note:- Don't try to swim in the Chandrabhaga River. It's dangerous. You can rent Scooty for 350 rupees per day. Security deposit 350 rupees. Bike rent is 800-1000 rupees per day. Contact My Puri Bike Rental, ON-ROAD – Bike Rental Company, Puri.
10. Chandra Bhaga and Ramchandi Temple
Next, we visited Chandrabhaga; It's a beach with beauty. Kushbhadra River and the Bay of Bengal can both be seen nicely. After spending a few minutes there, we went to the Ramchadi temple. After we returned to the hotel, we took lunch and rested.
Again, we visited Jagannath temple at 4:30 pm for the flag uploading ceremony. It happens every day, and many people stay outside to see it. After that, we did some shopping (Utkalika is the govt. registered shop) and bought some sweets to bring back to Kolkata.
11. Chilika Wildlife Sanctuary and lake
If you want to visit the Chilka River, take one day more, as it is a 4-hour journey from Swargadwar. You can find one small temple on the hilltop after boating and seeing the tiny dolphins in the river.
Book a boat (220 rupees) and an AC bus (355 rupees) from OTDC per head for boating. Don't go for private boats; the boat sounds heavy, and dolphins have fled from the sound. On the way to Chilika, they also visit the Alarnath temple and Chilka nature interpretation centre.
Attention: – There is a trap for the Visitor in Chilka by local people. At a halt, local bikers came and acted as help you. They will say there is a short route for the lake, but don't leave NH316. The boat charges are almost triple, approximately 4500 rupees, but if you come from the main road (NH316), the boat ride charge is 1800.
The last day of Puri
The last day is homecoming day. We spent all day on the sea beach, taking a bath for a long time and enjoying the waves. Around 5 pm, we check out from the hotel and take an auto to Puri railway station. Duranto Express is a very comfortable train (departure at 8:30 pm); it provides dinner included in the ticket. At 4 am, we came back to Sealdah railway station.
Travel savings plan
At Bhubaneswar, we visit all the tourist spots by Uber cab. Coming from Puri and sightseeing in Bhubaneswar is a huge journey. So better to stay one day in Bhubaneswar. It's my first money-saving trick for the Puri tour.
Puri Best time to visit
You can visit Puri throughout the year. Mid-April is best in the summer and is the season for the famous Chandan yatra, and June- July is famous for the Rathyatra of Lord Jagannath.
Puri Shopping
We buy a handmade umbrella, a wallet from Pipli, a handmade toy from Raghurajpur, a Kokti saree, a bedsheet, a baby dress, a t-shirt, Salwar, Panjabi, shirt from Puri. Compared to Kolkata, the Puri clothing market is cheap, and the product quality is good.
Puri  food 
Bengali food is available. Sweets are exceptional, like – Chenapora, Khaja, Madanmohan etc.
Puri Khaja shop
Nrusingha Sweets( near Jagannath temple), Kakatua Sweets, and Ganguram (near Swargadwar) are famous for Khaja.
Know about  Pandal of Durga Puja in Kolkata
Not to-do list
If you want to stay in Puri, cooking is a good idea, but If you wish to visit tourist places in Puri Orissa, it will be a hectic job. You may be short of time.
If you go to Pipli, Raghurajpur, do not take the auto. It will take lots of time.
Things to remember:
All-time carry ID proof. Carry food if you have a baby.
Emergency

contact numbers

Shri Jagannath Temple

 06752-222001

Puri Temple Office

06752-222002

Temple Chief Administrator

06752-223002

Tourist Officer

06752-222664

Town Police Station

06752-222039

Puri Sea beach Police Station

06752-222025

Puri Singhadwar Police Station

06752-252470

Baselisahi Police Station

06752-230191

Baliapanda Police Station

06752-254044

Puri Municipality Executive Officer

06752-222122

Electricity Executive Engineer

06752-223521

PWD Executive Engineer

06752-223433

Water Supply Control Room

06752-222081

Emergency & Immediate Assistance

1800-200-2524
Puri Emergency contact numbers
Read 
What is the expiry date of Jagannath Puri temple dry Prasad?
The dry Maha Prasad can be stored for a couple of months. But storing it in a cool and dry place would be best. At average temperature, "Khwaja" prasad stays suitable for up to 3 months.
What should I wear in Puri?
Puri is a beach and religious place, so it is advised to wear Indian cotton clothes.
Is Ola or Uber available in Puri?
Ola/Uber or any app cabs are not available in Puri till now. You have to book a private taxi or Orisa govt tourist bus for side seen.
How can I go from Puri to Chilka Lake?
Chilka can be reached by train or car. By car, it takes 2 hours. Popular trains are 1. Puri to Gunupur Passenger-Unreserved (all day) time 3:30 hours approx. Dep: 7:35am, ARV:11:13am 2. Puri to Tirupati Express (exp Tuesday and Saturday) time 2:30 hours approx. Dep:1:15 pm ARV:3:45pm.
How many days are enough for Puri?
A 6 to 7 days trip is ideal for a puri tour from Kolkata. Start with a night journey by train and reach Bhubaneswar. On the first day, visit Konark, Nandan Kanan, Dhouli, Udaygiri, Khandagiri, etc.
The next day, move to Puri and enjoy a sea bath. The next day goes for Jagannath Dham and local sightseeing. The next day goes to Chilika, Rambha boat ride. The next morning go to Raghurajpur and Pipli. Last day do some shopping and reach Puri station to come back to Kolkata.
Which month is best to visit Puri?
Summer is the ideal time to visit Puri. June to March is the best time to visit. However, the Jagannath rath yatra happened in July.
What is famous for buying in Puri?
Sweets like Madanmohanm Chanapora and Khaja are very famous. Cotton garments are also good.
Email Us to Enlist Your Business Here.. We Need 5 Second More From You To Share this On Your nearby Circle.