22 Best Tourist Places to Visit in Puri
Tourist Places to Visit in Puri and Bhubaneswar are the prime attractions of Orissa, India. Many historical tourist spots exist in Daringbari and Gopalpur, Bhubaneswar & Puri Beach.
When you plan for Puri, stay in Bhubaneswar for one day and start the tour from Bhubaneswar. It will reduce your cost and time. It is one of India's best cultural centre hubs. Orissa, the land of Oriya, was known as Kalinga in ancient days.
List of 22 Famous places to visit in Bhubaneswar and puri
Read Visit New Digha tourist spots
1. Udaygiri and Khandagiri
Udaygiri is a Buddhist cave, and Khandagiri is a Jain cave. In the inscriptions, the twin hills contain excavated rock-cut caves called Lena and are essentially dwelling retreats of the Jaina ascetics. There are 18 caves altogether in Udaygiri and 15 caves on Khandagiri Hill.
These caves were excavated by Kharavela and his successors in the 1st century B.C. The activities continue until Somavamsis of A. D. 10-11 cent. Most caves include a row of cells that open onto the veranda or the open area.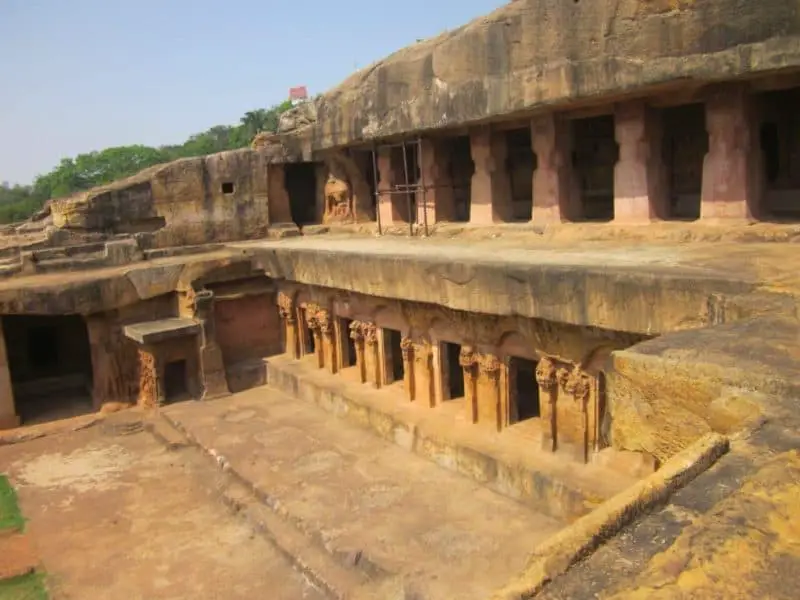 In later periods, a few cells were converted into shrines with minor alterations, such as increasing the height of the chamber and excavating the floor to a deeper depth.
The doorway of cells has pilasters on either side with crowning animal figures, and arches over them are decorated with flowers, creepers, and animal motifs.
Among all the caves, Ranighumpha and Swargapuri-Manchapuri caves are double stored. The famous inscription of Kharavela is engraved on the brows of the Hathigumpha cave, written in Brahmi script in 17 lines. It records many of his expeditions, including the victory over Magadha and the retrieval of the Jaina cult image taken over by the Nanda king.
The depiction of 24 Tirthankaras and their Sasandevis in the Barahbhuju cave, Gjalaxmi, Surya, Swastika and Nandipda symbols in ancient Gumpha relief is a noteworthy achievement in early Indian art. It's just 8 km from the station.
Visit How to reach Gangasagar from Kolkata | Mela tour guide
2. Lingaraj Temple
The world-famous Lingaraj temple is one of the many sacred edifices in Bhubaneswar. It's just 3.6 km away from the Bhubaneswar railway. It's the largest conglomerate of shrines with nearly 180 series, depicting the culmination of the Orissan style of architecture.
The temple is 147 feet high and was built by Lalatendu Keshari of the Somavamsi Dynasty in 617-657 AD. The Natamandap and Bhogamandap were later added to the temple over different historical periods.
 Visit Ayodhya Hills Purulia tour Kolkata
3. Mukteshwar Temple
One of the most delightful expressions of the Kalinga School of Architecture is the luminous beauty of the Muketeswar temple. Often called the "Gem of Orissa Architecture." It has some of the most ornate carvings and renditions of stories from the Panchatantra.
It also shows an excellent combination of Hindu, Buddhist and Jain flavours. The temple is dedicated to Lord Shiva, and Mukteshwara is carved with figures of ascetics in various poses of dedication.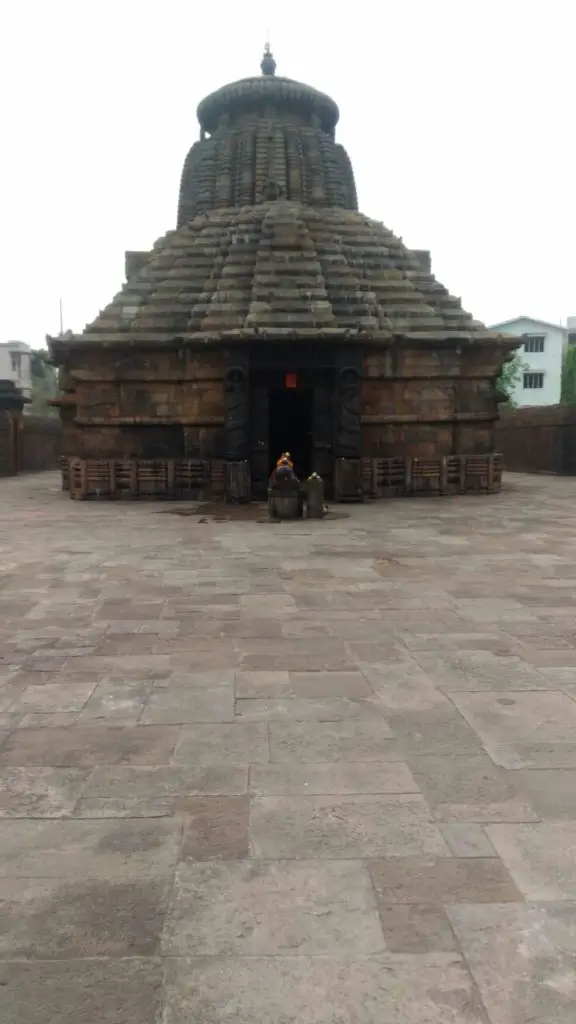 4. Rajarani Temple
This 11th-century temple is an elegant example of finesse. The temple architecture is interesting, as it has no goddess. The name of this temple is supposed to be derived from the red-gold sand used, and Rajarani is the local name of the stone.
This 11th-century temple is an elegant example of finesse. The temple architecture is interesting, as it has no goddess. The name of this temple is derived from the red-gold sand used, and Rajarani is the local name for the stone.
5. Nandankanan Zoological Park
Nandankanan, meaning the garden for the gods. They are covering 426 hectares of land in the Chandrika forest. The lion and tiger safari is the prime attraction, one of Asia's biggest and most famous zoos.
Nandankanan Zoo's timing is 07:30 am to 5:30 pm. Entry tickets can be bought online to avoid the queue. The Nandankanan Zoo entry fee is 40 rupees, and we can make ticket bookings from the Nandan Kanan website.
6. History of Dhabalgiri /Dhouli / Dhaulagiri temple Orissa
The place is 5 km from Bhubaneswar railway station. Dhouli had the historic battle in 261BC between Emperor Ashok and the king of Kalinga. The excessive number of war casualties (over 1 million) had moved the victorious emperor into repentance.
He took the vow of opening an alternative path of victory through love instead of the sword. 13 edicts of Emperor Ashok have been found at Dhauli, inscribed in the Brahmi script on a 5*3 meter stone slab.
In 1970, the Dhauli was crowned with a snowy white peace pagoda built by the Buddhist sangha of Kalinga and Japan. Four types of Gautam Buddha images are installed there, also known as a Buddhist temple in Odisha. The ancient temple of Shiva is there at Dhauli. Far below flows the river Daya.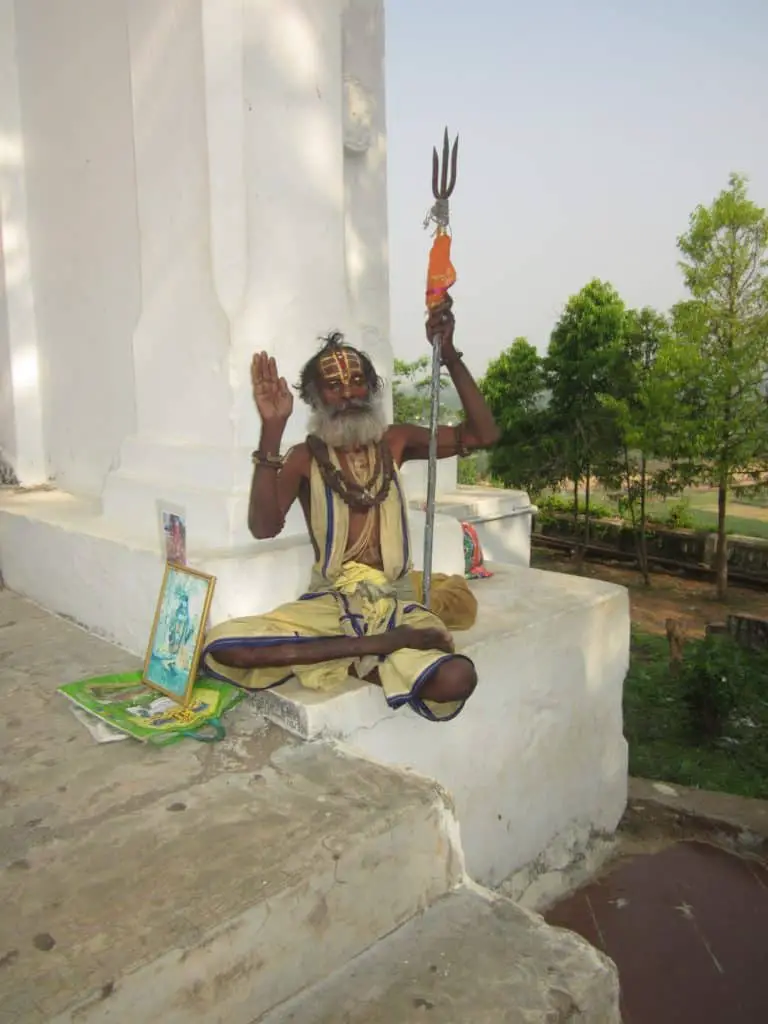 7. Sri Jagannath Temple
The Jagannath temple in Puri is among the four most sacred places (Dhams) the Hindus worship. The reigning deity who holds the devotees in intense religious fervour is Jagannath, with his system Subhadra and brother Balabhadra. Its 65-meter conical tower slashed the skies with its Vishnu Wheel and flag punctuating its glorious ascent.
Lord Jagannath's annual trip to the Gundicha Ghar during Rathyatra symbolises enormous importance. Over 20,000 people are known to be dependent for their livelihood on temple activities.
Read Puri Jagannath temple history miracles story, myths and facts
8. Konark Sun temple
Konark is globally famous for its Sun Temple. According to the Puranas, 5000 years ago, Sambwa, stricken with leprosy by the curse of his father Sri Krishna, had come to Maitreyaranya (Konark) by the river Chandravaga to worship the Sun god.
The Sun God was pleased after 12 years of rigorous worship and giving Sambwa his blessings. Sambwa cured and consequently built a temple with the Sun God as its deity. A festival is held on the 7th day of the fortnight of the waxing moon (Sukla Saptami) in the month of Magh (Jan-Feb) by the Chandravaga Bay of Bengal confluence.
It was made with Orissa architecture and sculpture and built in the 13th century; the golden year of Orissa art is poetry in the stone and on the world heritage list.
The "Mukkhasala" or entrance hall interests both devotees and visitors. The sun god Surya is celebrated in the three colossal statuses installed over the three "dwars." The walls of this magnificent temple portray exquisite sculptures covering all aspects of life.
It takes attention to the panels and niches of this immortal work of art. Surasundaris, heavenly damsels, free-standing, larger-than-life mono-block female statues playing the cymbal and drums, flutes and trumpets adorn the top of the temple.
Read More 20 Reasons why you visit and love India travel
Konark light and sound show
Konark Light and Sound, the 3D show, runs every day called "Aarunaday." It's a must-visitable Puri tourist spot, and the time is 7:30 pm and 35 minutes program. 
The ticket is 50 rupees per person. The Konark mandir was built in the concept of that show.
Total 250 seats and support three Hindi /English / Oriya languages in the Beyerdynamic. English version -Kabir Bedi, Hindi – Shekhar Suman, Oriya – Vijay Mahanti.
9. Pipli
The prime attraction of Pipli is the colourful applique embroidery. The place is famous for Odisha handicrafts, and we can find incredible Indian paintings in Raghurajpur.
The Darjisahi Mahalla, the locality where the artisans related to this art live, is on the bus route. Rows of houses and shops abound with various bags, umbrellas and little knickknacks of interior decoration. Handicraft items can be seen and purchased. I must include it in my Puri tourist spot list.
Pipli is just 40 km from Puri, and Raghurajpur is an extraordinary village. All the members worked with crafts and painting, and Pipli and Raghurajpur are famous for village tourism in India.
10. Ragurajpur Odisha painting
The fame of Odisha painting in Ragurajpur rests on the mythological paintings done in the "Pat" style, and it's a typical feature of Orissa itself. The Pat style painting was discovered as a filler to substantiate the absence of the Holy Trio (Balaram-Subhadra-Jagannath/ Artists, also called Chitra painters.
They, encouraged by Halina Zila-a, a connoisseur of the dying pot art, are now drawing on various things like- Anasara, the legendary palm leaves, and coconuts in the Pat style post-independence days. You can purchase the painting from here as well. The Pat style can take place in the Indian culture art family.
Read more Famous places in Kolkata city
11. Chilika Lake – The famous Puri tourist spot
You can visit Chilka Lake from Puri; it's a 4-hour journey. You can enjoy boat riding, see a small dolphin in the lake and a temple on the hilltop. Orissa government boat is the best to watch the dolphins.
12. Puri Sea Beach
Puri Sea Beach, in the city of Puri Swargadwar, Odisha, has India's finest coastline. It holds various sand art displays like works of International award-winning local sand artist Sudarshan Pattnaik. 
13. Blue flag Golden Beach
The pilgrim town has famous golden beaches, and this safest beach was accorded "Blue Flag" via FEE Denmark. There are majestic temples that attract thousands of visitors all year round. Devotees visit Puri to dip in the holy water before visiting Lord Jagannath's temple. 
Address: Sea Beach Road, Puri, Odisha
Timings: 05:00 am till 10:00 pm
14. Swargadwar Market
Swargadwar market is a must-visit for all tourists in Puri, located right next to the Jagannath Temple and the busiest markets in town. You can find anything and everything here, from souvenirs to clothes to food.
The best time to visit Swargadwar market is early morning when the vendors set up their stalls. If you're looking for an authentic Puri shopping experience, then the Swargadwar market is worth a visit.
15. Gundicha Temple
Gundicha is the most famous Kalingan-style temple in Puri. It's an essential destination during the Rath Yatra (Car Festival). Deities of Lord Jagannath, Balabhadra, and Goddess Subhadra are moved here for nine days of Rath Puja. 
As per legends, Lord Jagannath was pleased with the true devotion of Gundicha (King Indradyumna's queen), and he promised to visit her abode for nine days during the Car Festival. Another legend says Gundicha was Lord Krishna's aunt, and she welcomed the three siblings for nine days yearly with "Padoapitha" (a rice delicacy). 
The temple, built with light grey sandstone, lies amid a garden, surrounded by a 20 feet high wall. Gundicha Temple has four parts (Natamandapa, Jagamohana, Vimana, and Bhogamandapa). There are two gates: the Eastern (Nakachana) Gate and the Western Gate. 
Address: Basanta Rd, Balagandi, Puri, Odisha 752001
Entry Fees: Free 
Timings: 06:00 am till 03:00 pm and 04:00 pm till 10:00 pm
How to Reach: Gundicha Temple is 3 km (12 minutes approx) from Puri Sea Beach by car.
16. Astaranga Beach
Ashtanga (Colourful Sunset) is Puri's most stunning and mesmerizing beach. It's in a fishing village known as Astarangain, Puri District. This picturesque beach is renowned for breathtaking sunset views and a small fishing market. 
Visitors can spot Olive Ridley Turtle species here in the Winter season. Activities like cooking, swimming, sunbathing, surfing, family picnics, and savouring fresh coconut water are widespread. The best time to visit Astaranga is in October and March. 
Address: Astaranga, Odisha, India
Parking Fees: INR 30 (approx) per vehicle/hour
Timings: All day
How to Reach: Astaranga Beach is 72 km (2 hours approx) from Puri Sea Beach by car. 
17. Vimala Temple
Vimala or Bimala Temple is among the four Shakti Peethas of Puri. According to mythology, Pada Khanda (feet) of Devi Sati dropped here. Bimala Shakti Peeth is beside Jagannath Temple (to the right) in the temple complex, Puri.
The idol of Goddess Vimala, carved from chlorite stone, has four hands. The first-hand holds Akshyamala (a rosary), and the second bears Nagaphasa (serpent). The third-hand holds Amrit Kalasa (ambrosia pot), and the fourth displays Varada (blessing) pose. 
Bimala is the Goddess of delusion and the most peaceful form of Shakti, and Lord Jagannath is worshipped here as Bhairav. There is a sacred pond, "Rohini Kund", nearby. Festivals like Makar Sankranti, Shivaratri, Vasant Panchami, Holi, Akshay Tritiya, Jagannath Rathyatra, Sri Ram Navami, etc., are celebrated at Vimala Temple. 
Address: Puri, Odisha 752001
Parking Fees: Free
Timings: 06:00 am till 11:30 am and 03:00 pm till 09:00 pm
How to Reach: From Puri Sea Beach, Vimala Temple is 1.9 km (12 minutes approx) by car.  
18. Sudarshan Crafts Museum
Sri Sudarshan Sahoo founded the Sudarshan Crafts Museum in 1977. It's a centre of attraction for art lovers and artists. At Sudarshan Museum, visitors learn more about modern craftsmanship evolution. 
The museum showcases the transformation of traditional scriptures year after year. Artists can wield their crafts in the museum's workroom and display them in the showroom. 
Sudarshan Crafts Museum displays artwork like wood carvings, fibreglass carvings, stone carvings, fine paintings and handicraft items. There is a Japanese-style Buddhist temple, workshop and library on the museum's premises. 
Address: Station Rd, Puri, Odisha 752002
Entry Fees: INR 5 (approx) for Indians. INR 50 (approx) for foreigners. 
Timings: 08:00 am till 12:00 pm and 02:00 pm till 08:00 pm
How to Reach: From Puri Sea Beach, Sudarshan Crafts Museum is 2.2 km (7 minutes approx) by car.  
19. Daya River
River Daya bifurcates from River kuakhai and drains into Chilika Lake. It's also known as 'Bloody River". This river has great historical significance. On the banks of River Daya are the renowned Dhauli Hills. Kalinga war, which ended Ashoka's violence and made him encompass Buddhism, was fought at Dhauli. Many Ashokan edicts carved on stones are found on the hill. 
Address: Puri, Odisha, India
Entry Fees: Nil
Timings: All Day
How to Reach: River Daya is 50 km (1 hour and 30 minutes) from Puri Sea Beach by car. 
20. Sonar Gouranga Mandir
Sonar Gouranga Mandir is an important pilgrimage destination of Puri. It's 3 km from Jagannath Temple and near the sea beach. 
The temple has a golden idol of Sonar Gouranga. There are figures of Lord Ram, Jagannath, Balaram, Subhadra and other avatars of God Vishnu. 
Followers of Chaitanya Mahaprabhu established the temple. Devotees visit here to glimpse the golden shrine of Chaitanya Mahaprabhu. His footwear is also well preserved in a glass box. Photography is forbidden inside Gouranga Mandir.
Address: Badasirei, Puri, Odisha 752002
Entry Fees: Nill
Timings: 07:00 am till 06:00 pm
How to Reach: Sonar Gouranga Mandir is 2.8 Km (10 minutes approx) from Puri Sea Beach by car.  
21. Mahatma Gandhi Park Puri
Mahatma Gandhi Park is on the bank of Puri Sea Beach, and NALCO maintains it and has a variety of colourful flowers. The greenery of Gandhi Park attracts people for recreational activities like yoga, exercise, morning-evening strolls, etc. 
There is a giant statue of Mahatma Gandhi, a park gym, a fountain and a watch tower. Visitors enjoy music and a light show at the fountain. 
Address: Puri, Odisha 752002
Entry Fees: Nill
Timings: 06:00 am till 07:30 pm
How to Reach: From Puri Sea Beach, Mahatma Gandhi Park is 700 m (5 minutes approx) by car.  
22. Atharnala Bridge
Atharnala Bridge is a living example of medieval Odishan construction. It's 85 m long & 11 m wide and at Puri Town's entrance, proudly welcoming Lord Jagannath's devotees. 
Atharnala was fabricated by Bhanu Deba from the Ganga Dynasty in the 13th century on the Muthiyari River. 
The word "Atharnala" comes from two words, "Athar" means "eighteen", and "Nala" means "passage". This bridge with eighteen brick passages is used even today. 
On the Atharnala bridge, visitors get a long-distance view of Jagannath Temple. The Archaeological Survey Of India protects and maintains the bridge, and heavy vehicles are forbidden to enter. 
Address: Atthara Nala, Puri, Odisha 752002
Entry Fees: Nill
Timings: All Day
How to Reach: From Puri Sea Beach, Atharnala Bridge is 3.7 km (12 minutes approx) by car.
What is the famous of Puri?
Puri is famous for
1. Jagannath Dev Mandir
2. Puri sea beach
3. Konarak
4. Nandankanan Zoological Park, etc.
Which is the best time to visit Puri?
You can visit Puri at any time of the year. But October to February is the best time to visit.
How can I travel to Puri?
You can visit here by train/ flight/ car/ bus. Puri is the nearest station, and Bhubaneswar is the nearest airport. Air and train services are available from any place in India.
One-day tour in Puri conducted by taxi fare
Car fares for Konark and Bhubaneswar are 2500 rupees and for Chilka, 1500 rupees approx. Book one day in advance before your trip and bargain with the price.
About Bhubaneswar and Orissa
In 286 BC, Emperor Ashoka sent a powerful army to conquer Kalinga, which offered stubborn resistance. Kalinga was subdued, but the carnage which followed struck Ashoka with remorse, and after the death of Ashoka, Kalinga regained its independence.
Bhubaneswar stands in a region which harbours a rich historical and cultural heritage. Many civilizations flourished on this rich soil; tangible remains of some are still visible in and around the city.
The history stretches at least 2200 years in the past. Bhubaneswar means the lord of the universe. In 1948, they shifted the capital of Orissa from Cuttack to Bhubaneswar. Many temples are found in this temple city. Famous are:-
Bhubaneswar Temples 
Lingaraj Temple
Mukteswar temple
Rajarani temple
Vaital temple
Brameswar Temple
Bhaskareswar temple
Email Us to Enlist Your Business Here.. We Need 5 Second More From You To Share this On Your nearby Circle.