Rabindranath Tagore House in Kolkata | Jorasanko Thakurbari Museum
Jorasanko Thakurbari, the Rabindranath Tagore house in Kolkata, is a popular tourist destination. If you plan to explore Kolkata, visit this place. I give the complete guide below.
 যা পেয়েছি প্রথম দিনে সেই যেন পাই শেষে,
দু হাত দিয়ে বিশ্বের ছুঁই শিশুর মতো হেসে !!
যাবার বেলা সহজেরে যাই যেন মোর প্রণাম সেরে,
সকল পন্থা যেথায় মেলে সেথা দাঁড়াই এসে !!
Rabindranath Tagore House in Kolkata
The Rabindranath Tagore house in Kolkata
The Rabindranath Tagore house in Kolkata is in the heart of central Kolkata. Jorasanko Thakurbari is the red house of Girish Park on Chittaranjan Avenue. A little away from the intersection of Chitpur Road and Vivekananda Road. This house is a two-minute walk from Marble Palace in Kolkata.
Read কবিগুরু রবীন্দ্রনাথ ঠাকুর এর সংক্ষিপ্ত জীবনী ও সৃষ্টিকর্ম
Jorasanko Thakurbari Location and Address
267, Rabindra Sarani, Jorasanko, Ganesh Talkies, Kolkata- 700007. The nearest metro station is Girish Park or Mahatma Gandhi Road. The main entrance is on the Ganesh-talkies side.
View Bankura Bishnupur Mukutmanipur Tour
Jorasanko Thakurbari History
Jorasanko Thakurbari, or Rabindranath Tagore house in Kolkata, is the pride place of West Bengal. Now, the front section of the Thakurbari Rabindra Bharati University has been established.
Prince Dwarkanath built this house in the eighteenth century, in 1785 AD, on the land given by the 'Sathparibar' of Barabazar. The area is approximately 3500 square meters.
They have transformed the foundation of the house into the Tagore House Museum. Photography is prohibited inside the house premises. However, we can take photos from outside by Exchanging 50 rupees.
The entire house's atmosphere is preserved with extraordinary devotion and affection. The moments of Rabindranath's life are explained in the picture. The memories and grace of loyal personalities of Bengali culture surround this house. There are many souvenirs and memories of the Tagore family. The room where the poet wrote the famous novel "Ghare Baire" still exists.
In the basement where Rabindranath operated his paranoia – the government also preserved the place. They are also preserved in Thakur Bari's Sutika house and a bathroom where Rabindranath and Debendranath were born. There is also Mrinalini Devi's kitchen and many more.
Read Kolkata Dakshineswar Kali mandir
Watch Before Visit – Rabindranath Tagore's house in Kolkata
Jorasanko Thakurbari Museum
Today, the house became the headquarters of India's first cultural university, Rabindra Bharati University. It was founded on the first birth centenary of the Rabindranath on 8th May 1961. After Rabindrantha's death, the Govt. declared Jorasanko Thakurbari a national heritage monument.
In recognition of Rabindranath's contribution, the building has been turned into a museum named "Rabindra Bharati Museum," inaugurated by Jawaharlal Nehru on 8th May 1961.
Jorasako Thakur Bari Museum is dedicated to Rabindranath Tagore, his family members, and the Bengal Renaissance. Museum galleries provide close family photographs, life-size portraits, and Tagore's life cycle evolution, how he became the great poet or 'Kavi guru.' Kavi means "Poet," and guru means "the guide(master)."
Go with Alipore Zoological Garden Kolkata
The Rabindra Bharati Museum has three galleries
The museum has three galleries.
Covers the life and activities of Rabindranath Tagore.
Covers the distinguished members of this family like Dwarkanath, Maharshi Debendranath, Abanindranath and brothers and sisters of Tagore.
Covers the story of the renaissance of nineteenth-century Bengal and the part played by distinguished pioneers in different fields.
The Jorasanko Thakurbari Museum has 2071 books, 770 journals, 3297 photographs, 16 paintings, 27 crafts and sculptures, 208 personal used things, and 53 furniture collections.
Rabindranath Tagore photographs
The West Bengal Government collects  40 original paintings of Rabindranath from Rabindranath's son. The government also collects many photographs from the national library in Kolkata, and all the pictures are stored in the museum. Now, the museum is a learning centre for Oriental and foreign education. In addition, the museum has a section that preserves two centuries-old musical records.
It also contains other great personalities of the 19th and 20th centuries associated with Bengali and English literature. The museum also preserved other famous family members of the Tagore family: Abanindranath, Maharshi Debendranath Tagore, Jyotirindranath, and Dinendranath Tagore.
The galleries also preserved the clippings of Rabindranath Tagore, the large number of pictures and paintings of him and the entire family. In the Rabindra Bharati Museum, the visitor can see the gifts Rabindranath receives on different occasions.
The museum displayed 700 paintings, manuscripts, books, and other ancient items that attract visitors. The Painting Brush of Abanindranath Tagore used for her paintings is preserved in the museum. There are several paintings of Tagore also exhibited in the entire building. The visitor can also visit the kitchen where Tagore's wife, Mrinalini Devi, cooks.
The Rabindra Bharati Museum of Kolkata celebrates the birth anniversary called Rabindra Jayanti of Rabindranath Tagore on the 25th Boishakh and the death anniversary of Rabindranath Tagore on '22se Sraban,' and they also celebrate other famous poets' birthdays and death anniversary.
 The best time to visit the museum is when they celebrate the birthday of various poets so you can be part of the grand celebration.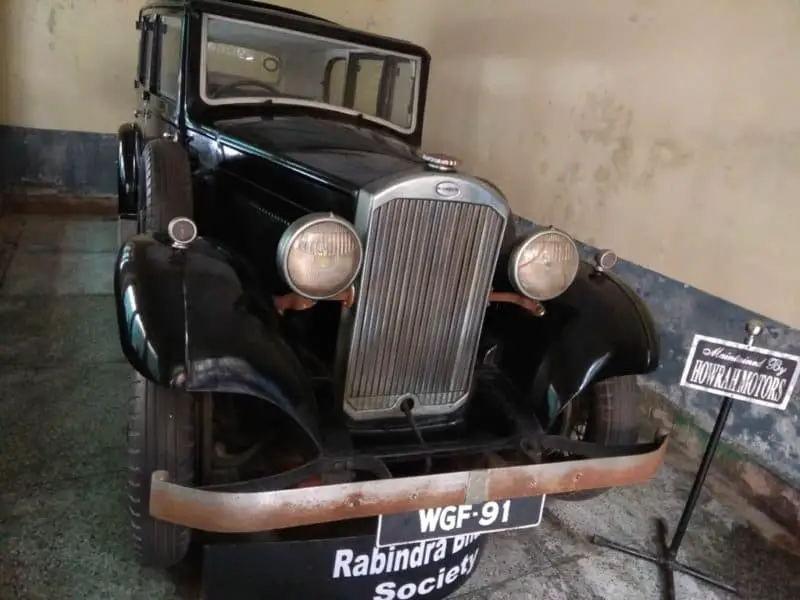 Jorasanko Thakurbari Kolkata Opening Timings
Tuesday to Sunday – 10.30 am to 5.00 pm.

Last ticket issued–4.30 pm.

Monday closed.
The Light and Sound show has been produced detailing the Bengal Renaissance in the 19th century and the history of the Tagore family. Mr Kumar Roy prepared the script and lighting designed by Mr Kanishka Sen.
Light and Sound Show Timings
November to January, 6:00 pm – 6:40 pm (Bengali), 7:00 pm – 7:40 pm (English)
February to June, 7:00 pm – 7:40 pm (Bengali), 8:00 pm – 8:40 pm (English)
Monday closed
Read Chintamani Kar bird sanctuary
Jorasanko Thakur Bari Kolkata Entry Fees
10 rupees per person for Adults

5 rupees per person for Students

50 rupees per person for Foreign Tourists

10 rupees per person for the Light & Sound show

50 rupees per camera for taking photography only outside of the house
Read also New Town Eco park | Mother's Wax Museum | Seven Wonders Kolkata
Jorasanko Thakurbari Basanta Utsav
In Jorasanko Thakurbari, Basanta Utsav or Holi festival, is celebrated by Students of Rabindra Bharati University. Holi festival is celebrated yearly on the full moon day (দোল পূর্ণিমা), and it marks the beginning of spring. The Holi 2021 date is 29th March.
"Basanta Utsab" is celebrated as Holi at Rabindra Bharati University, Kolkata. University students played various cultural programs on the occasion of Jorasanko Basanta Utsav. They perform dance and song (Rabindra Sangeet and Rabindra Nritya) etc. It is an exceptional event for all Tagore lovers.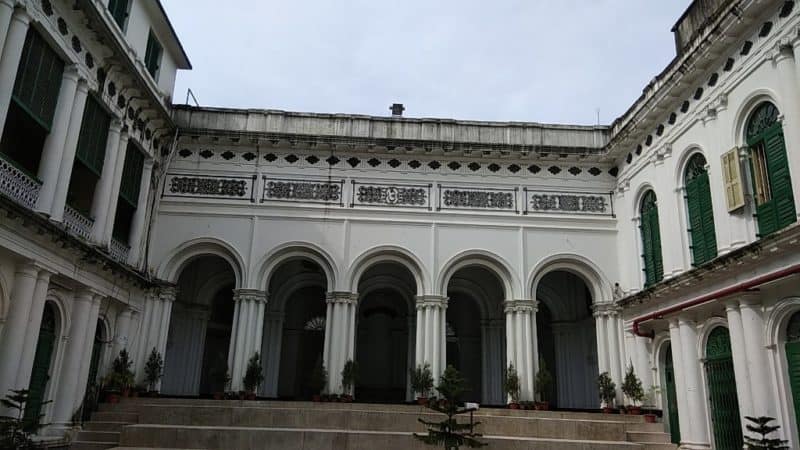 Rabindra Sangeet and basanta Utsav
Last year in Jorasanko Thakurbari, the program starts in the afternoon around 3 pm with the song "ওরে গৃহবাসী, খোল দ্বার খোল লাগলো যে দোল" (Ore Grthobashi, khol dwar khol lagloje Dol). Rabindranath composed songs for spring, and with those songs, the colourful program continues. It ends with "রাঙিয়ে দিয়ে যাও, যাও গো এবার যাবার আগে …" (Rangziye diye jaao, jaao go ebarjaabar aage… ).
The students and the visitors mixed in groups, and the party continued with more music. Groups are singing and dancing, combined with the beautiful background of Jorasanko Thakurbari. It's a treat for Tagore lovers, music lovers, and, yes, also for the photographers.
Rabindra Sangeet, the performances, and the entire Boshonto Utshob were like a dream combination for everyone. They also perform Indian classical Raaga and pure Indian classical instrumentals, playing Dotara, Khol, matka, and Tabla with Sarod. Lots of children are taking part in this occasion.
You may like 
Basanta Utsav songs
The student dancers gathered in a queue and dancing all around the fields where the singer was already sitting and singing. One after another, the music and dance performances followed. "নীল দিগন্তে, ও ফুলের আগুন লাগলো", "ওরে ভাই ফাগুন লেগেছে বনে বনে", "আজি দক্ষিণও দুয়ার খোলা", "ঝরো ঝরো ঝরো ঝরো ঝরে রঙের ঝর্ণা", "ওরা  অকারণে  এ চঞ্চল.." (Nil Digante, oi phooler aagun laaglo", "One bhai, phaagun legeche bon'e bon'e", "Aaji Dokhin duwar khola", "Jhoro jhoro jhoro jhoro jhore ronger jhorna", "Ura okaron'e e chonchol).
They also play Indian classical music, pure instrumental performances with Dotara, khol, matka, flute, and Tabla with Sarod, Nazrul geeti, and one Shruti Natok. It ended with "আজ খেলা ভাঙ্গার খেলা" (Aaj Khela bhangra khela), and the delightful crowd exploded in celebrating each other's greeting with colourful aabir (আবির).
Students play with colour powders on each other in the Jorasanko Thakurbari garden premises. On this occasion, a huge number of students and outsiders are gathered together.
You can visit Jorasanko Rajbari also from here. Both are different.
Please Note–The Rabindra Bharati University has decided not to celebrate Basanta Utsav or Holi festival at the Jorasanko Thakurbari garden premises because of the immense crowd. So, instead, they arranged the cultural program in their BT Road Rabindra Bharati University campus.
Rabindranath Tagore Achievements
Rabindranath Tagore was a pioneer Bengali poet, novelist, music creator, playwright, painter, short story writer, essayist, actor, vocalist, and philosopher. He was regarded as the most significant literature of the Bengali language.
Rabindranath was awarded the Kaviguru, Gurudev, and Biswakavi. Rabindranath wrote 52 books, 38 plays, 13 novels, and 36 essays and other prose compositions, published in his lifetime and after his death. The "Galpo Guchoo" and "Gitobitan" Rabindranath collection has included 95 short stories and 1915 songs.
Rabindranath's published and unpublished writings were published in the name of "Rabindra Rachanyabali" in 32 volumes. All the letters of Rabindranath are published in the name of "Chithipotro" in 19 volumes, and other writings were published in 4 other books. He also painted approximately two thousand pictures. Rabindranath's writing has been translated into various languages in the world. He won the Nobel Prize for Literature in 1913 for the English translation of "Gitanjali."
How do you get to Jorasanko Thakur Bari?
Girish Park metro station is a 5-minute walking distance from Jorasanko Thakur Bari. Bus services are available from Howrah, Sealdah, Shyambazar, etc.
Is Jorasanko open today?
Jorasanko Thakurbari only closes on Mondays. Daily open at approx 10:30 am and close 5:00 pm.
How can I travel to Jorasanko from Bolpur?
First, you travel by train from Bolpur station and reach Howrah station. Then, take a taxi or bus from Howrah station to Jorasanko through 'Posta Road.'
Email Us to Enlist Your Business Here.. We Need 5 Second More From You To Share this On Your nearby Circle.