New Town Eco Park | Mother's Wax Museum | Seven Wonders Kolkata
So, you are planning for Eco Park. Here I can share top Ideas for your tour. Eco Park is just seven years old, and now it has become a famous place in Kolkata. Over 35 million people visited this park past five years.
New Town Eco Park
Seven Wonder Park Kolkata
The prime interest is the seven wonder park in Eco Park Kolkata. This park is an environment-friendly amusement park. It's an urban park in Kolkata and one of the biggest parks in India. It is larger than Hyde Park London. Eco Park is in Rajarhat Newtown.
Also, manage some time to visit Biswa Bangla gate and Rabindra Tirtha. It's on your way.
15 Ideas for 7 wonders park and Eco-park
Paddle Boating
Shikara Riding
Rowing
Duo Cycling
Speed Boat
Bird Watching
Gun Shooting
Archery
Kayaking
Land Zorbing and Water Zorbing
Visit 7 Wander Park
Enjoy the Musical Fountain
Ekante cafe cafeteria
Madam wax museum
Visit Mask Garden
Eco Park Kolkata Bus Route
Option One:- 
Rajarhat is a satellite town located outskirts of Kolkata. The distance between central Kolkata (Esplanade) to Eco Park is 18 km. You can take a bus from the depot. Another option is Sealdah, where you can find many buses to visit this garden.
Option two:-
In South Kolkata, like from Jadavpur, Garia, you can get an A/C bus for ECO-park for seven wonder parks. Garia is a busy place because it's the main connector between South 24 Parganas and Kolkata.
Option three:-
If you go from Bidhannagar or Ultadanga, or Nicco Park, you will reach the eco-park, entry gate no. 1. If you came from the airport or Chinar Park, you will reach gate no 4. There is parking space available at every gate except these two gates.
Eco park bus route with bus number
S44 Nabanna to Eco Park. Route – Nabanna rabindra sadan – esplanade- sealdah- raja bazar Manicktala – Khanna _ultananda – Hudco – PNB- Salt Lake collage more.
 D26 Dankuni housing estate or bally halt to seven wonder Eco Park.
 AC23A, S23A Bali ghat to Eco park. Dakshineswar – Baranagar Station – Prafulla Nagar – Pramod Nagar – Mathkal – Vidyasagar Pally – Dhalai Karkhana – Durganagar Srinagar – Khalisakota–Manikpur – Airport Gate Number 2 – Airport Taxi Stand Gate Number 1–Kaikhali – Kaikhali Terminus – Haj House – Chinar Park–Nababpur – City Centre 2 – Titumir – Akankha Bus Stop – New Town Eco Park. (Applicable on no 2 also).
 AC50 From Bali Bazar, get down to Airport 3no gate and take another bus for Newtown eco-park.
 AC43, AC37A. AC 25, C8A, directly come to Eco park from airport 1 no gate.
 215 and the 30B/1 private bus is going to the eco-park every day. 30B/1 is going from dumdum.
 L238 from Howrah and reach Kaikhali or the airport and take another bus to Eco Park.
S12 from Howrah station and get down to Newtown. Take the bus to Airport (the Eco park is in the middle)
 C8 Gariahat More to Barasat Kazipara Bus stands directly going to Eco park.
 D26 from Park Circus to Eco Park.
AC3 Santragachhi Station to Barasat Kazipara Bus Depot via eco park.
No 285 Baidyabati to Newtown Eco Park.
 AC9B Jadavpur 8b bus stand to Eco Park.
Read Bankura Bishnupur Mukutmanipur Tour from Kolkata
What is the entry fee for Eco Park Kolkata?
The Eco-park ticket booking price is 30 rupees. They do not require a ticket under the age of 3 years. The parking fee is 20 rupees to 50 rupees.
For the morning walks, monthly and annual card systems are available. For further information, contact the ticket counter.
Eco Park visiting entry timing and booking
Thursday to Saturday 2.30 pm to 8.30 pm in summer (March 1 to October 31) and 2.30 pm to 7.30 in winter (November 1 to February 28).
Sunday and holidays from 12.00 pm to 8.30 pm in summer and 11.00 am to 7.30 pm in winter.
The ticket counter will close at 7.30 pm.
On which day eco-park is closed?
Monday is the closing day.
What is there in Eco Park Kolkata?
It's an amusement park along with museums, a food court, etc.
What is the Bus route between Gariahat to Eco Park?
Eco-park is in Rajarhat Newtown. From Gariahat, it is about 20.2 km via NH12, and it takes nearly 35 min by bus or car. C8 Gariahat More to Barasat Kazipara Bus stands directly going to Eco-park.
Eco park Parking Area
It would be better for those who take their cars to enter gate number 1 or 4 because there are parking lots for bikes and cars near these two gates.
Bike parking fee – 20 rupees (full day)
Car parking fees – 50 rupees (full day)
I break down the Eco Park area into three major areas. So you can easily reach your desired places very quickly.
Place of Interest in Eco-Tourism Park
*7 Wonders at Eco Park
*Eco Park Rides
*Theme gardens
Eco Park 7 wonders name
The seven wonder park Eco Park is the most significant spot in Eco Park. Recently it is the main attraction in Kolkata. According to UNICEF, the 7 Wonders of the World are :
India's Taj Mahal
Brazil's Christ the Redeemer
Moai statues of Easter Island
The Great Wall of China
Colosseum of Rome
Petra in Jordan
The Great Pyramid of Giza, Egypt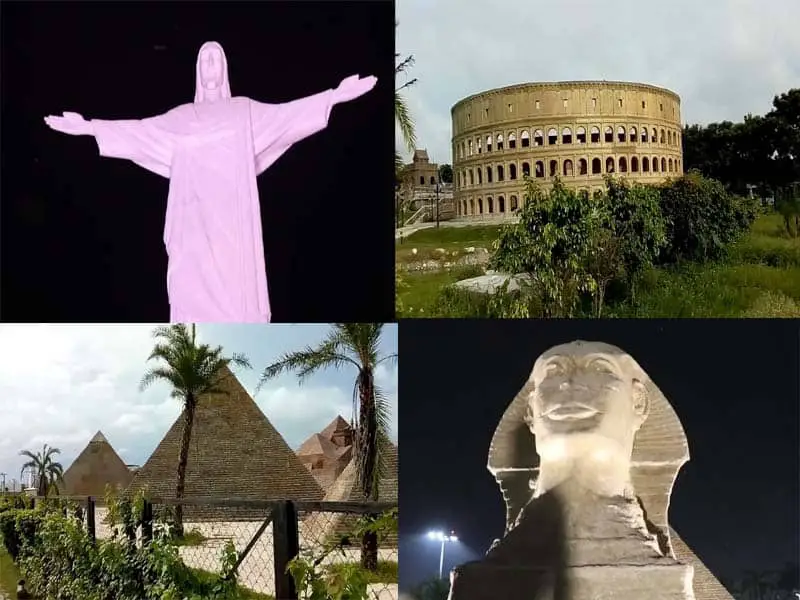 Those famous places in the world have built-in Kolkata Eco Park with a smaller demo version. So you can enjoy the beautiful building or architecture and this particular segment bewitching everyone's eyes.
In the evening time, the scenery and beautiful lighting create a mesmerizing environment at this park. The Great Wall of China The Great Pyramid of Giza and the Moai statues of Easter Island, the world's best statues, and architecture in one place is the best thing for the people of India.
Also, the Ghum Station, Terracotta temples, and Pagodas are some other unique places you can visit just beside seven wonder parks.
The Golf Course, Deer Park, is unique for everyone, and those places mesmerize every visitor.
Eco park 7 Wonders ticket price
Eco Park 7 Wonders ticket price is 30 rupees per person.
Recently, one extra addition is the Japanese Garden. The entry fee is 30 rupees.
Go through 
Eco Park Rides
In Eko Park, we can do many fun activities. It's for the children and the adults and their families to participate in these activities. Like :
Battery Powered Car – This car rental costs 100 rupees near the gate of No. 2. From here, they leave you at gate 4 and. This car will cover a lot of parts of the eco-park. 8 -10 people can sit in a car. This car is perfect for those who have a problem of walking.
Toy train Ticket price – Rs.150 / – per person. Twenty-seven people can sit on the train at a time. Available in gate no 2.
Cycling – 150 minutes for 30 minutes rent. All kinds of bike tickets are available in front of the Butterfly Garden.
Two pedals and two-seat cycling – 150 minutes for 30 minutes rent.
Baby cycling – 50 minutes for 30 minutes rent.
Bird watching – 10 rupees
E-bike – 200 for 20 minutes
Tiroda – 50 rupees (5 arrows)
Butterfly – 50 rupees
Fishing Angling – 1500 rupees
Rifle Shooting – 10 shots at 50 rupees
Roller Skates for 50 to 30 minutes.
Family Shikara – 200 for 30 people for 30 minutes.
Trampoline – 20 Tickets (15 minutes)
Bull riding – 30 rupees (2 falls)
Paddle Boat – 150 rupees (30 minutes) 4 persons for 30 minutes (near gate no 2)
Paint Ball – 50 rupees(5 balls)
Remote Car – 50 rupees(15 minutes)
Water Cycling – 150 rupees (20 minutes)
Water Zorbing – 150 rupees (10 minutes)
Cruise -150 (40 minutes)
Floating Pontoon – 100 rupees One round of lake (about 30 minutes)
Gaming Zone – 50 rupees (30 minutes)
High-Speed ​​Boat -100 Money One round of lake (about 30 minutes)
Kayaking – 150 rupees (30 minutes) (Near Rabi Aranya).
Laser Bumpi Boat – 150 rupees (20 minutes)
Mickey Mouse – 20 Tickets (20 minutes)
Roller Skating -150 (20 minutes)
Hover Board Ride -150 (20 minutes)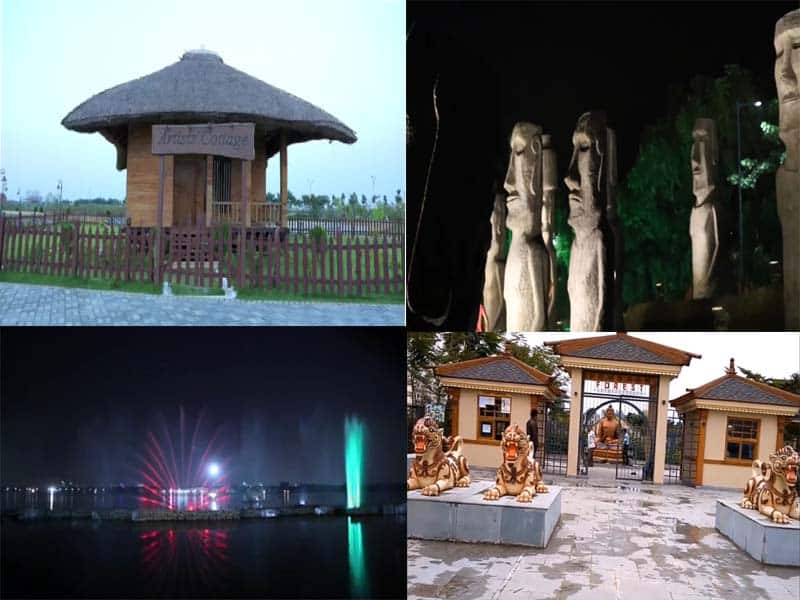 Eco park Kolkata toy train fare
The top train ticket price is 150 rupees per person.
Theme gardens
Glass House on Sabuj Sathi
"Sabuj Sathi" is an island. It's in the heart of Eco Park's vast lake; boats can only access the place. They also have built a glasshouse on this island. Eco Park 360 ° views across the lake through the walls of the glass wall.
Over 100 people can join the Glasshouse for formal parties, and corporate or family events. We can do wedding/birthday parties, product launches, and brand promotion in a peaceful environment. It's just beside seven wonder park.
You May like Rabindranath Tagore's house in Kolkata | Jorasanko Thakurbari Museum
Amphitheatre
Amphi-theatre or open stage is near Banglar hat and food court. Several cultural programs are held in this stage. This gallery will accommodate 2,000 people.
Read Chintamani Kar bird sanctuary
Rabi Aranya
Robi Aranya is near 1 no gate and 1 no jetty. The garden is decorated with stones like Gitanjali, Chattimatla, Ghantatala, open-air theatre, etc. In Rabi Aranya, all the trees are taken from the literature of Rabindranath Thakur. Wild Flower Meadow and Formal Garden.
These two gardens are very popular with a variety of flowers.
Rose Garden
This rose garden has already famous by this name. This garden got an award for the roses. Don't forget to see the black rose, which is from Chandigarh.
Artist's Cottage
The fresh air behind the rose garden ignores the lake of flowers, and this cottage is considered a dream destination for a poet, singer, or painter to promote their creative enthusiasm.
View Alipore zoological garden Kolkata
Eco Children's Park
Popular eco Children Park is just opposite the mask garden. Behind the development of this park, the famous artist Rupchand Pal is involved.
Graffiti Walls
Our two famous artists Mr Jogen Chowdhury and Mr Subhaprasanna, do their paintings on the south parking by their modernized colour paintings.
Butterfly Garden
We can see the butterfly garden dome from a distance. As the butterfly falls asleep in the early evening, the garden closes earlier. Try to enter before 3 pm.
Cultural Events
In Rabi Aranya Park, there is an open-air theatre. On Saturday evening cultural programs are held like music, dance, drama, etc. For booking, visit HIDCO/ Eco Park website.
Gaming Zone
In Bamboo Garden, a gaming zone has grown up, attracting teenagers and game lovers. FIFA, racing, Speed, Call of Duty, Counter-Strike, Age of Empires has become very popular. Charges – 50 per hour per head.
In that way, one can do different activities at Eco Park. Eco Park is a pleasant spot for a picnic. All family members, friends, Office colleagues, group of college friends spend a wonderful day in that place.
Eco Park Play Area
The play area is just next to the butterfly garden. Also, here is a golf course.
Bamboo Garden
Here Bamboo Garden is also known as grassland. In this garden, 23 types of bamboo trees were found. There is also a gaming zone.
Fruits Garden
In this garden, you can see 63 different fruits tree.
Food Court
Lots of food courts are available on the park premises. There is almost 20 food court developed in the total area.
Adda Zone
Adda Zone is opposite the artist's cottage. From here, you can see the lake and the musical fountain.
Must visit Top 5 snow world park | Kolkata | Mumbai | Hyderabad | Bangalore | Imagica
Musical Fountain
The Musical Fountain is near Artist Cottage. It presents a great show in the evening. This musical fountain is the widest in eastern India. The colours of the squares are made on all the computers. I can see the fountain from far away.
Another musical fountain you can find is at 'Mohor Kunja' in Kolkata. But it's been closed for a few years. So don't miss the places when you visit the seven wonder parks in Rajarhat.
Musical fountain show time: 5.45 pm, 6.15 pm, 6.45 pm.
Tea Garden
In the tea garden, you got a flavour of Darjeeling. The garden is near Gate no 1. This area is on the way to rotate through a tea garden area and is complete with a composting plant.
Mask Garden
The Mask Garden is near Rain Forest Garden. All over the world masks can be found here. Note – Charida Purulia chow mask is very well known and famous.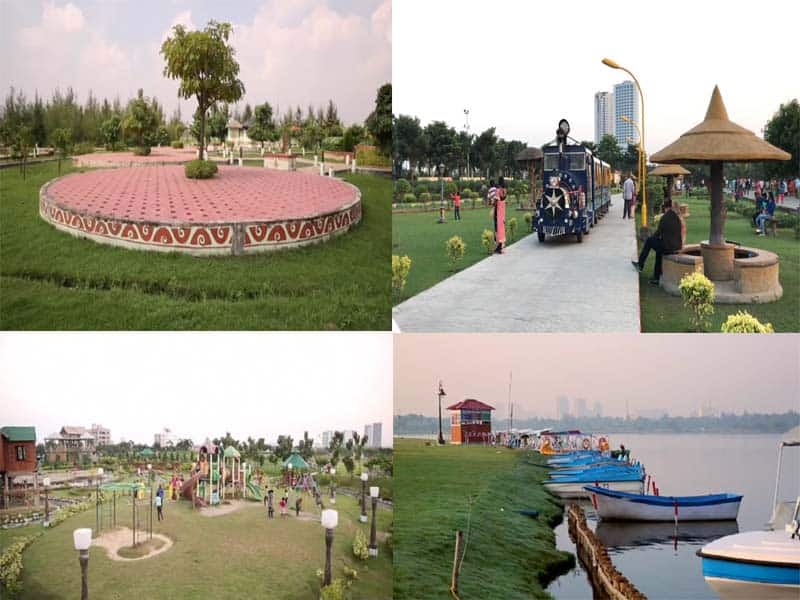 Shopping at ECO-TOURISM PARK
Various types of handmaid products are sold in Bengal Hath. Those who are enjoying shopping may visit the BISWA BANGLA stall at Gate no 4 in Eco Park. There is a gift canter near the entry plaza.
Eco Park wedding venue Kolkata
You can plan your wedding ceremony at Eko Park, on Sabuj Deep Island. On this island, there are 22 luxurious double-bedded cottages available.
You also get a cafeteria named CAFE EKANTE (a unit of WBHIDCO). It is the ideal place for a wedding venue. Moreover, you get a very classy and environment-friendly atmosphere like Sabuj deep picnic spot in Eco Park Cafe.
Online ticket
You can buy Online Tickets Booking Side at Eco Park
Ekante Eco Park Kolkata
In the eco-park, Sabujsathi Island is just into the centre of the lake. It is accessible by boat only, and you can find a glasshouse and double-bedded room and the cafeteria called Ekante Cafe. You can see the complete view of the Eco Park across the lake through the glass walls is simply spectacular.
There are also three open-air viewing galleries, a green lawn, and paved pathways. It's a family restaurant. To visit this cafe you have to book the ticket before the day of the visit. Different Bengali cuisines are available in this cafe.
In Cafe Ekante, a room booking facility is also available online, and one can spend a whole day on the island. This room is a cottage (I already mentioned this above), and in the middle of the lake, you can spend a fantastic night with your family in these seven wonder parks.
Mothers wax museum Kolkata
Also, one additional piece of information is the Mothers wax Museum, which is opposite Eco Park. It's a wax museum, and the sculptures of the different famous artists of India are built in this museum. This place is equally popular as seven wonder park.
Mothers wax museum Kolkata entry fee
The entry fee is 250 rupees (pp). The museum is on the 5th and 6th floor of the Finance Centre. Closed every day at 7:30 pm.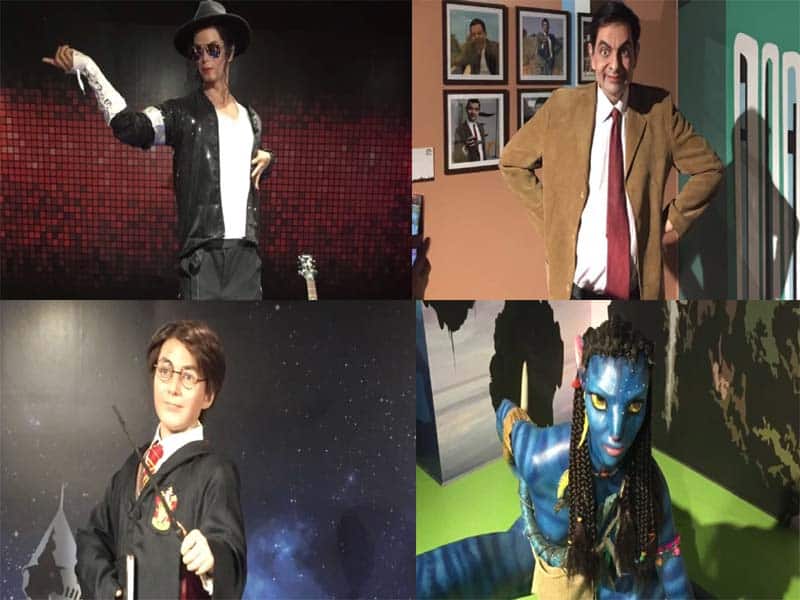 There is more mother wax museum present in India. They are:-
Melody World Wax Museum – Mysore
K Dev Bhoomi Wax Museum – Mussoorie
Sunil's Celebrity Wax Museum – Lonavala
Louis Tussaud's wax museum – Bangalore
Email Us to Enlist Your Business Here.. We Need 5 Second More From You To Share this On Your nearby Circle.