Biswa Bangla Gate New Town | Hanging Restaurant Kolkata 2023
The Rajarhat New Town is now the heartthrob of this city. In this old city, many tourist attractions of Kolkata are built, like Aquatica, Eco Park 7 Wonders, Axis Mall Snow Park, etc. And now, the latest attraction is the Kolkata hanging restaurant named Biswa Bangla Gate Newtown. The restaurant is open for all from the same day as the Kolkata Book Fair inauguration. This Bengali restaurant is near me.
The building is made of 70 tons of steel. The total cost of construction of this gate is 25 cores. It is a new West Bengal Housing Infrastructure Development Corporation (HIDCO) project.
This gate is about 55 meters high. A narrow tunnel for visitors will be about 25 meters above the ground. Two dedicated elevators carry the visitors into the tunnel.
Biswa Bangla Gate New Town
Hanging Restaurant in Biswa Bangla Gate Kolkata New Town
The Hanging restaurant in Biswa Bangla Gate Kolkata New Town is like a gateway to Kolkata. The gate is Like the Eiffel Tower in Paris and the London Eye in London. Enjoy a romantic dinner and a long rooftop view of Rajarhaat Newtown.
Insight of Biswa Bangla gate
The sunset view from the tunnel mesmerizes you. The circle-shaped area hangs over the four pillars and is covered with glasses. We can see a clear view of Newtown and Kolkata through those glasses.
The outer part of the tunnel is covered with lights, and the inner part is fully air-conditioned. At the top of the gate, a logo is placed of Biswa Bangla.
Now you can book directly for dinner from 7 pm to 10 pm. Contact phone number – 83340-65345 for Pre-booking.
The fine dining cafeteria has two slots—7:00 pm to 8:30 pm and 9:00 pm to 10.30 pm. Indian, Chinese, and continental foods are available. Try these Special Items – Fish Kabab, DAB ice creme, 'Nalen gurer' ice creme, and authentic Bengali foods.
The buffet/ Buffet system is also started. Per person 500+tax. Pre-booking available. And don't worry about car parking; there is enough space beside the gate. If you have a backpack or lodges, keep those things on the baggage counter.
It's a fully air-conditioned restaurant. Currently, they are allowing 50 people in a slot. Please note there is no washroom. If you need it, come down to the basement. The toilet is beside the Biswa Bangla ticket counter.
Find Pareshnath temple Kolkata | Jain mandir timings address location
Newtown Biswa Bangla Gate Location
Address: Kolkata gate is near Narkel Bagan crossing at Newtown, Rajarhat, West Bengal, in India. It is being constructed on the way to the airport, New Town, Rajarhat.
The Kolkata gate is opposite the Rabindra Tirtha and 15 minutes from ECO Park.
You may like to
My review of the Bengali Restaurant – Kolkata Gate
When I planned for the Kolkata gate, I booked my ticket from 'Bookmyshow' and selected the 5:00 pm time slot. I started my journey from Ruby E.M. bypass, reached Salt Lake College Crossing to buy a rucksack from the Decathlon Store, and then changed to another bus to reach Narkel Bagan. I reached this place earlier and visited Rabindra Tirtha first, opposite the Biswa Bangla gate.
Special tips
Suppose you plan ECO-park, at the time plan for Kolkata gate too. Visit here while returning from Eco-park. Or if you only come to visit Biswa Bangla Kolkata gate, come at least 1 hour before and visit Rabindra Tirtha, which is the opposite of the Gate. It will take half an hour to 45 minutes.
Read More Most famous places in Kolkata
How to reach Biswa Bangla gate – The Kolkata hanging restaurant
Buses are available from anywhere in Kolkata and outside of Bengal.
S 30: Ultadanga to Ecospace or Chingrihata

AC 12: Sapoorji to Howrah

AC 23A: Bally Khal to Salt Lake

S 12E: Howrah to Ecospace

S 1 4C: Dunlop to Unitech

S23A: Bally Khal to Salt Lake

S 53: Unitech to Kolkata Station

S 9C: Patuli to Ecospace
Go with Top 12 visiting places in Rajpur Sonarpur railway Station Road Kolkata
Biswa Bangla gate Ticket booking
Online ticket booking is available on the Book My Show website. After an initial booking, a QR code will be generated. After receiving the confirmation, show the Biswa Bangla ticket counter receipt and get the proper ticket for the Kolkata gate. They will hand over an entry pass to the visitor.
Biswa Bangla gate restaurant ticket price
The ticket price is 100 rupees per head, and the service charge is extra. The entry fee is free for children below three years. Book your ticket with your desired date and pick a time between 4 pm, 5 pm, and 6 pm. The maximum you can spend is 45 minutes inside the tunnel.
Read Territy Bazar Kolkata | Best Chinese food breakfast | New Year party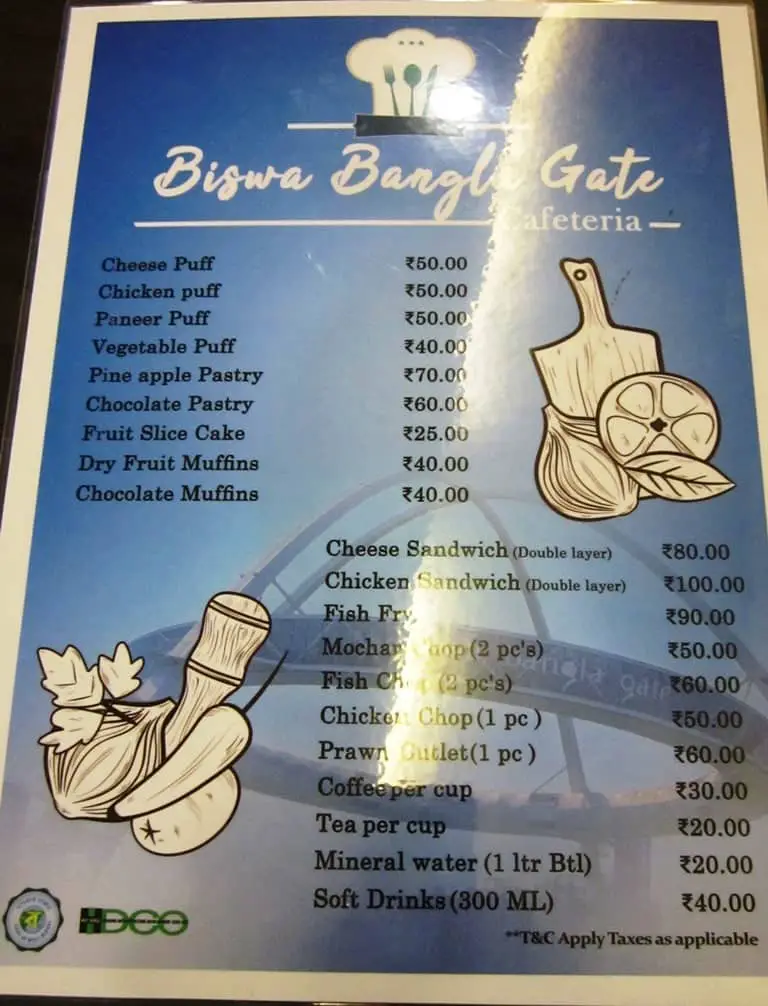 Biswa Bangla gate hanging restaurant menu and Curio shop
The Kolkata gate-hanging restaurant has several photographs of Bengal culture and heritage. You can find a small restaurant operated by Cafe Ekante and a small curio shop.
Coffee 30 rupees per cup, prawn cutlet one pic. Sixty rupees, cheese puff 50 rupees, pineapple pastry 70 rupees, etc.
You can buy souvenirs for your family and friends from the curio shop. The souvenir starts from 250 rupees.
Famous Menus are
Tandoori Chicken gravy butter masala
Chicken dhania masala
Black paper sauce Chicken
Chicken tikka gravy lababdar
Kung pao Chicken
Lemon Garlic Chicken
Murgh reshmi masala
Tangra style chilli chicken
Read Best Michelin Star Restaurants in India
Do you need to book in advance to visit Biswa Bangla Gate?
Yes, you can book in advance to overcome unwanted hassles. Booking can be made by "book my show" or Biswa Bangla's official website.
How to reach Biswa Bangla Gate Kolkata?
You can reach the Biswa Bangla gate by Bus/ car/ cab(app cab). By bus S-12 (From Sealdah), C-8/C-43 (from the airport, it takes 40 minutes approx.).
What is the ticket price of the Biswa Bangla gate?
Biswa Bangla gate ticket price is 100 rupees. It opens at noon and closes at 10:00 pm.
Email Us to Enlist Your Business Here.. We Need 5 Second More From You To Share this On Your nearby Circle.