Top 12 Visiting Places Near Rajpur Sonarpur Station Road Kolkata
I found those places on Sonarpur Station Road in West Bengal. If you go back to history, notice that every location has some hidden gem; you only need to explore them.
It's a perfect one-day outing near Kolkata. Sealdah to Sonarpur distance is 18 km, and you can reach it within 45 minutes by train.
Top 12 Places to Visit Near Rajpur Sonarpur Station
1. Floating market Patuli in Kolkata
Patuli floating market Kolkata is India's first floating market. It is a state government initiative where various stores have been moved to a lake to construct the floating market. It is a large lake with many entrances, and wooden bridges connect it. Shops are made of boats, selling many daily needs, like vegetables, groceries, and fruit to fast food.
By local train from Sealdah, Reach Garia stations and take a bus to Patuli floating market.
Another choice is by metro. Get off at the Sahid Khudiram Station; from there, it's just 2 minute's walking distance, and from Kavi Subhash, the metro station is 2 to 3 minutes by auto/ bus. Third, take the auto from Sonarpur station, reach Garia metro, and then change to another auto for the floating market.
Timings: The opening time is from morning to 10 pm. But the evening is the best time to visit.
2. Tripura Sundari Devi Temple
It's an ancient religious place in Garia. Here, the goddess Tripura Sundari is worshipped. She is related to the Hindu Goddess Kali and Lord Shiva.
In this temple premises, the priest performs many rituals like Shraddha, Batsarik, Marriage ceremony, etc. To reach Tripura Sundari Devi Temple, take an auto from Garia or Sonarpur station to go Boral and get down to the Maa Tripura Sundari temple stoppage.
Timings: The Tripura Sundari temple's opening time is 10:30 am to 12:00 noon, and it reopens from 05:00 pm to 08:00 pm.
Read Biswa Bangla Gate New town | Hanging restaurant Kolkata
3. Narendrapur Ramakrishna Mission Ashram
Narendrapur Ramakrishna Mission Ashrama is a branch of Belur Ramakrishna Mission, established in 1957. It has a residential school and is the best school in India. Many other educational courses are going on throughout the year.
A handcuff store sells many handmade items, incense, honey, etc. To reach the RK mission, take an auto from Sonapur Station and reach Kamalgazi crossing. After, you can reach by walk or take another auto to come, also reach RKM from Garia metro by auto.
4. Chintamani Kar bird sanctuary
Chintamani Kar Bird Sanctuary was registered in 1982 as Sonarpur Bird Sanctuary. In 2005, the Sonarpur Bird Sanctuary was named Chintamani Kar bird sanctuary. Winter is the best session. At this time, plenty of migratory birds gathered here.
You should visit this place if you are a nature/ bird lover. Also, you can capture fantastic photographs.
Entry fee: An added attraction is Chintamani Kar's Sculpture Museum. The Entry fee is 100 rupees per person.
Timings: 7:00 am to 5:00 pm, in winter, 6:00 am to 5:00 pm. In summer

How to reach Chintamani Kar bird sanctuary
Take an auto from Sonarpur station, break in Kamalgazi more, take Baruipur auto and get down to Rathtala stoppage for Chintamani Kar bird sanctuary. Or you can get a direct auto to Baruipur from Garia/ Kavi Nazrul metro.
5. Bipadtarini Chandi Bari Rajpur
Barendrapara Bipadtarini Chandi Bari is the oldest temple in Rajpur. Maa Bipodtarini is another form of Maa Kali. Every year on Diwali, the temple committee arranges a grand festival.
Rajpur Bipodtarini mandir opening time
Bipodtarini mandir's opening time is from 06:00 am to 11:00 am and reopens from 02:30 pm to 05:00 pm. The Sandhya Arati time is 5 pm. Take an auto from Sonapur Station for Rajpur and reach the Bipodtarini mandir stoppage.
6. Harinavi Banga Natya Samaj
Harinavi Banga Natya Samaj is the oldest Bengal drama society in Bengali theatre history, established in 1862. Pandit Ram Narayan Tarkaratna, the famous playwright, played the first Bengali drama here.
Take an auto from Sonapur Station and reach Rajpur. Book a ricksha or toto that is best for you.
Go with Joynagarer moa recipe and buy
7. 300-Year-Old Jora Shiva Temple
Three hundred-year-old Jora Shiva temple in Harinavi is opposite the House of the Zamindar Nabin Chanda Ghosh. There are two Shiva temples. Local people renovate one temple. However, another is still neglected, and nature destroyed many temple parts.
8. House of Subhash Chandra Bose
In the South 24 Parganas Kodalia village, a parental house of Netaji Subhash Chandra Bose is situated. The parental house of Netaji Subhas Chandra Bose is considered a symbol of history and heritage. The house is maintained by the West Bengal government now. On January 23, they arranged cultural events.
From Sealdah, we reached Sonarpur station and took an auto for Rajpur, which will take 7 to 8 minutes. From Rajpur, take an auto and get down the Lalbari stoppage. The auto fare is 8 rupees, and it will take 5 minutes. From there, 5 minutes of walking distance.
9. Sonarpur Arohi club
Sonarpur Arohi is the first mountaineering club in south 24 Parganas, established in 1982. Every year, they arrange adventurous things like trekking, mountaineering, a summer trek, Rock climbing, coastal trekking, desert trekking, cycling, skiing, etc.
Address: Sonarpur Arohi Sonarpur flyover, Purbachal. Post – Sonarpur Calcutta – 700150
10. House of the Zamindar Nabin Chanda Ghosh
Zamindar Nabin Chanda Ghosh's residence is near Harinavi; it was made in 1720–1730. Today, one part of the house is almost ruined. Prafulla Chandra Ghosh was the last zamindar of this family. Now, their tenth generation is living in one part of the house.
In Zamindar's time, Durga Puja was worshipped at Durga Dalan. The Durga Dalan still exists. Once a temple was there, "Rash Mela" was held annually on these temple premises.
11. 500 years old Kali mandir at gram Kalikapur
The Chakrabarti family makes this 500-year-old Kali temple. Every day, many devotees come. Still today, the Chakrabarti family maintain this temple and is in charge of the temple.
From Sonarpur, take an auto towards Sonarpur Ghasiara or Kalikapur and reach the Gram Kalikapur stoppage, from where the temple is a 10-minute walking distance.
Read more Bankura Bishnupur Mukutmanipur Tour
12. Sonarpur Bookfair
Now, the Sonarpur book fair is a famous event in this locality. It's held every second week of December and continues for a week. The book fair is organized beside the Sonarpur Railway Quarters field beside Sonarpur station.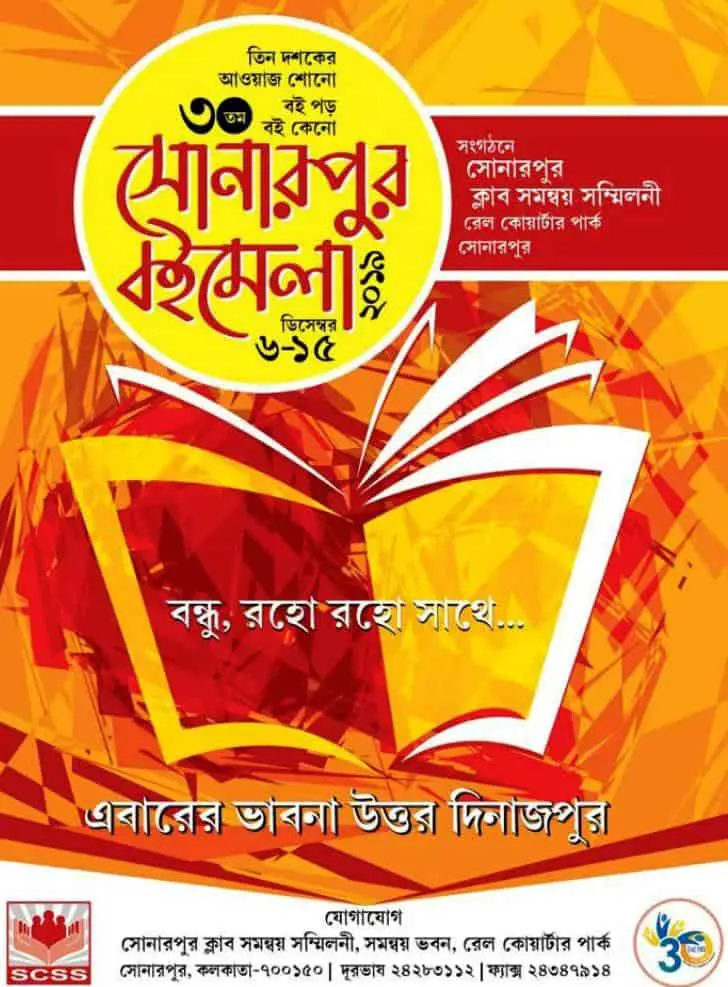 Every year, the book fair is made with a unique theme. There is also an open stage for dancing, drama, and singing and a separate entertainment park, food parks, science parks, etc.
Sonarpur to Sealdah bus timetable
Kb17 is running from Sonarpur Station to Sealdah Railway Station. It takes 1.5 hours to 2 hours approx. If you are in a hurry, you can break down to Garia-Gariahat-Sealdah. But it's not frequent and sometimes not run.