Alipore Zoo Kolkata | Timings, Ticket Price, Closed day
Kolkata Alipore Zoo is known as the Alipore Zoological Garden. It is the perfect winter destination in Kolkata. Every age of people, including kids, can enjoy a lot. You also have a small picnic here.
In this article, I will share how I visited there, the ticket price, closed day, timings, and saw all the animals within 2 hours.
Alipore Zoo Kolkata, Timings, Ticket Price, Closed day
How I visit all the animals within 2 hours- First part
First, we visit the salted watered crocodile. This salty watered crocodile is found in India, Bangladesh, Sri Lanka, Australia, etc. This crocodile's average lifespan is 70 years. The average size is 17 feet, and the weight is 400 kg to 1000 kg. After, we turn to the tiger enclosure.
Next, we move to the spoonbill birdcage; the Bengali name is "Khunte bok." It is found in India, Bangladesh, Pakistan, Sri Lanka & Myanmar. The bird Lives in jheels, on mud banks in the river, etc. They feed on tadpoles, frogs, fish, insects, vegetable matter, etc. The bird lays four eggs in 21 days. In the Waterland of the zoo, you see giant fishes moving here and there.
After the spoonbill birdcage, we move to the Giraffe section. The giraffe is found in Africa, Sudan, Somali land, South Africa, Nigeria, etc. They live in open woodlands with water supplies and semi-desert areas and feed mainly on the leaves of different trees. The giraffe Gives birth to a calf at one and a half years to two years.
After that, we moved to the Indian Lion area. It is found only in Gir Forest Junagadh of Gujrat in India. The animal lives in stunted Teak forests, Palas trees, patches of small bamboo, and undergrowth of thorny shrubs and bushes. They stay with groups, eat meat, and prefer to hunt at night. Generally, two to four babies are born after 103 to 105 days of pregnancy.
Next, we visit the cage of a white Indian peacock. It is found throughout India, Bangladesh, and Sri Lanka. This peacock lives in dense scrub and deciduous jungles, plains, and foothills, preferably in the riverside and streams. They feed on grain, vegetables, insects, lizards, snakes, etc. They lie for a 3 to 5 eggs incubation period of 28 days.
Now it is the area of 8. This Asian elephant's average lifespan is 48 years. The average length of the Asian elephant is 5.5–6.5 m, and the average weight is 5,400 kg.
Our next destination is to see a Mexican red-headed Amazon parrot; it comes after visiting the elephant section.
These birds live in forests and wooded areas in lush lowlands and foothills. Their diet is composed of seeds, fruits, flowers, and nectar. They lay 4 to 5 eggs simultaneously—an average incubation period of 27 to 29 days.
The Dove cage is next to the Mexican red-headed Amazon parrot's cage. We can find the Dove bird on the Indian subcontinent. They Live In woodland, scrub, farmland, and residential places. The dove bird Eats grains of fruit, seeds, etc. These birds lay two eggs at a time—an incubation period of 14 to 15 days.
Next, we move to the emu's cage near the dove's cage. This bird is the second tallest bird on the entire earth, and this bird's height is 59 to 75 inches. Emu is mainly found in Australia; they live in regular grassland places. But they avoid heavily crowded areas and forests.
Emu can run up to 50 km per hour for a distance and can also swim. They eat a variety of plants and insects. Emu Lays 15 to 26 eggs at a time. The Incubation period is 50 days.
Next, we visit the hippopotamus cave just opposite the emu's cage. The hippopotamus is found throughout Africa's sweet waterways. They eat mainly grass and live in a group. They Give birth to a calf after a gestation period of 210-255 days.
After visiting the Hippopotamus cave, we moved to the star tortoise area. The star tortoise is found in Central and Southern India, Sri Lanka, and Pakistan. They live in sandy tracts, dry grassland & forested areas and eat grass, greens, green fruits, etc. This tortoise Lays 3 to 7 eggs.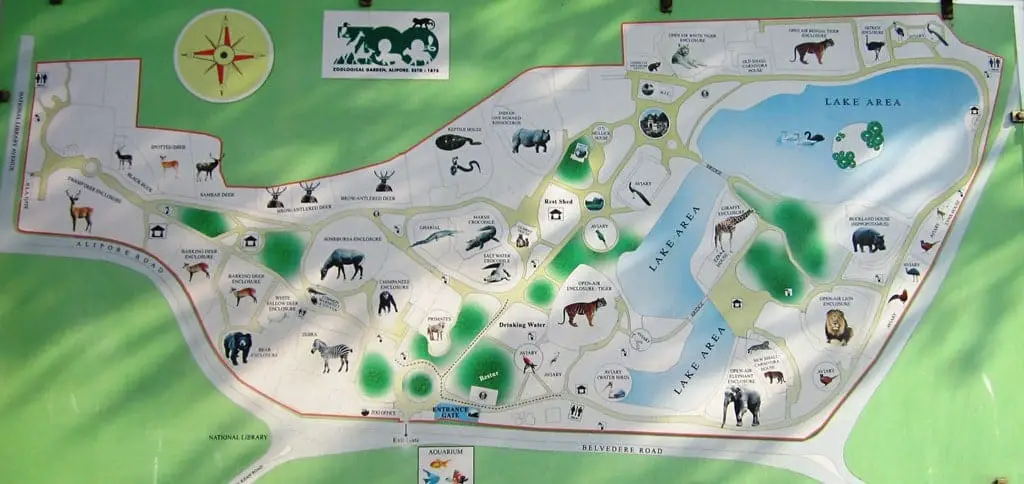 Read
How I visit all the animals within 2 hours- Second part
Now, We have almost covered half of the zoo. Now you can sit and rest here, and you might be hungry. Fast foods like patties, popcorn, cold drinks, tea, etc., can be found in the food stall in Alipore Zoological Garden Kolkata. You can also open your lunch box and don't forget to bring the newspaper, rest in the ground area, and find a few benches to relax.
After the short break, we visited the jaguar's enclosure—the cage made with transparent glass. Jaguar is mainly found in America. The average speed of the jaguar is 80 km per hour. This animal's average lifespan is 12 to 15 years. The average height of the jaguar is 63 to 76 C. M., and the average weight is 56 to 96 kg.
The jungle cast's cave is beside the jaguar enclosure. The jungle cat lives in grassland, scrub jungle, dry deciduous, evergreen forests, semi-urban areas, and villages in India. These cats are less active at night and lead a solitary life. However, they can climb trees and can swim. The cat eats small mammals and birds. Usually gives birth to 3 kittens after a gestation period of 2 months.
After the cat's cage, we are now, for the most awaiting the Royal Bengal Tiger enclosure. The cave is made of transparent glass-like jaguar's den. The average height of a Bengal tiger is 90–110 cm. The weight for a Male is 220 kg, and for a Female is 140 kg on average. So height for Males is 2.7 m–3.1 mm, and for females, it's 2.4m–2.6 m. Now, it's a rare species; almost 2,500 tigers lived and counting in 2017.
After the tiger's cave, we step forward for the Indian one-horned rhinoceros. It's found in Assam, West Bengal, Uttar Pradesh, and Nepal. The Live-in swamps and grasslands Lead a solitary life. The rhinoceros eat grass, and they stay in a particular place. They have a single horn that comes from devoid of bone. A single calf is born after 474 to 488 days.
Read Top 5 snow world park | Kolkata | Mumbai | Hyderabad | Bangalore | Imagica
Is Alipore Zoo Open today?
Yes, Alipore Zoo Kolkata is open today. They are only closed on Thursday.
Reptile House at Alipore Zoological Garden
We return from the Rhino's cave now and stop in the reptile house. About 260 to 300 million years ago, reptiles originated on the Earth, and modern reptiles appeared on Earth about 70 million years ago.
Out of 2000 snakes in the world, about 272 snake species can be discovered in India. About 80% of snakes in India are non-venomous, and snakes can swallow food larger than their heads. 
The lower jaw is loosely attached to the skull, allowing snakes to open their mouths wide. Snake venom is essential for medicinal purposes. However, the population of snakes is decreasing because of the illegal trade of skins and the habit of killing.
We left the reptile house and now move forward to the Gharials enclosure. It's also known as the Gavial. They mainly eat fish. Weight is about 160 to 250 kg. Length is average, 5 mitres for an adult and 3.5 mitres for females; the maximum age is 15 to 18 years.
After the Gharials enclosure, we visit the Brow-antlered Deer cage. They are Mainly Found in Loktak Lake in Manipur. The deer's Lives on floating vegetation are called "Phumdi." Male deer only possess antlers that are shed annually and grow again. In 8 months, a baby is born.
Next, we moved to the Eastern grey kangaroo's cave in Australia. They mainly eat grasses and live in groups. The gestation period is 38 days, and the life cycle is 7 to 10 years.
Next, we move to the spotted deer or the Chital Harin section. The zoo has collected various species of deer and birds. The Spotted deer are found in the Himalayas and Sri Lankan forests. They eat grass and live in groups. Male deer only have antlers, which are shed annually and grow again. A baby dear is born after six months.
After the spotted deer section, we see the world's giant tortoise. This Aldabra tortoise is one of the largest tortoises globally, found on Aldabra Island in the Indian Ocean. The tortoise eats grass, leaves, etc., and stays in grasslands, low scrub, mangrove swamps, and coastal areas. Females lay between 9 to 25 eggs, and the incubation period is eight months.
We moved from the naughty chimpanzee's cage found in Guinea to Uganda. They can live in every circumstance and eat fruit and vegetables. Chimpanzees give birth after a gestation period of 225 to 229 days.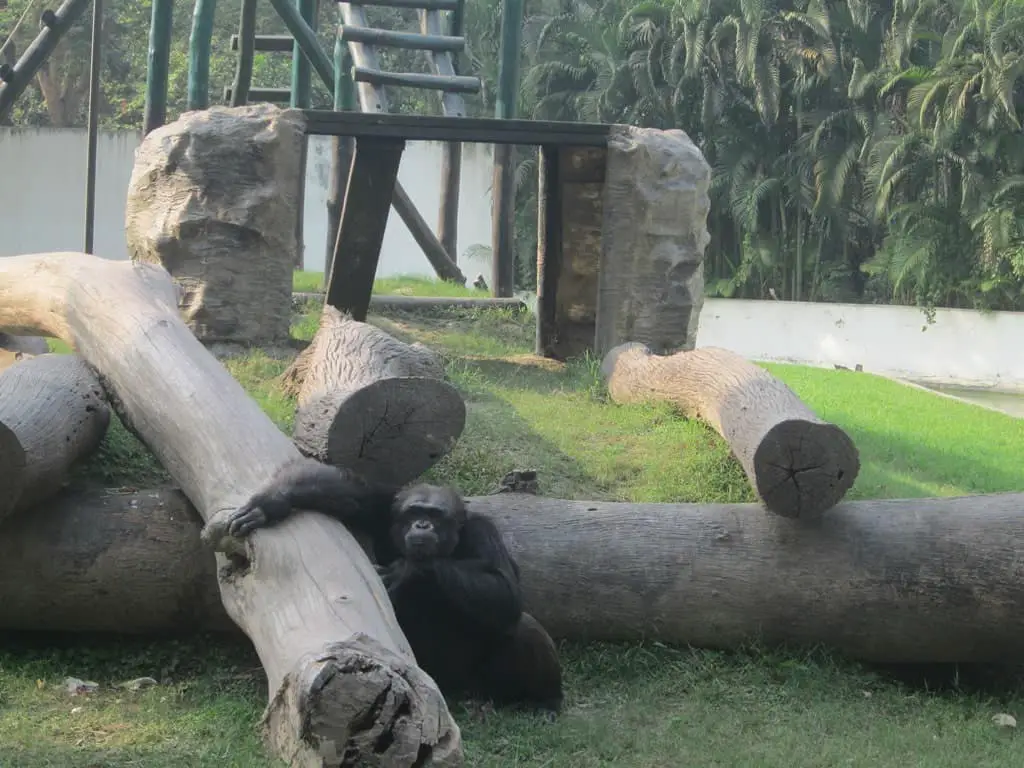 Opposite the Chimpanzee's cage, you can find the zebra's cave. Zebra are found in Africa and south of the Sahara, and they mainly eat grass and give birth approximately one year.
We almost completed the Alipore zoological garden animals in two hours. There are a few more animals, which you can find in the 'Kolkata Chiriakhana' or the zoo.  
After, we exit the zoo across the road and find the Alipur Zoo aquarium, which is also very interesting. The fee is only 5 rupees per head. So don't forget to go there.
Alipore Zoo Timing
| | |
| --- | --- |
| Days | Timings |
| Friday | 09:00:00 to 5:00 PM |
| Saturday | 09:00:00 to 5:00 PM |
| Sunday | 09:00:00 to 5:00 PM |
| Monday | 09:00:00 to 5:00 PM |
| Tuesday | 09:00:00 to 5:00 PM |
| Wednesday | 09:00:00 to 5:00 PM |
Alipore zoo timing
Note:- Ticket counter timing of Alipore Zoo is 9:00 am to 4:30 pm and closed on Thursday. Alipore Aquarium's timing is 10:30 am to 5:00 pm.
Alipore Zoo closed on the days
The closing day is Thursday
The zoo is on Thursdays in winter from 15 December to 31 January.
If a Thursday falls on a public holiday, the zoo stays open for that day and is closed on the next working day.
From 15 December to 31 January, the zoo is open for seven days.
What is the entry fee for Alipore Zoo?
Up to the age of 5 years, Alipore Zoological Garden Kolkata ticket price is Rs. 10/-

For visitors from the age of 5 years, the Alipore Zoo ticket price is Rs.50/-

For the aquarium, Rs. 5 / – per person
Is the camera allowed in Alipore Zoo?
Video Photography – Rs. 250 /- per hour

Camera charges – NIL
You can buy a ticket online
Alipur zoo address
2, Alipore Road, Alipur Zoological Garden Kolkata- 700027
You may like Chintamani Kar bird sanctuary
How to Reach Calcutta Alipore Zoo
The Zoo is on Alipore Road in Kolkata. My preferred route is to come to Rabindra Sadan metro station or Exide more, take bus No 230, and reach Alipur within 10 minutes. Alipore zoo nearest metro is Rabindra Sadan or Jatin Das Park.
Alipore Zoo Kolkata Summary
The Alipore National Zoo Kolkata West Bengal, also known as the Zoological Park Kolkata or "Alipur Chiriakhana." It is India's oldest zoological garden, a major tourist centre in Kolkata, besides the national library. Alipore Zoo attracts tourists from all over the country. The zoo, spread over 46.5 acres of area, continued since 1876 when it was open to the public.
The zoo is famous for the expired Aldabra giant tortoise 'Adabita,' a turtle that lived for over 250 years; the turtle died in 2006. It's a well-maintained garden for families and children.
You see the Royal Bengal Tiger, the Indian Elephant, the Great Indian One-horned Rhinoceros, the White Tiger, the Grant's Zebra, Antelope, Deer, and more in this zoo. 
You can find many interesting birds such as Macaws and Lorikeet, colourful and striking birds like Swinhoe's Pheasant, Lady Amherst's Pheasant and Golden Pheasant, and large birds like Ostrich, Emu, Hornbills, and more. In addition, migratory birds during winter make the entire environment pleasant, and you can get birds like Sarus Crane.
Alipore Zoo is especially crowded in winter when many tourists gather in this popular destination in Kolkata. With the modernization of the zoo, like new glass-wall enclosures and the construction of aviaries, the popularity of this zoo has increased daily.
Visit Most famous places in Kolkata
History of Kolkata Alipur Chiriakhana
The Kolkata Alipur Chiriakhana was initially established as a personal menagerie by Governor-General Richard Wellesley in 1800 as a part of the Indian Natural History Project.
Many major cities in the world started zoos to gain strength. So, the British community in Calcutta also upgraded and created a formal zoological garden. The Prince of Whales, Edward VII, inaugurated the zoo on 18 January 1876, which was opened to the public of Alipore on 6 May of the same year.
The zoo was based on the gifts of British and Indian merchants like Maharaja of Mysore Krishna Raja Wadiyar IV and Raja Suryakanta Acharya of Mymensingh. They contribute their private collection of wild animals to the Alipur Zoo.
The authority started the Panthera hybrid reproduction program, a cross-breeding test between lions and tigers.
Since then, it has been significantly improving rapidly. The authority stopped the Panthera program; now animals have more open and better enclosures. Furthermore, in the modernization of zoos, new glass-wall enclosures and an original entry gate based on electronic access are introduced.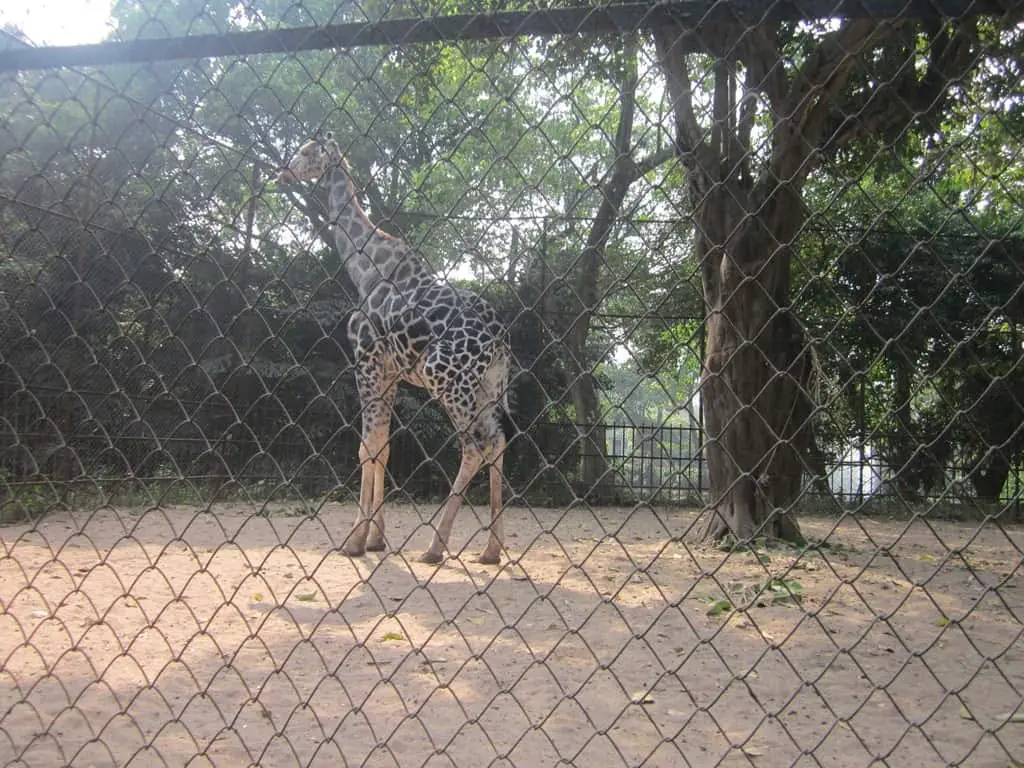 Alipore Zoo wild animals and birds
The zoo is well-known for its wide range of mammals, birds, and reptiles. In addition, the zoo maintains carnivorous animals like the royal Bengal tiger, the jungle cat, the jaguar, the fishing cat, the Himalayan black bear, the sloth bear, etc.
The zoo has a rich collection of swamp deer, brow-antlered, sambar deer, hog deer, barking deer, spotted deer, white fallow deer, blackbuck, Indian one-horned rhinoceros, Indian elephant, zebra, and hippopotamus. In addition, you can easily spot animals like hamadryas baboons, bonnet monkeys, olive baboons, rhesus monkeys, Assamese monkeys, and common languor.
This "Kolkata ka Chidiya Ghar" is also home to many colourful and exotic pheasants like Chinese silver pheasant, golden pheasant, reeve's pheasant, and Lady Amherst's pheasant, green pheasant, and Nepal Kalij pheasant. Other birds found here include bare-eyed cockatoo, citron crested cockatoo, sulphur-crested cockatoo, spoonbill, Sarus Crane, painted stork, adjutant stork, white stork, and black-necked stork.
Alipore Zoo has an exclusive Reptile House used only for reptiles like the Indian python, Indian cobra, common krait, banded krait, rat snake, checkered keelback water snake, and common wolf snake.
Read more 
List of animals kept in an enclosure at Alipore Zoo Kolkata
Zebra

Common Marmoset & Iguana.

White Fallow Deer

Bear – Sloth Bear & Himalayan Black Bear.

Kangaroo

Barking Deer

Swamp Deer

Black Duck

Deer–spotted deer, sambar deer, brow-antlered deer

Nilgai

Marsh Crocodile, Salt Water Crocodile & Gharial.

Gubbay House

Reptile House

Indian One Homed Rhinoceros

Leopard

Jaguar& Leopard.

Mullick House

Lesser Cat

White Tiger

Carnivora House

Bengal Tiger

Ostrich

Crowned Crane & Common Peafowl.

Jungle Cat

Pheasant, Mandarin Duck

Emu

Pheasants & Other Birds.

Hippopotamus

Lion

Pheasant

Jaguar, Leopard

Elephant

Water Birds

Cockatoo

Macaws, Cockatoos

Tiger

Aviary – Spoonbill

Giraffe

Pheasant, Peacock & other Birds

Pheasants, Doves, Imperial Pigeons, Parakeets

Baboon

Chimpanzee

Colourful Indigenous Fishes

in Aquarium
Alipur zoo aquarium
Opposite the Alipore Zoological Garden Kolkata main gate, a fish aquarium is built with 1200 species. Young and old people are very much attracted to this aquarium.
How can I go to Alipore Zoo?
Visit the Alipur Zoo by bus/metro/cab (Ola, Uber). Bus no. 230 from Rathtala takes 2:30 hours,/ Bus no. 169 from Sealdah takes 45 minutes. The nearest metro station is Ravindra Sadan (2 km away from the zoo).
Is food allowed in the Alipore Zoo?
Officially, food is not allowed inside the zoo, but I saw people do a picnic here last year. Also, you will get different food stalls inside the zoo.
On which day is Alipore Zoo closed?
The Alipore Zoo is closed every Thursday (It opens when holidays fall on Thursday). The zoo mainly begins at 9 am and closes at 5 pm.
Articles:-
Email Us to Enlist Your Business Here.. We Need 5 Second More From You To Share this On Your nearby Circle.