Ballavpur Wildlife Sanctuary | Deer Park Bolpur West Bengal
If you are looking for a gateway in the forest, I can suggest the Ballavpur wildlife sanctuary. Beautiful forestation, large water bodies, and home to many deers and migratory birds same as Sultanpur National Park will be your partners for this trip. So with no delay, let's know more about this Indian forest.
Table of Contents
Ballavpur Wildlife Sanctuary Shantiniketan Bolpur
The Ballavpur Abhayaranya is another attraction of Shantiniketan. The deer park was inaugurated on the 11th of July 1977.
On over 700 acres of land with many trees like sal, pial, sishu, cashew, haritaki, amlaki, bahera, sirish, berry, mahuya, sonajhuri, akashmani, etc. 210 Chital deers, four barking deers and other animals like Krishna Sar, peacock, rabbit, Mongoose, fox, snake, and varieties of birds this Reserved Forest was set up.
It is located 3 kilometers from Bolpur Santiniketan and 172 km away from Kolkata. The park is near Sriniketan.
Read First National Park of India Jim Corbett
Bolpur Dear Park
Balavpur Wildlife Sanctuary is known as Deer Park. It is under the 'Khoai' area with a large forest and a natural bird sanctuary with many deers.
The place is known for its green grounds and red soil to the Bolpur sub-division of the Birbhum district. The natural green forest and its evergreen beauty attract people like Bhadra Wildlife Sanctuary and Tiger Reserve.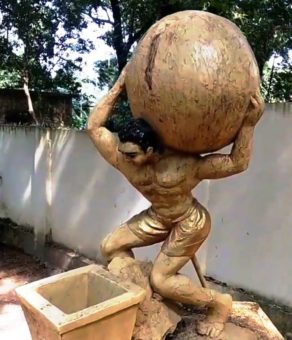 The Wildlife Sanctuary, the Asansol-Durgapur region, comprises the indigenous area. This region is between two mighty rivers, Damodar and Ajay. They flow in parallel to each other (about 30 km in diameter) in this region.
It is a pleasure to see the groups of deers come to eat at 8.00 am / 3.00 pm. In Shantiniketan, the attraction of this spot is increasing.
Arrangements to stay over can all be made at the FRH, AB: DFO, Birbhum Division, Suri Birbhum. Adjoining the jungle of sal-sonajhuri, with low and high hillocks, was a shelter for the former revolutionaries.
Today's the Aamar Kutir, once built by a revolutionary, is the center for handcraft, leatherwork, block-print. Tourists can buy these products.
In the large adjoining pond next to the Deer Park, during winter (November to March), various birds (named in Bengali vernacular)- balihans, moral, pandubi, metehans, jalpipi, titir, and machhranga along with other birds like hornbill, pockard, gadwall, shoveller, pintail, egret and thousands of other migratory birds flock here.
At sunset, when they return to their nests—the scene is impressive. Further, there are innumerable turtles in the pond.
History of Ballavpur wildlife sanctuary
The Sanctuary is named of place Ballavpur. In 1957 the area was declared a Reserve Forest. In 1977 an area of 2.021 sq. Km was declared as Wild Life Sanctuary. It represents the Bio-geographic Zone 7B-Chhotonagpur Pleated and has natural Sal Forests.
Acacia, Sissoo, Cashew Nut other trees were planted in 1954-55 to green the Barren land. Black Duck, Spotted Deer, was introduced in 1967-68, only Spotted deer survived.
The Spotted Deer have been translocated to Buxa and other Forests in the past. Commonly found animals are Wolf, Jackal, Fox, Common Langur, Jungle cat, Civet, Indian Porcupine, etc. Sanctuary has three water bodies (locally called Jhils), attracting a large no. of winter migratory birds.
Ballavpur Wildlife sanctuary Shantiniketan Entry Fee and timings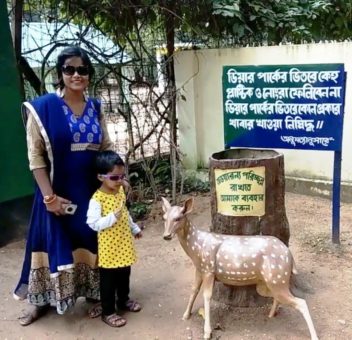 After reaching the main gate, you will find a ticket counter and the entry fee is only Rs. 10. It will allow you for 1 hour. It stays open from 10 am- 3:30 pm except for Wednesday. Wednesday is closed. For children aged below 12 years, the ticket price is Rs. 5. And if you are visiting with a camera, it will cost you an additional Rs—20 extra.
Bolpur deer park attraction
This place is the no one conserve of deer in West Bengal. The Sanctuary was established in 1967. Cheethal dear and Blackbucks are the most founded deer here. Apart from that, foxes and jackals, and monkeys are also there. The place is quite large, and there are three water bodies, so migrating and resident birds are always available.
The place is covered with a roadway along with fencing on both sides. Walk around, and you will see a glimpse of wildlife and birds. And to observe the whole place, there is a watchtower as well.
Ballavpur wildlife sanctuary is home to many animals and birds. But the major attraction here is the deer. It's also called Deer Park Bolpur by locals. For the elevation and climate, it's too good for animals living there.
Shantiniketan is the place of Tagore. People visit here attracted by Rabindra Nath Tagore and his work. But this Deer Park is too significant to see for its location.
Everyone visits Khoai, Kopai River as a part of the culture, but this park is also an attraction to enjoy Shantiniketan properly.
Ballavpur wildlife sanctuary resort accommodation
Many luxurious private resorts are situated just 5 minutes away from the Wildlife Sanctuary of Ballavpur. The multi-cuisine garden restaurant, 24-hour electricity, Western bathrooms, car parking facilities, and beautifully furnished rooms with air-conditioned rooms.
The accommodation offers the shelter to be comfortable near nature and perfect for the bustling tourist destination of West Bengal Santiniketan region and remote areas.
The rooms are equipped with ethnic furniture, television, hot water geysers, and intercom facilities; they also arrange the car for sightseeing. You will get Double Bid Deluxe Room, Dormitory, Family Room, Honeymoon Duplex Suite, and Standard Suite at this resort.
The food is well served in the indoor dining hall and the garden restaurant. You can choose from a range of Indian, Chinese and continental dishes as per choice.
You may like
Ballavpur Abhayaranya How to reach
The nearest railway station is Bolpur-Shantiniketan. If you visit Kolkata, you can find a few trains all day from Howrah and Sealdah railway stations.
After reaching Bolpur-Shantiniketan station, you will find local transport like rickshaw, Toto, etc. But, beware of those local drivers who always haggle before using their service.
Or else they will take advantage and charge a lot more. After crossing Biswa Bharati University, Ballavpur wildlife sanctuary is two kilometers away.
Places to visit in Shantiniketan B0lpur
Gitanjali Rail Museum
Kankalitala Temple travel guide
Biswa Bangla hat
Prakriti Bhavan Nature Art museum
Amar Kutir
Amar Kutir ECO-Tourism Park
Srijani Shilpagram Shantiniketan Bolpur
Ballavpur wildlife sanctuary Bolpur Shantiniketan
Kopai river
Visva Bharati Santiniketan
Visva Bharati Kala Bhavan
Rabindra Bhaban Museum
Sonibarer hat / Khoai boner haat
Kalikapur Rajbari
Ghurisha Terracota temple
Wood fossil park Birbhum
Raipur Rajbari Birbhum
Surul Raj Bari
Sriniketan Bolpur
Santiniketan Poush Mela
How to go to Ballavpur Wildlife Sanctuary?
You can reach Ballavpur Wildlife Sanctuary by booking a car/ toto from Santiniketan/ Bolpur station. It is approx 4 km away from Biswa Bharati Santiniketan and approx 5.5 km from Bolpur Station.
Which visiting places are near to Ballavpur Wildlife Sanctuary?
Amar Kutir 2. Sonajhuri Hat 3. Visva Bharati University 4. Prakriti Bhavan 5. Kankalitala, etc.
What is the ticket price of Ballavpur Wildlife Sanctuary?
Ballavpur Wildlife Sanctuary ticket price is 10 rupees per person for 1 hour, 5 rupees per child (below 12 years), and 20 rupees for the camera.
How much is Toto care from Bolpur station to Prakriti Bhavan?
If you reserve Toto, it will be around 150 to 200 rupees for Prakriti Bhavan or Ballavpur Wildlife Sanctuary. Fare is variable, so bargain smartly.
Articles:-