Baba Basukinath Dham mandir Deoghar Jharkhand
Basukinath Dham is a famous historical Hindu holy Shirin in India. It is one of the most famous temples in Bihar, Jharkhand. Pilgrims come to spend their time peacefully and religiously.
Basukinath mandir is in the Dumka district of Jharkhand and on the Deoghar-Dumka state highway.
Table of Contents
Deoghar Baba Basukinath Mandir History
The place is famous for the Basukinath Temple. It is another name for Lord Shiva. Every year millions of pilgrims come here to worship Lord Basukinath from different parts of the country.
The crowds of the pilgrimage massively increased in the month of Shravan. This month, local devotees and national and international tourists also join this festival in the Jharkhand district.
In Basukinath mandir, the temples of Lord Shiva and Parvati are placed in front of each other as Baidyanath Dham. The gates of both temples are open in the evening.
It is believed that Shiva and Mata Parvati met each other this time. So, the devotees are asked to step out of the temple's front door. On the premises, other temples are also dedicated to various shrines and deities.
The temple priest and devotees believe that Baba Basukinath's "Jalabhishek" is a holy ritual from ancient times. Therefore, if this ceremony is not done in Baba Basukinath mandir, then the worship of the Baidyanath Temple in Deoghar remains incomplete.
Shravani Mela in Basukinath Dham
Shravan is the birth month of Lord Shiva. As per the English calendar, the Shravan month falls between July and August.
This month, a grand fair happens every year, called Shravani Mela. This month, devotees come from all over the country to pure water on Shivalinga, give their puja, and celebrate Shravani Mela.
During this festival, devotees collected the holy Ganges water from Sultanganj. This holy water is an offer to Lord Shiva and is poured on Shivalinga. Sultanganj is in the Bhagalpur district of Bihar. It is 135 km away from Basukinath Dham.
During this season, the entire route from Bhagalpur to Basukinath, people dressed in saffron-coloured clothes and offered the holy water to the deity.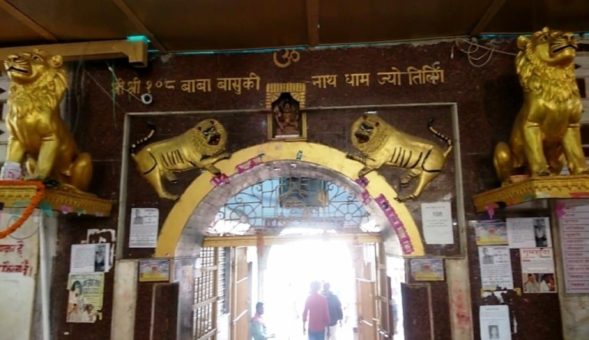 Ram Janaki Vivah Utsav at Basukinath mandir
Ram Janaki Vivah Festival is celebrated every year at Basukinath Temple on Vivah Panchami. Biva Panchami is a Hindu festival celebrating the marriage of Rama and Sita.
As per the English calendar, it's celebrated on the fifth day of the Shukla Paksha from November to December. The day is celebrated as a festival of Sita and Rama's Vivah in the temples.
The late Pandit Nainal Jha, the chief pilgrim Purohit in Baba Basukinath Dham, started the "Ram Janaki Vivah festival" in Basukinath. He started and celebrated the festival with a lot of enthusiasm.
He used to call it a "Palki Utsav" with elephants and horses in the procession. Now it is carried forward by his son Pandit Tara Kant Jha.
Basukinath Temple Timings
The Basukinath mandir opening timings of darshan for the devotees start from:-
In the morning – 3:00 am to 4:00 pm
At night – Sunset to 8:00 pm
Basukinath Temple is open for darshan on:-
Mondays 
Full moon nights or Poornima
The entire month of Shravan 
Here you can watch Elephant Procession during Shivaratri.
How to reach Basukinath Dham
Deoghar to Basukinath Dham distance is about 44 kilometres by roadway. It takes approx. 1 hour by car.
Deoghar to Basukinath railway station is about 45 kilometres away, and it takes 1 hour to reach. The Basukinath Railway Station is placed on the Jasidih-Dumka Railway line.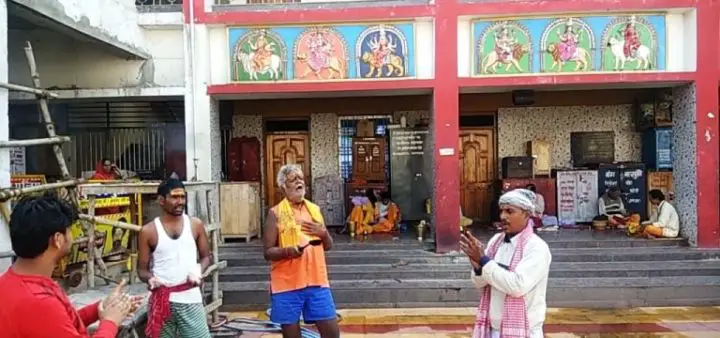 Basukinath Dham – How we visit
We planned a trip from Madhupur to Deoghar. It is our 5-day trip. First, we reached Madhupur and stayed there for two nights. We visited Pathrol Kali Mandir, Khandoli Dams and Khandoli Tourism Park, Usri Falls Giridih Jharkhand in Madhupur.
The following day, we checked out from the hotel and reached Deoghar by local train in half an hour. After, we planned not to go to the hotel first. Because our hotel has 24-hour check-in / check-out facilities, we want to take advantage of staying one more full day in the hotel. So we checked in in the evening.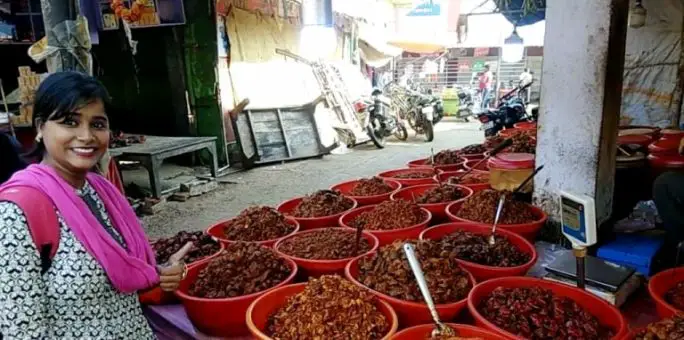 First, we visited Baba Basukinath mandir and checked in to the hotel. As we planned, keep our luggage in the railway clock room and went for the Basukinath mandir.
It is 45 kilometres and a one-hour journey by train from Johidih / Deoghar. Every day local trains depart from Deoghar station for Basukinath Dham. You can also book a car for this journey.
We return from the Basukinath Dham in the evening by train and reach Deoghar. We collect our luggage from the cloakroom and check in to the hotel. In our Deoghar tour the next day, we visited:-
RKM Deoghar
Nav Durga mandir Deoghar
How to go to Basukinath Temple?
Basukinath Temple is approx 44 km away from Deoghar and 51 km from Jasidih station. You can visit here by car from Deoghar. A few direct trains are available from Jasidih station.
Which visiting places are near Basukinath Temple Deoghar?
The nearest visiting places are 1. Naulakha Temple 2. Nandan Pahar 3. Baba Baidyanath Dham 4. Satsang Deoghar, etc.
What is the timing of the Basukinath Temple?
Basukinath Temple's timing is 3:00 am to 4:00 pm in the day and after 6:00 pm to 8:00 pm.
Whether Basukinath can be visited before Baba Dham or should visited after darshan at Baba Dham only?
The local belief is that first visit Baba Dham and then visit Basukinath. But as a tourist, plan as per your convenience.
We Need 5 Second More From You To Share this On Your nearby Circle.