Tapovan Deoghar Jharkhand | A Holy Hill and Mandir Tour
Tapovan is another prime attraction in Deoghar sightseeing. The hill is 10 kilometres away from Deoghar Jharkhand. Tapovan Deoghar is a religious site, and different myths are involved. 
We found many temples and caves at different heights on the hill. You can reach the top of the mountain within ½ hour by stairs. As you climb the stairs, you will see several temples and caves in Tapovan Deoghar. On the hilltop, a nice wide area is viewed.
Tapovan Deoghar Jharkhand
Tapovan Hill Mandir
On the top of the hill, Taponath Mahadeva's temple was established. It is one of the holy tourist places in Jharkhand. A reservoir at the hill end. The name is Sita Kund because it's said that Sita used to take bathe while living in the forest. Also, Sri Balananda Bramvacharya's pursuit was accomplished here. So his temple was built here.
There are many Hanumans on Tapovan hill Deoghar. When you climb up by stairs, you see various temples and caves, the calamity of the locals like guides, shopkeepers, puja merchants, Hanuman, food vendors, etc.
You have to be careful from the Hanuman. Here monkeys are very desperate; they can take away your small items such as sun-glass, cameras, and mobile.
While coming down from the top of the Tapovan hill, you can easily reach the road by stairs. Also, You may do a little trekking with the help of a guide. It is exciting and adventurous.
Deoghar Tapovan Hill History Jharkhand
As per the mythology saint, Valmiki came here for convulsion. People believed that King Ravana visited here for Lord Shiva's boon. However, he was unsuccessful because Hanuman broke his meditation.
While Raban was doing penance, the gods instructed Hanuman to break Ravan's meditation. So Hanuman jumped to the hill and burst the rocks of the mountain. There is a Hanuman temple in the middle of that stone crack. People also said that Ram Chandra spent some time during his Bonovas. 
It is said that Shri Shri Mohananand Brahmachari is one of the disciples of Balananda Brahmachari who came here to do penance. In the past, The Naga sadhus came to Tapobhumi for meditation.
Sri Deo Narayan Pal was preserving an inscription here. This place was a military camp of the Palas in ancient times. 
Deoghar to Tapovan Pahar Distance
Tapovan Pahar from Deoghar distance is almost 10 kilometres. Car, an auto is available from Jasidih station and Baidhayanath Dham. From there, it takes half an hour to reach Tapovan Pahar.
Read Bishnupur Mukutmanipur tour
How I reached Tapovan Hill – My Holiday Story
I had a 4-year-old daughter with me, so I didn't dare to go up the hill despite the guide's assurance.
From Trikut Pahar, we visited Tapovan hill, about 35 kilometres. The journey takes 1 hour by auto, and our next destination is Naulakha mandir and Satsang Ashram. It is the headquarter of Satsang Ashram.
Tell me in the comment how your experience is. Watch my video on my YouTube channel named holiday story. Visit the Madhupur Deoghar playlist to get the entire idea of my journey.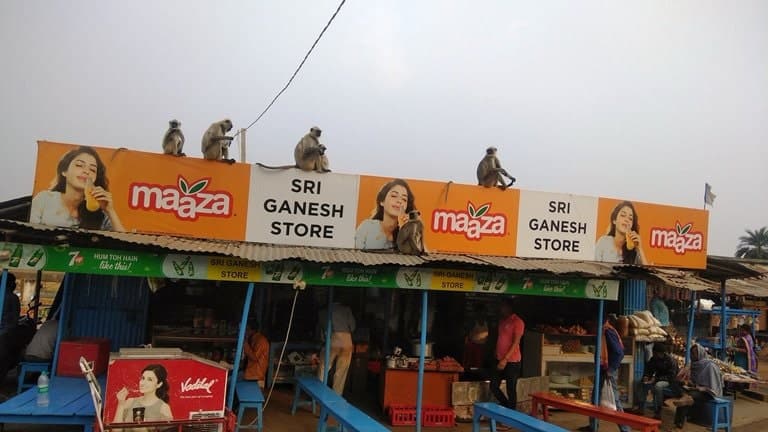 On the fourth day of our Madhupur Deoghar trip, we left for Deoghar local side seen. It is our second day in Deoghar. We booked an auto from Jashidi station. We visit:-
Nav-Durga Temple

Topovan Hill at Deoghar
After showing up at all places, the auto driver dropped us at the hotel, giving him 600 rupees.
How to go Tapovan in Deoghar?
It's approx 8.1 km away from Deoghar and 16 km from Jasidih station. You can visit here by Car/ Auto from Deoghar/ Jasidih station.
Which visiting places are near Tapovan Deoghar?
1. Naulakha Temple 2. Nandan Pahar 3. Baba Baidyanath Dham 4. Trikut Pahar, etc.
What is the timing of Tapovan Deoghar?
You can visit here any time in daylight, ideally from 10:00 am to 6:00 pm.
We Need 5 Second More From You To Share this On Your nearby Circle.