Trikut Parvat Deoghar Jharkhand | Epic Ropeway Journey
Trikut Parvat is one of the fascinating tourist attractions in Deoghar Jharkhand. The hill is 22 km far away from Deoghar city. Here you can enjoy trekking, ropeway, wildlife adventure, and see nature closely.
It is a trendy picnic spot and a pilgrimage site. The famous Trikatachala Mahadev Temple and ashram of the Sage Dayanand are situated at the top of the hill in the dense forests.
Table of Contents
Trikut Parvat Deoghar Jharkhand
Trikut Hill contains three picks, and the highest mountain is 2470 feet from sea level and about 1500 feet wide ground. There have three hills called Brahma, Vishnu, Maheshwar.
For these three hills, the entire area is called Trikur Parvat. Two small hills are also seen next to it – called Ganesh and Kartik Hills. Mayurakshi River's source ground is Trikut Pahar.
This quality of the ground, making it an ideal location for trekking. In Trikut Pahar, two picks are safe for trekking, and the third one is inaccessible because its slopes are very slippery and dangerous.
Trikut Parvat Temple
Trikuta Parvat is a Hindu sacred place in Deoghar. The holy hill is 27 km away from Jasidih railway station. On the top of the hill, we found the following temples:-
Hanuman Chati
Sita Pradip
Raban's Puspak chariot
Narayan Shila
Raban Guha
Doeghar Trikut Pahar Ropeway
Ropeway in the Trikuta hill of Deoghar is very famous, and its adventurers ride like Rajgir roadway. It is the only ropeway service in Jharkhand. Here the local people called it "Gagan Khatola."
The cable car takes passengers from the base of Trikut Hill to the top of the highest peak. Trikut Parvat's height is 2470 feet.
The cable car takes about 15 to 20 minutes to reach the hilltop. A single cabin on a ropeway can carry four people, and about 25 vehicles are operating. The ropeway service starts for tourists in 2003.
The ropeway takes tourists to the top of the main peak. A stunning 360-degree view of Deoghar is available from the top of Trikut Hill. The green surroundings are impeccable.
Local people enjoy Trikut Parvat as a picnic spot. In the winter season, many people come here for a picnic and spend a whole day.
So, visitors can be easily reached at the top of the hill. When you see the ground floor of the mountain, the surrounding mountain peaks and the moat, the rocky slopes, thin jungles from the cable car, it will be Breathe Taking moment.
The view of the valley from the top of Trikut Hill is remarkable. However, the hill climbers can trek Trikut Hill within one an hour to 1 and 1/2 an hour from the below.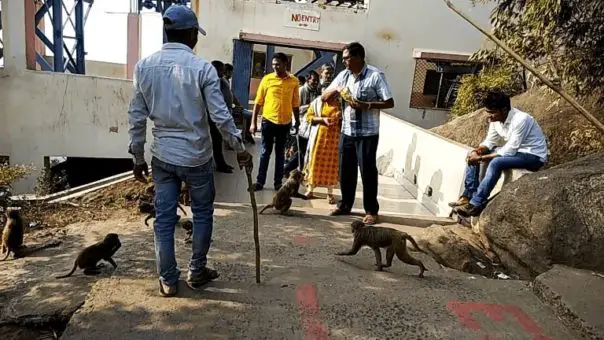 Trikut Hill Ropeway Timing and Entry Fee
Trikut Hill Ropeway's opening time is 8 am, and the closing time is 4 pm. After 4 pm, if any tourists are on the hill, they will be taken down.
The Entry Fee is – 130 rupees per person. For a child, it's 65 rupees. It's a two-way journey cost.
Read Bishnupur Mukutmanipur tour 
Visiting the place on the top of the Trikuta Hills
Hanuman Chati (Trikuta Mountain can be seen from here)
Sita Pradip (Jatayu lamp was lit here, myth)
Raban's Puspak chariot was got down here (myth)
Narayan Shila
Raban Guha (70 feet down the dark cave, Raban sat in meditation here, myth)
Suicide Point, while climbing Vishnu Hills
Maheshwar hill / Babar Bagan
Many wood apple trees are here, the time of Shravan, lots are Shiva's devotees take leaves from those trees. Hence this place is called "Babar Bagan."
Brahma hill. But no one rises here for the very thick jungle
Ganesh Hill
Many small falls are there; we can see this in the rainy season.
A guide must be taken to visit all those places on the hill, or else you may be lost the pathway on the hill.
Note 
Beware from monkeys and be careful of your bags, mobile, camera, etc. You can take small sticks in your hand to intimidate them.
How to Reach Trikut Pahar Jharkhand
The Trikut parvat is well connected from Deoghar. Trikut Pahar to Deoghar distance is almost 22 kilometers.
From Deoghar, you can book an auto cab to reach Trikut Hill. Otherwise, you may quickly go by local bus. At the returning time, you can get auto, bus from there.
Our Holiday Story about Trikut Hill
On our Madhupur Deoghar Trip, we are set out on a journey from Kolkata on the fourth day. In the morning for Deoghar local side seen. It is our second day on the Deoghar tour. We booked an auto from Jashidi station. That day we visit 
 Trikut hill

 RKM Deoghar

 Nav Durga mandir Deoghar
Last he drops us at the hotel. He takes 600 hundred rupees.
How to reach Trikut Parvat?
Trikut Parvat is approx 16.1 km away from Deoghar, reach by car/auto. It takes approx 30 minutes.
What is the ticket price of Trikut Parvat Ropeway?
Trikut Parvat ropeway ticket price is (for one side) 65 rupees/person approx. And (for a round trip) 130 rupees/ person approx. Adult and child ticket prices are the same. Daily open 9:00 am and close 4:30 pm. 6 persons are allowed in one ropeway.
Which visiting places are near to Trikut Parvat?
Tapavan hill 2. Naulakha Temple 2. Nandan pahar etc. are nearest from Trikut parvat.
In km How far Trikut Mountain from Giridih?
It is approx 90 km away from Giridih. The car takes 2 hours to reach.
We Need 5 Second More From You To Share this On Your nearby Circle.