13 Places To Visit In Deoghar Dham & Madhupur | Tour from Kolkata
After Digha–Puri–Darjeeling these three places, 'Deoghar' in Jharkhand is the most common tourist destination for Bengalis. This article will share complete details about the top places to visit in Deoghar from Kolkata.
Deoghar is in Chota Nagpur Plateau and is just a few kilometres from Kolkata. This ancient city is known for many journeys from ancient times. In the tradition, – Well settled Bengalis used to buy a house in Deoghar Madhupur for vacation and health power regain. Deoghar and Madhupur are famous for their healthy climate and water.
Places To Visit In Deoghar Dham & Madhupur
13 Places To Visit In Deoghar Dham
Deoghar is the source of the name Deva-Ghar or God's house. It is a holy Hindu pilgrimage centre and one of the most famous pilgrim centres of the Twelve Jyotirlingas.
On the other side, it is considered a sacred place of 51st Sati Peeth, also known as Shakti Pitha. It is heard that Sati's heart was fall here. But Deoghar is better known as Baidyanath Dham.
Our Holiday Story | Howrah to Madhupur – How we reach from Kolkata
We have started this holy trip from Kolkata's Howrah station. We boarded in Purba Express at 8.15 am and reached Madhpur at 10.30 am. From the station, we hired a Toto for our hotel. Please note there are very few hotels in Madhupur.
We took a rest had lunch, and get refreshed. In the evening, we visit Pathrol Kali Mandir. The Kali temple is 300 years old. From Gandhi Chowk, we hired a Toto car, which is 5 minutes walking distance from Madhupur Station. We spend the evening in the temple and eat local street food called "Churabaja" and sweet items during return.
The next day morning, we visit Khandoli Dam/Park and Usri Falls. We boarded from Madhpur Station and reached Giridih in the morning. From Giridih station, we hire Toto for Khandoli Park. The journey time is 45 minutes.
After spending 1 hour in Khandoli Park, we returned to Giridih station and took an auto for Usri Fall. The journey time is half an hour. We spend 1 hour in Usri Falls and return to Giridhi station and return in the same way.
While returning, we saw many old beautiful houses which belong to Bengal heritage. Near the station, we visited a church also.
Read about Durgapur water park
Madhupur to Deoghar
The next day we checked out from Madhupur and reached Deoghar by train; it was a half-hour journey. In Deoghar station, we put our luggage in the cloakroom and move to sightseeing in Basukinath Dham. A local train is running around 11 o'clock daily from Deoghar station to Basukinath Dham.
In the evening, we return from Basukinath Dam and take our luggage from the station and check in to the hotel, which we booked previously. The hotel is very near to the Baidyanath Dham.
The next day we planned for Deoghar's side seen. We hire an auto, and first, we visit Nav-Durga Temple. Then we went to the Trikut Pahar. There the ropeway ride is delightful. The ticket price is 130 rupees. Note – Beware of monkeys.
After, we move to Tapovan in Deoghar.
Our next destination is Nandan Pahar. It is an amusement park the entry fee is 10 rupees. After that, we move to the Nowlokha temple.
Last, we visit Anukul Thakur Satsang Ashram.Then we come back to the hotel and get refreshed. In the evening, we go to the local market for shopping.
The next day the whole morning, we spend in the Baidyanath Dham temple and buying the famous "Peda". Lastly, visit the Ramakrishna Mission in the evening. After, we came back to the hotel and packed our luggage. In the evening, we leave Deoghar and return to Kolkata.
Madhupur Deoghar tour plan cost from Kolkata
Kolkata to Madhupur Train Fare up and Down
860 Rupees
Madhapur to Pathrole Kali mandir and guest house Toto
160 Rupees
Madhupur guest house (2 days accommodation)
2800 Rupees
Deoghar hotel (2 days)
1400 Rupees
Fooding at Deoghar (2 days)
1000 Rupees
Doeghar side seeing Auto fare
600 Rupees
Side-seen charges Deoghar
300 Rupees
Madhupur to Giridih tour cost
700 Rupees
Madhupur to Deoghar and Basukinath by train
350 Rupees
Puja cost
300 Rupees
Mislenious
1000 Rupees
Total  (Rupees)

 

For two-person
9470 Rupees
Madhupur Deoghar tour plan cost from Kolkata
Madhupur And Deogahr Tourist Places
Madhupur is well known for regaining health. It's been famous for its climate for a long time. The distance from Kolkata to Madhupur is 294 km, and Deoghar is 35 km away from Madhupur. Once upon a time, a lot of natural honey is available in the Madhupur forest, which is why this place is named Madhupur.
13 Places to visit in Madhupur and Deoghar Jasidih near me
Pathrol Kali Mandir

Khandoli Dams and Khandoli Tourism Park

Usri Falls Giridih Jharkhand

Madhupur St. Columbus Church
RKM Deoghar
Nav durga mandir Deoghar
Basukinath Dham
1. Pathrol Kali Mandir Madhupur
Pathrol Kali Mandir is 300 years old located approx. 5 km away from the Madhupur station. A stone deity of Maa Kali is situated and worshipped here. It is a sacred place for local people. Still today, every day, immolate rituals happen. A vast gathering occurred on the pre-Diwali day.
Also, read Love India travel | A rough guide
2. Khandoli Dam and Park Giridih
In Giridih, you can find Khandoli Dams and Khandoli Tourism Park. They have developed this Park in the centre of Khandoli Dam/Lake. Khandoli Hills are beside the dam, 5 km away from Giridih. Water sports, Toy train, children's amusement park, and fast food stall is the attraction here. Great place for a picnic in winter.
3. Usri Falls Giridih Jharkhand
Usri fall is approx. 12 km away from the Giridih station. It is a famous sightseeing and picnic spot in Giridih. Usri Falls's source is the Usri River. The waterfall is fallen in three separate streams. The height of the fall is approx. 35 feet. The area is filled with green plants and trees.
4. Madhupur St. Columbus Church
You can visit St Columbus church which is very near to the Madhupur station road. Approx 10 minutes of walking you can reach there.
5. Naulakha Mandir Travel Guide – Places to visit in Deoghar
Charushila Devi built Naulakha Mandir in Deoghar; expenditure was 9 lakh rupees. She was the queen of Kolkata's Pathuriaghata Rajbari. That's why the temple is called Naulakha Mandir. This temple architectural style is like Belur Math.
In this temple, Gopal and Radhakrishna idol is situated. The temple complex was big and blowing a cool breeze. You can sit here as long as you wish. Inside the temple, photography is restricted.
6. Trikut Pahar, Deoghar, Jharkhand
The ropeway ride is the prime attraction here. The combination of hills and forests always attracts tourists. A whole variety of wildlife roams along the mountains. Tourists come to this hill to visit the Parvati Temple, Trikuteswar Mahadev, and Ramsita Terrace and enjoy the scenic beauty.
Read more Bodhgaya tourist places
How to Reach Trikut Pahar Jharkhand
The Trikut parvat is well connected with Deoghar.
7. Satsang Ashram Deoghar, Jharkhand
The Satsang Nagar is the Ashram of Thakur Anukul Chandra. The place is 3 km from the Clock Tower towards the railway station. On January 27, 1969, they established the ashram.
To celebrate his memories, devotees are roaming around the altar and give their respect. Several programs are held in the vast compound of this internationally famed ashram. The Main Office is in Deoghar.
8. Nandan Pahar
The Nandan Pahar is on the Kachari Road. It is 4 km from the Clock Tower and can be visited and climbed on any morning or evening. The Entertainment Park with various amusement items has been set up on the top of The Nandan Hill, stepping upwards of 95 steps. For accommodation, Hill Top Bungalow is available.
On the top Devi Parvati temple along with her two Sons Kartik & Ganesh situated. It's the most amazing place to visit In Deoghar.
9. Tapovan Caves and Hills
In 1848, Balananda Brahmachari Maharaj meditated at the small meditation chamber in Tapovan Hill. Local people say he was successful in his meditation, and a tiger was there for his guard.
Crossing the narrow cracks in the cramped cave seems to be endowed with divine grace. On the South-East of the Tapovan, the Shivakunda and Sulkund are there. The saying goes that the Great Sage Valmiki had come here and meditated. Sita Devi too had bathed in the water of the Kund. For the image of 350 ft high, Shiva on the hill is an attractive call for tourists.
10. Ramakrishna Mission
The mission is 2 km to the right from the Clock Tower. Sree Ramakrishna Mission Ashram has been built with the three-fold mission of health, character and education. A temple of Sree Ramakrishna has also been set here.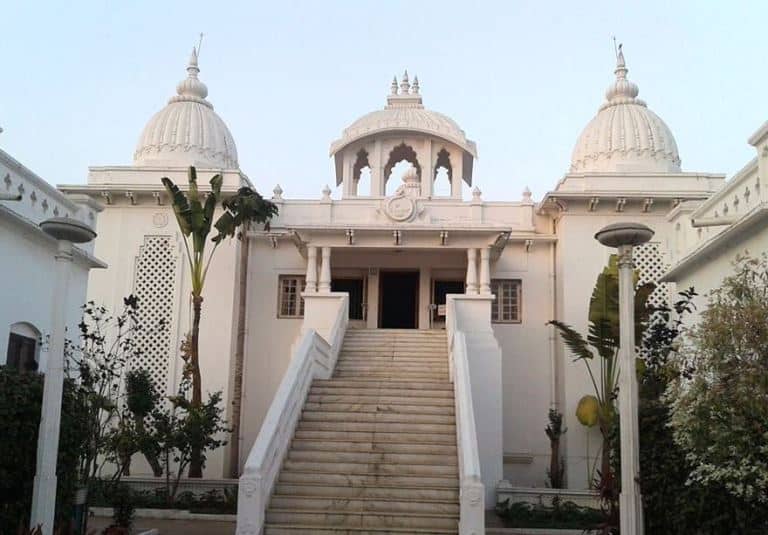 11. Nav Durga Mandir
Nav Durga Mandir was established in 1360 at Bompass Town in Deoghar, 3 km from Clock Tower and 1 km. It's not a very popular place to visit In Deoghar. From Satsang Ashram. Besides the white marble image of Goddess Durga on a lion, there are many other deities inside the temple. The frescoes illustrate the Estimators (8 holy mothers).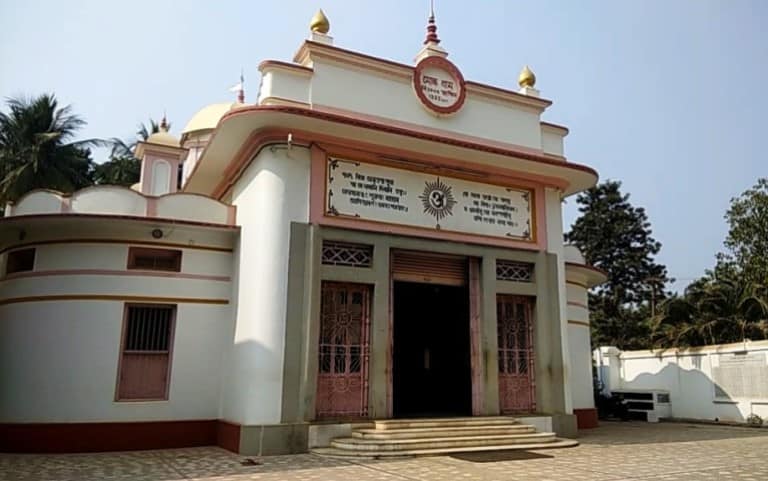 12. Baidyanath Dham temple
Deoghar is also known as Baidyanath Dham. The tourist must add these places to visit in Deoghar. In the 72-foot high temple Mahadev's "Kamana Linga" is situated. The temple is part of one of the 12th Jyotirlinga. The temple is an important Hindu pilgrimage centre. In 1596, King Punarmal built this temple.
On the north of the temple, three Dighi is placed. From the main temple, the Ganges River is 6 km away. According to mythology, Sati's 51 Pitha is situated here. The heart of Sati fell here. In the evening, the time of Sandhayarati, Mahadev is decorated with Pushpamllalaya. Throughout the year, Pilgrims from across India came to Deoghar to visit Baidyanath Dham.
Go with Best Rajgir tour Guide plan
13. Basukinath Dham temple
Basukinath Dham is a very famous Temple on Deoghar Tour. The temple is located on Deoghar to Dumka route. The temple is situated in the Dumka district, about 42 km away from Baba Baidyanath Dham in Deoghar.
It is said that at Basukinath Dham, Lord Shiva and Mata Parvati Mandirs are situated in front of each other.
Every evening, when priests opened the doors of both temples, the devotees were advised to move away from the front. Because it is believed that this time Lord Shiva and Mother Pabati meet.
Basuknath temple is one of the oldest temples in Deoghar. In the same compound of Basukinath Dham, small temples of various other gods and goddesses can be found.
It is believed that if the 'Jal Abhishek ceremony' is not done in the Basukinath temple, the worship of Baba Baidyanath Dham Deoghar remains incomplete. In the time of Shravani Mela and Maha Shivratri, huge crowds are gathered here. It's the place to visit in Deoghar.
Is a shared taxi available from Deoghar to Basukinath?
Yes, a shared taxi is available and the time takes approx 1 hour 30 minutes. You can also available train from Jasidih.
How can I go to Baidyanath Dham by train?
No direct train is available from Kolkata. Jasidih to Baidyanath Dham MEMU daily runs from Jasidih at 5:40 am and 8:45 am. Time takes 20 minutes to reach.
How can I reach Deoghar from Basukinath?
Deoghar is approx 44 km away from Basukinath. Train/ car services are available by train (Up) 1. Jasidih to Dumka Passenger Mon-Sat daily departs at 7:25 am, reach Basukinath 1 hour approx.
(Down) 1. Rampurhat – Jasidih Passenger
Daily departs at 2:50 pm and reaches Jasidih in 1 hour.
How can I reach Deoghar by flight?
Lok Nayak Jayaprakash Narayan Airport, Patna, is the nearest (approx 250 km away) to Deoghar, and taxi services are available to reach it.