IRCTC Travel Insurance Policy | How to update nomination and get a certificate
Do you know, how you can secure your family, free of cost, during train travel? In the next 5 minutes, I will discuss this matter. Read the article about the IRCTC travel insurance policy. It will help you to know the hidden facts which can be happened in your travel time.
IRCTC Travel Insurance Policy
Why IRCTC train journey insurance is Important
The National Crime Records Bureau's report says that it registered 800 train accidents in India in the last six years, of which about 600-620 people died and 1850 injured. More than 15,000 people have been killed in railway accident every year, as per the report.
According to the National Crime Records Bureau, there were 28,360 people harmed in railway accidents in 2014, of which 3,882 were injured and 25,006 people lost their lives.
About 59% of IR tickets are booked online. IRCTC site shows approx. 3.2 million users daily log-ins book around 550,000 tickets per day for nearly one million passengers. Approximately 15 to 20 million have chosen this project within 85 days. It logs 3.2 million daily on the website and has over 700,000 bookings a day.
In the newspaper, only 30% of the tickets are avail of this accidental insurance. Although, for the passengers, the price of 92 rupees is one of the lowest railway travel insurance premiums in the world.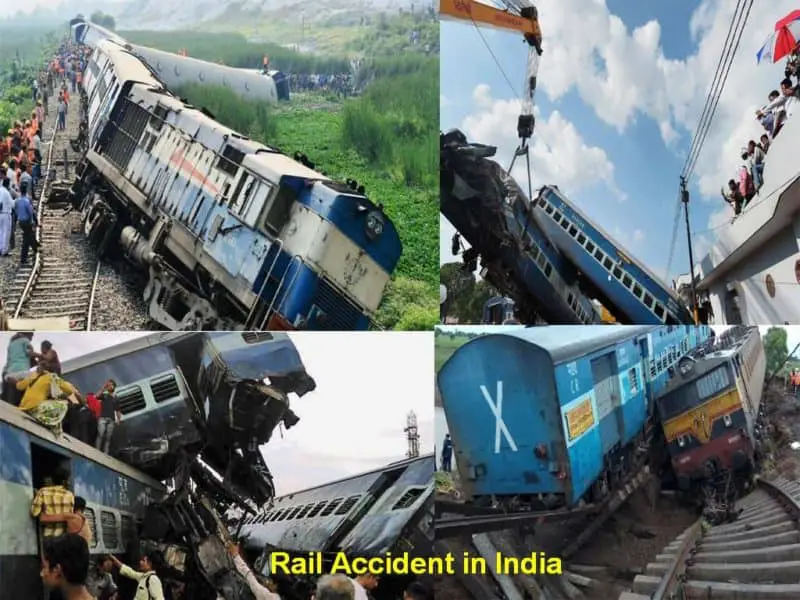 History of train ticket accident insurance
The government introduced the IRCTC Indian railway insurance and Accidents Rail passenger insurance project in 1993-94 railway budgets, and the Railway Claims Tribunal administered it. Anyone can read details of the policy on the railway tribunal website. However, on September 20, 2008, it was discontinued for its higher premium reason.
The compensation under this project was determined by the Railway Accident and Untoward Incidents (Compensation) Rules 1990. The ICICI Lombard was last insured for the project between September 20, 2007, and September 19, 2008.
According to this expired plan, a passenger passes with a valid ticket or platform ticket for insurance. For any unwanted incidents, they are entitled to pay compensation up to 4 lakhs.
Read 10 Best Visitors Travel Insurance for Canada from India
1 cover travel insurance – IRCTC travel insurance policy
New 1 rupee cover travel Railway insurance introduce after Indore-Patna Express disaster.
November 20, 2016, 14 coaches of the Indira-Rajendra Nagar Express 19321 derailed at Pukhrayan, 60 kilometers away from Kanpur. At least 150 people dead and 260 others were injured in this train accident.
After the Indira-Patna Express accident, 145 people dead and 200 were injured, the railway ministry examined the proposal to make passenger insurance compulsory.
In the Indira-Patna Express accident, 24 people died, and over 200 people are injured.
Indira-Patna Express had on board 695 passengers who are travelling with reserved seats.
Among the 128 passengers, 78 were on the train during the accident, the rest on board later.
In this accident, the total death penalty promised to those who died on the train is paid more than 26 lakhs—a trial of the total death penalty, which is the highest ever given in train accidents in India.
UP Gov. – 5 Lakhs
MP Govt – 2 Lakhs
IRCTC Insurance – 10 lakhs
Total – 26.5 lakh (Total adds to 22.5 but Times of India says 26.5)
Read How to travel cheap in India tips
The Rail Insurance
Today Indian Railways is the most affordable and easy-to-access transport system in India. Every day the railway carries many people from one part to another part of the country. However, the increasing number of railway accidents has become a major cause of concern for those who depend on the railway for their daily travel life.
In a suggestion to help the passengers, the Indian Railways introduced an optional travel insurance scheme on 01.09.2016. The insurance policy is for the confirmed and RAC traveller booking their e-ticket through the Indian Railway Catering and Tourism Corporation (IRCTC) Portal website. The policy premium is 0.92 paisa per passenger at that time.
How to buy train tickets online in India
What this video to know how to buy train tickets online in India.
Cheap railway travel insurance in India
Railway travel insurance is the cheapest travel insurance in India. Earlier, IRCTC's travel insurance premium was just 92 paisa, but now no separate premiums have to be paid.
Previously when you book your train e-ticket, you will see the insurance premium price is 0.00 per person in the option. So that means the insurance charge is added to the ticket fare.
This travel insurance from Railways provides 10 lakhs optional travel insurance to passengers for the 0.00 rupees premium ( currently it is changed to .68 paisa).
The Indian Railways issued free accidental train ticket insurance to passengers who book their tickets through IRCTC online portal.
Read Best Travel Insurance for Australia from India
How to avail IRCTC railway public liability insurance
While booking your e-ticket on the IRCTC website, there is an option for travel insurance. Click on the Yes option, which will guarantee you the insurance of your travel. However, children under five years of age and foreigners cannot enjoy the benefits of the IRCTC e-ticket insurance scheme. Now the options are mandatory, which means you do not have to do anything.
The IRCTC collaborates with several companies like Royal Sundaram General Insurance, ICICI Lombard General Insurance, and Sriram General Insurance Bank for travel insurance in train travel.
Railway insurance companies
IRCTC is accomplishing Railway liability insurance in partnership with public companies.
Royal Sundaram General Insurance

ICICI Lombard General Insurance and

Shriram General Insurance
These three selected insurance companies will issue an insurance policy on a rotational basis through an automated system. The insurance provider company is set by default; you cannot choose any of them.
Others Travel insurance companies in India are Reliance General Insurance, Tata AIG, National Insurance, Bharti Axa, CholaMandalam MS, Bajaj Allianz, Apollo Munich Health Insurance, Oriental Insurance, HDFC Ergo, Star Health & Allied Insurance, New India Assurance, United India Insurance and Future Generali India, Iffco Tokio.
What does the train insurance cover?
This train insurance coverage policy will cover the entire traveller who is under the PNR. In addition, accidental coverage will be applicable if an accident occurs due to the collision between trains, derailing of the train, terrorist or disruptive activities, robbery, indulging in rioting, shoot-out, etc.
The policy's coverage includes death, permanent total disability, and permanent partial disability, and hospitalization expenses for any injury. That time the passengers or the nominee can claim compensation.
A passenger on death or permanent disability will be entitled to a 100% sum insured within 12 months from the accident date. Due to partial disability, the passenger will be entitled to get a maximum of 75% of the sum insured.
If the passenger enrolls for treatment, he/she will be entitled to 20% of hospitalization and medical charges under the policy.
Now take a look at what you get on buying Travel Insurance with your train ticket.
For death, 10 lakh
Permanent total disability 10 lakh
For Permanent partial disability, 7.5 lakh
Hospitalization expenses for injury Up to 2 lakh
For transportation of mortal events Up to 1 lakh
However, children less than five years of age and foreign citizens are not covered under this scheme.
IRCTC travel insurance nominee update
Once you are done with ticket booking, re-visit the IRCTC portal and fill up the nomination information on the respective insurance company's website. The Link can be found in the ticket booking transaction history, or someone can directly click on the Link provided through SMS.
If the nomination details are not filled up, then if any such claims arise, they will be settled with legal heirs. But my recommendation is always to fill out the form before your travel. It will help you in the future.
Know about Benfish tourist lodge booking
What is the Claiming procedure for Indian Railways Travel Insurance?
The calming procedure of Travel Insurance under this scheme is quite hassle-free. First, you or your nominee should submit a report of the train accident to the railway authority. Next, visit the nearest office of the respective insurance company within four months from the date of the accident.
In case of a passenger death claim, you or the nominee will have to submit a report from the railway authority about accidents and the list of dead passengers.
In the process of the calming procedure, you must submit the insurer's Medical reports, death or disability certificate, NEFT details, ID proof, and a cancelled cheque.
The insurance company will deal with the claiming procedure through the NEFT process. At the time of settlement, the insurance company may request the KYC documents of the insurer/nominee. Your claim is likely to be settled within 15 days.
If a deceased man is married, then his wife, son, or daughter can claim compensation. The daughter or son must be an adult if they are claiming. If the person is not married, then his or her parents can apply for compensation.
Who can claim compensation for an accidental insurance policy by IRCTC?
In other cases, if the deceased person chooses someone like any other relative or any other friend, then he can claim compensation.
In short, we can say that the person's name and details have been filled in the application by the deceased while booking the ticket; they can claim the compensation. The only thing is that he/she should have ID proof.
According to the rules, insurance claims will be filed within 4 months from the insurance claim date. All the terms, benefits, and exceptions of this policy are mentioned in this PDF, download it and read it in detail.
Visit Bharat Sevashram Sangha Accommodation For Lodging | 60 Places
How to apply for the compensation of the IRCTC accident insurance policy?
The nominee or the claimant can apply for the payment of compensation to the insurance company nearest office, which is to be chosen by booking the ticket.
You have to go to the insurance office and complete the compensation form, and all the documents needed for the claim should be attached.
How do I add insurance to my train ticket?
Sometimes It is associated with the basic fare of the train. Or occasionally a little charge (usually within 1 rupee) for travel insurance.
What is Irctc's full form?
The full form is the Indian Railway Catering and Tourism Corporation. This company provides e-ticket booking, catering, etc.
What is travel insurance in Irctc?
IRCTC Life Insurance charges an extra 68 paisa (sometimes variation) for travel. In case of any accident, the family will get ten lakhs rupees.