Top 5 Bird Sanctuary in London | Hyde Park, WWT, Tarn
Hi, this article is for those who love birds and wildlife. After Chintamani Kar Bird Sanctuary India, this is my second finding of birds. All the Bird sanctuaries and parks of London, UK information provided here.
Read List of Best of Forests in India
List of Top 5 Bird sanctuary in London
1. WWT London Wetland Centre
The WWT London is Just 10 minutes from Hammersmith, an urban nostalgia for wildlife and humans. The cafe in the lake, the pond, and the garden are perfect for relaxation, and the kids will love playing areas. Wetland is a natural reservoir full of life in the heart of London.
You can access the place by public transport (33 and 72 buses from Hammersmith to Red Lion stop) or by car.
You can purchase a ticket in advance, and it is cheaper. Also, get a discount offer with a family ticket. In addition, you can get information about events in the day (guides, explanations, and feeding schedules) that could enrich your visit.
The catering services are affordable. But the best is to bring your food and drinks. There are several facilities to get your picnic.
Once you are there, you have facilities like Catering, shops, toilets, etc. There are two main itineraries: the west and the South. This bird sanctuary is also suitable for wheelchair persons. A very nice walk in the middle of a beautiful landscape and enjoy full of life with ducks, birds, otters, etc like Epping forest.
In the south itinerary, you can reach the peacock tower. It's a perfect place to observe the wildlife from a distance, so take your binoculars!!!. On a sunny day, I recommend you keep water and a cap for the walk.
Read Bhadra Wildlife Sanctuary and Tiger Reserve in India
WWT London Bird Sanctuary opening time
WWT London Bird Sanctuary is open seven days a week, 364 days a year.

Summer opening time – 1 March until 31 October

9.30 am to 5.30 pm (last entry 4.30 pm).

Winter opening time – 1 November to 28 February. 9.30 am to 4.30 pm (last entry at 3.30 pm). Greece time- 1/2 hour before closing time.

Early closing on 24 December (last entry at 2 pm, the centre closes at 3 pm).

Closed on 25 December.

The summer route is closed during the winter.

Kingfisher Kitchen at Barnes Wetland Centre.

Last orders 4.00 pm in winter and 5.00 pm in summer.

Closes 4.30 pm in winter and 5.30 pm in summer.
WWW London  bird sanctuary entry fee
| | | |
| --- | --- | --- |
| Ticket | with gift aid | without gift aid |
| Adult |  £14.00 |   £12.72 |
| Concession for (65+ years, disabled, and full-time student, unemployed) | £11.90 |    £10.81 |
| Child (4-16 years) |   £8.50 | £7.72 |
| Family (2 adults and 2 children, 4-16 years) |   £38.25 |  £34.77 |
| Children (under 4 years) |  free |  free |
| Essential helpers assisting disabled visitors |  free |  free |
WWW London  bird sanctuary entry fee
Content: 01453 891900

Email: [email protected]
Address:

WWT, Slimbridge, Gloucestershire GL2 7BT
Read First National Park of India Jim Corbett
2. Hyde Park Birds Sanctuary
Hudson Memorial Bird Sanctuary in the United Kingdom is enriched with a stone monument. It remembers the memory of the 19th-century author and naturalist William Hudson. He helped establish the Royal Society to protect birds and preached about wild areas in the park.
Sir Jacob Epstein's engraving, Rima, who represents the child goddess of nature, was published in Hudson's novel Green Manjane in 1904. Designer Ariel Gill Designs Memorial was established in 1924 and immediately debited. Daily Mail wrote: "Take this park out of our park."
Hyde Park Bird Sanctuary opening time and entry fee
The park is open from 5:00 am to 11:59 pm all year round. And the entry fee is free for all.
Hyde Park Bird Sanctuary bird experiences
The robin, dunnocks, tits, small groups of Long Tailed Tits, feral pigeons, black swan, a vulture, and Egyptian geese.
Read 20 reasons why you visit and love India travel
How to reach
Hyde Park is very easy to access by public transport. They provide car parking facilities, but we suggest that visitors avoid coming by car because there is limited space. If you are using a mobile device, the postcode for the park is W2 2UH, but it is a suggestion only because the park covers a large area. The address is Queen Elizabeth's Walk, Barnes, London SW13 9WT.
Hyde Park England, bird experiences
American wood ducks, noisy white-faced whistling ducks, etc.
Green Sandpiper, Common Sandpiper, Avocet, Redshank, Dunlin, Greenshank, Snipe, Common Tern(9), Garganey, Peregrine, Red Kite, Buzzard, Hobby, Little Egret(6), Whitethroat, Nuthatch, Yellow Wagtail, colourful garden birds, pretty wading birds, as well as frogs and newts.
Contact: Call the team at Hyde Park on 0300 061 2000.
Email: [email protected]
By post:

Hyde Park Office, Rangers Lodge, Hyde Park, London, W2 2UH
Opening and closing time
Our reception is open Monday – Friday, 8.45 am-4.45 pm.
3. Walthamstow Wetlands Bird Sanctuary
Walthamstow Wetlands Bird Sanctuary is London's most significant urban wetland and nature reserve. It's a gem in east London, providing an opportunity to walk closely with nature in a peaceful way. The sanctuary offers a special house for many important wildlife species. In addition, there are ten large reservoirs in nature, which supply water to 3.5 million Thames Water subscribers.
Here you can enjoy some peace while reaching nature and discovering the fascinating history of this unique city. You can enjoy the cafe hospitality at the Engine House Visitor Center. There is a dedicated path for those interested in running or cycling that allows us to enjoy nature preserved without wildlife. It's another type of wildlife tourism.
This sanctuary is famous for waterfalls, which fly thousands of miles/kilometres. Nature Reserve is a special scientific interest site. Lee Valley is part of the Special Protection Area, and international importance is included in The Ramsar's list of wetlands.
It is a fabulous nature reserve open to the public with safe walkways around the lakes and grassland. Opportunity to spot many types of wildlife, birds, mammals, and fish. Several hides are located around the site to give better viewing opportunities.
Excellent cafe serving a varied menu from snacks to meals with an extensive range of teas, coffees, and soft drinks. The children's menu is available. You are viewing the platform above the cafe. Ample car parking. Good for children.
It's a haven for waterfowl and wild birds. You can see grebe, cormorant, heron, Canada geese, Egyptian ducks, and many familiar garden birds. Lots of geese, including Egyptian geese, swans, many types of duck, and grebe. Historic site with the Copper mill and Engine house (where cafe, visitor centre, and shop are situated). Well maintained and accessible.
Rules and Behaviours Walthamstow Wetlands Bird Sanctuary
Don't forget to check the website for opening times and activities before your visit.

leave your dog at home;

don't run or jog around the reservoirs;

don't paddle in the water;

Please take your litter home with you.

Stout shoes are advisable, and warm clothes in milder weather due to the exposed nature of the site.

Access to the site is free, but car parking is not free.
Walthamstow Wetlands Bird Sanctuary opening time
It is open 7 days a week between 9.30 am to 5 pm.
Walthamstow Wetlands Bird Sanctuary entry fee
The entry fee is free for all, but car parking is not free.
Walthamstow Wetlands Bird Sanctuary bird experiences
You can see pochard, and gadwall are regionally important for breeding birds such as grey herons, tufted ducks, and little egrets. In the summer, swift birds visit here. Also, we can see the kingfisher and Peregrine falcon all year round.
How to reach Walthamstow Wetlands
The main entrance to Walthamstow Wetlands Bird Sanctuary London is 2 Forest Road, London N17 9NH.
The bird sanctuary is conveniently located only 15 minutes on the tube from central London.
Walthamstow Wetlands email — [email protected]

Call 0208 496 2115.

Address- Walthamstow Wetlands,2 Forest Road, London, N17 9NH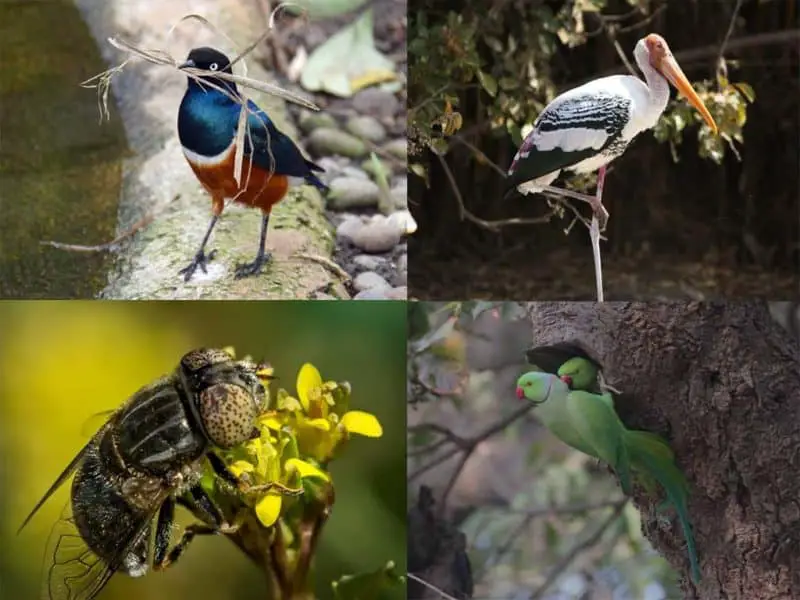 4. The Woods and Richard Jefferies Bird Sanctuary
The Woods was a large Victorian house with a lake and mixed woodland. The house was demolished in 1933, and in 1947, the site was purchased for a public park, which opened in 1951/2 soon after they bought the land.
It's suggested that it be turned into a bird sanctuary and called Jefferies Wood after the naturalist Richard Jefferies, who had lived in Surbiton. So, in 1980, part of the site became the Richard Jefferies Bird Sanctuary.
This small town park, close to Surbiton station, includes a fenced bird sanctuary. The publicly accessible part comprises mown grassland and planted trees and shrubs. The bird sanctuary is largely wooded, consisting of oak (Quercus sp.) and sycamore (Acer pseudoplatanus).
Locally uncommon plants in the ground flora include wood-sorrel (Oxalis acetosella) and ramsons (Allium ursinum). Breeding birds include great spotted woodpeckers, jay, and song thrush. The site is a Local Nature Reserve, and the London Wildlife Trust manages it.
A small suburban park, including a fenced bird sanctuary, is managed as a nature reserve. The accessible part is a pleasant place to relax amidst the planted trees and shrubs. It is mainly wooded and supports a range of common birds.
The Woods and Richard Jefferies Bird Sanctuary bird sanctuary entry fee
The Woods Bird Sanctuary's part of the site is free public access. But Bird Sanctuary is closed to the public; it is open.
The Woods and Richard Jefferies Bird Sanctuary bird experiences
Great spotted jay and song thrush woodpecker found here.
How to reach The Woods and Richard Jefferies Bird Sanctuary 
Rail — Surbiton.

Bus — 281, 406, 71, 465, K1 (walk)

Email — [email protected]

Ph. no — 07737644119
Read Brigit's Bakery Afternoon Tea Sightseeing Bus Tours
5. The Tarn Bird Sanctuary
The Tarn Bird Sanctuary is a pretty cool park with birds and lots of water animals in southeast London. There are many seats. The garden shows itself kept well. Green chains are part of a walking park. Interesting ice well you can find at the end of the park.
The Royal Borough of Greenwich owns the Tarn, and is open yearly. The Royal Borough of the Greenwich Park Department maintains it. You can see ducks, Greece, baby chicks, and herons. The places are covered with beautiful trees, sculptures, and wild wildlife birds. Here alone, you can enjoy a happy time or bring children to see the true glory of nature.
Please note that dogs are prohibited in this place because they disturb the wild animals during this year's breeding season.
The park is near Mottingham Station. The park location is easy to access points by car and public transport.
Opening time
The Tarn is open all year round in daylight.
The Tarn Bird Sanctuary bird experiences
We have a large variety of wildlife that we can see in the Tarn. Following is a list, which is not exhaustive. If you want to add to this list, please let us know what you have seen in The Tarn.
Canada Geese, Greylag, Mallards, Tufty Ducks, Coots, Moorhen, Mandarin Duck, Egyptian Goose, Pipistrelle Bats, (Common, Soprano & Nathusius), Blackbirds, Thrush, Robin, Parakeet, Great Tit, Blue Tit, Wren, Green Woodpecker, Magpie, Jay, Nuthatch, Crow, Pied Wagtail, Goldcrest, Wren, Long-tailed Tit, Coal Tit, House Sparrow, Great Spotted Woodpecker, Heron, Tawny Owl, Little Grebe, Cormorant, Kingfisher.
How to reach the Tarn Bird Sanctuary
The nearest Station is Mottingham.
Buses 124, 126 and 161.
Address — 133 Court Road, London SE9 5AQ, England
Contact number 020 8856 0100
Email: [email protected]
Bird rescue number in London
RSPCA bird rescue number is Call 0300 1234 999 for all requests and urgent help (24-hour helpline charged at national call rates).
It is another number, 0207 272 2264 (an electronic voicemail service that is regularly manned; we aim to respond in 48 hours).
RSPCA bird rescue address is
RSPCA Central, West & North East London, Box 145, 2 Lansdowne Row, London W1J 6HL
Email: [email protected] (Please DO NOT use this email address for bird or animal emergencies).
What is the need for national park reserve areas and bird sanctuaries?
Beautiful environments, noise-friendly safe houses, water, and food are all needed in national reserve parks and bird sanctuaries, where animals and birds will live freely.
What are the main criteria to declare a place as a bird sanctuary in India?
A sanctuary is a place where birds can breed naturally, protection from extinction and predators. In addition, migratory birds can come and stay freely.
Email Us to Enlist Your Business Here.. We Need 5 Second More From You To Share this On Your nearby Circle.