Kolkata Howrah ferry service | Bagbazar ghat to Shibpur Boat ride
Do you know before Howrah Bridge was built, the ferry service is the only option between Howrah and Kolkata? This article will share complete details of the Kolkata Howrah ferry service and all the ferry Ghats in Howrah and Kolkata, along with the timings.
The ferry service runs between Shibpur ghat to Bagh Bazar ghat and on special occasions like Durga puja Kolkata, Sir Ramkrishna's birthday, etc. Belur math ferry service is running from Howrah, Bagbazar, and Belur ghat.
Table of Contents
Serampore to Howrah Kolkata Fairly ferry service
Due to the current situation Government started urgent ferry services in the Hooghly river between Seerampur to Fairlie, Uttarpara to Fairlie, Chandannagar to Fairlie.
Seerampur Jugol Addya dhobi ghat to Howrah Fairlie boat fair is 40 rupees (one side). The boat reaches the destination approx 2 hours.
Read Best Jagadhatri Puja pandal in Chandannagar with route map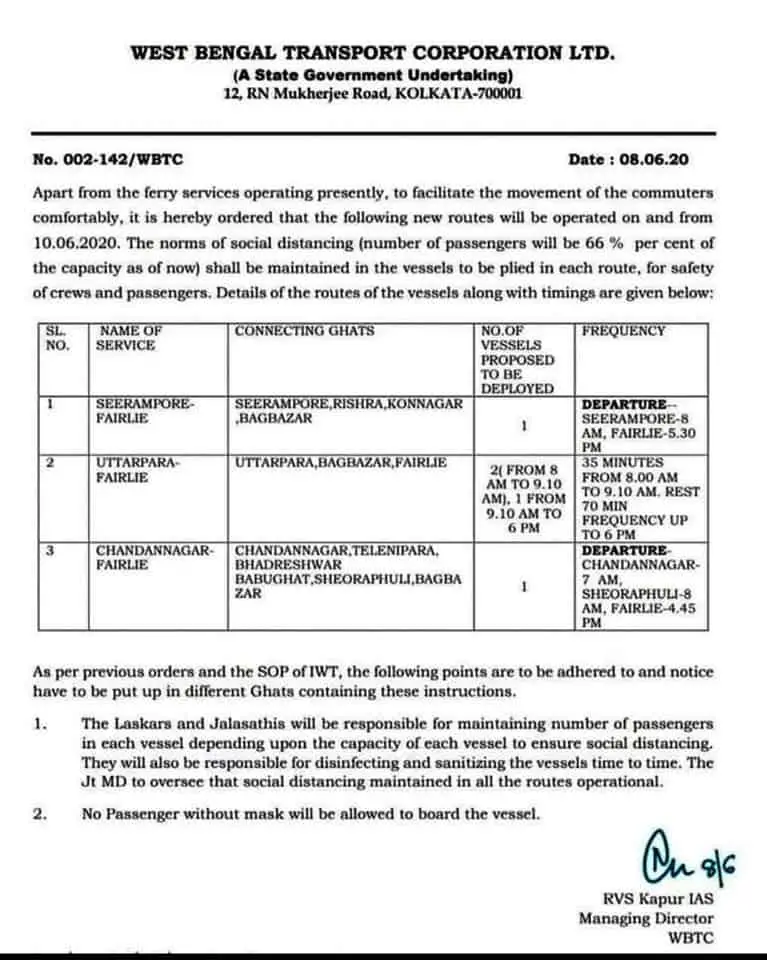 Serampore ferry ghat timings
The nearest ghat is the Dhobi ferry ghat. It's 3 km from Barrackpore Railway Station. The ferry timing is 6:00 am to 10:30 pm. The facility closed in a windy climate. This Hoogly riverboat ride is enjoyable.
Also, New bus services started between Uttarpara to Karunamoyee, Uttarpara to Esplanade, Chandannagar to Karunamoyee via sec V, Sreerampore to Espnalade via Dunlop, Chinsurah to Espnalade via Dunlop.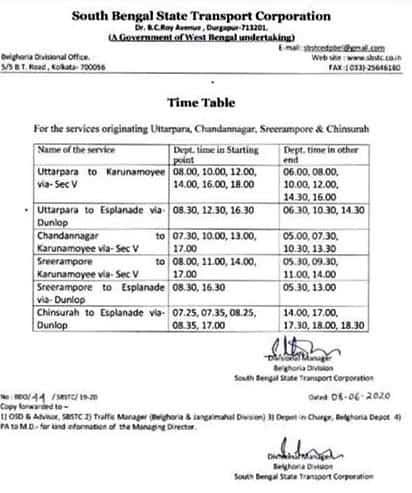 পড়ুন :- হাওড়া কলকাতা ফেরি পরিষেবা | ১৯ টাকায় গঙ্গাবক্ষে প্রমোদ ভ্রমণ
You May like
Kolkata Howrah ferry service all timetable and route till Shibpur
From the Howrah station, you can find three jetties. The number 1 and 2 are the private jetty, and number 3 is the Government jetty. Government steamers travel only between Shipping jetty and Fairlie place ghat. From 8 am onward, the Kolkata Howrah ferry service is started between all the Ghats. Also, all the service is dedicated to all the ghats between Howrah to Shibpur.
Good News !! Smart cards and tokens are introduced in the WBTC Govt jetty (smart gate like Kolkata Metro). Forty rupees for the card and 110 rupees is the first recharge amount, total 150 rupees. We can use this card in Tram and govt buses also.
Ferry Boat price in Kolkata Howrah
| | |
| --- | --- |
| Howrah station to  Armenian Ferry Ghat | 6 Rupees |
| Howrah station to Shipping Jetty | 6 Rupees |
| Howrah station to Chandpal Ghat | 6 Rupees |
| Chandpal Ghat to Ramkrishnapur, Shibpur | 6 and 7 Rupees |
| Howrah station to Sovabazar Launch Ghat | 6 Rupees |
| Howrah station to Bagbazar  Ghat | 7 Rupees |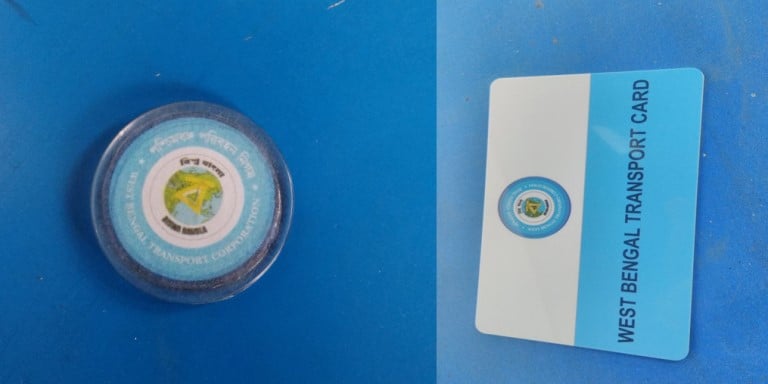 The nearest jetty from Howrah station is the Armenian Ferry Ghat. From here, you can easily reach Boro Bazar Market. The ghat is located near the Mallik Bazar flower market and Brabourne road. The launch fare is 6 rupees, and steamers are running between 15 to 20 minutes intervals.
Now come to the Fairlie Place Ghat. It is located just beside the BBD Bag railway station and the third gate of Millennium Park. There are two ferry gates, one government and the other is private. It will be available in 15/20 minutes intervals, and the steamer fair is 6 rupees. From here, Calcutta's Dalhousie, T-boards, etc., can be easily reached.
The next jetty is Shipping Jetty, and it's located in the middle of Millennium Park's 1st and 2nd number gate. The fare is 6 rupees, and service continued within 15-20 minutes.
From here, you can easily reach the GPO, Dalhousie, or Telephone Bhaban building in Kolkata city.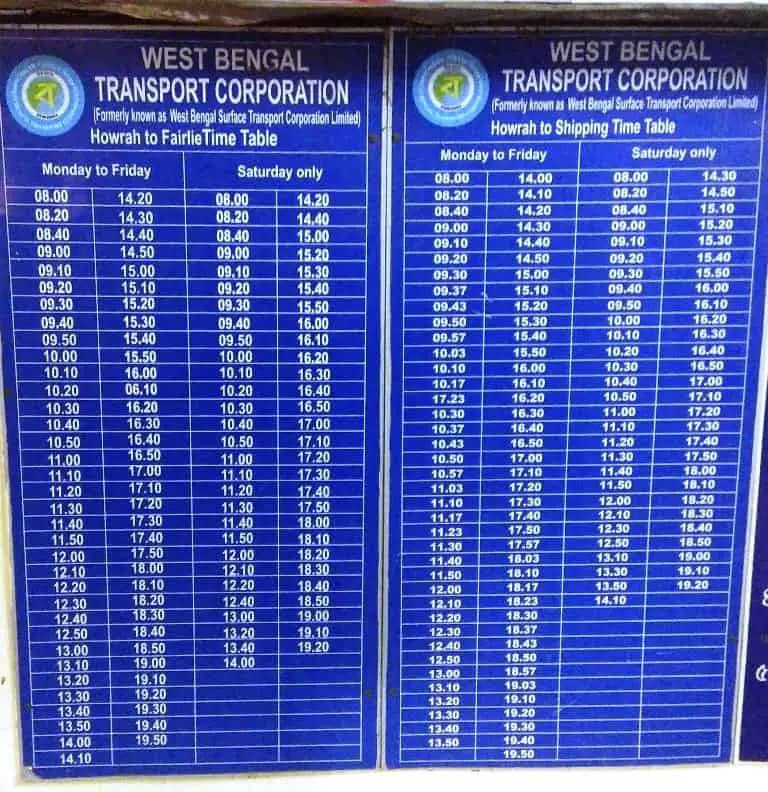 Special Tip
On Saturday and Sunday, Mayur Pankhi Nao runs between 4 pm to 6 pm. The ticket price is 100 rupees per person. You can enjoy a boat ride for an hour. The boat starts the tour from Millennium park Kolkata 1 and 2, no gate, and the jetty name is shipping ferry ghat.
Two – you can rent a full boat from shipping corporation ghat. The rent price is 5500 rupees.
Three — Ganganagar yatra from Kolkata by boat service is just started from millennium park to Kachuberia. It's a same-day journey; you can stay one day in Ganganagar and come back.
The cruise has 90 seats, and it's a 3.5-hour journey. The fair is 1000 rupees and first class 1400 rupees. The ship started at 10 30 am from millennium park and reach the Kachuberia ferry ghat. From Kachuberia to Kolkata, the time is 6 pm.
Four–Vivada Cruise in Kolkata
The next ghat is the Babu Ghat, which is now closed for repair. But Kolkata Howrah Ferry service is available from Chandpal Ghat. It is beside Eden Garden Chakra Railway. The ticket fare is 6 rupees. From Chandpal Ghat the ferry service for Ramkrishnapur and Shibpur is continued.
Chandpal Ghat also has two jetties. One is for the Howrah's steamer and another is for Ramkrishnapur and Shibpur steamer jetty.
From Chandpal Ghat you can reach Esplanade or Dharmatala, Eden Garden etc.
From Chandpal Ghat, ferry service available for Ramkrishnapur, Shibpur, and Howrah, the boat service starts at

7:45 am at half an hour intervals

. Like -7.45 am, 8.15 am, 8.45 am and 9:15 am. In-office time, launch services continue within 15 minutes intervals

like- 9.15 am to 11.45 am. From 11.45 am to 4.15 pm the boat passes within half an hour interval. In the office time, between 4.15  pm to 7.45 pm, the steamer left within 15 minutes. The last boat leaves at 8.15 pm at night. You can visit the botanical garden in Kolkata from both of the ferry ghats.
Special tip
One – If you returning from Ramkrishnapur ghat in the evening, then don't miss the Sandhya Arati at Ramkrishnapur ghat.
Two – you can take great pictures of the Second Hooghly Bridge from Shibpur launch ghat.
Vivada Cruise ride in Kolkata
A cruise on the Ganga River or Hooghly River is the best way to explore Kolkata.
There are approx. Fifty-four gates and all have great history and tradition. Some of them are Bathing Ghat, Ceremonial Ghat, where various events are performed. In addition, the ferry ghats are connected to two banks in different places.
The Vivada Cruise offers a four daily cruise ride – Breakfast, Lunch, Evening, and Dinner, time is three hours. Online ticket booking is available.
From Millennium Park, they float daily. The breakfast cruise and evening cruise's journey path is from Millennium Park to Belur Math. After revisit Belur Math return to Millennium Park.
Lunch and dinner cruise ride go none proper destination, just floating on the chest of the Ganga River.
Read Famous places in Kolkata city
Breakfast in Vivada Cruise
Timings are – 8.30 am to 11.30 am.
Ticket – Rupees. 1000/- + 5% GST = 1050/- per person.
In the early morning, all the ghats became alive with activities like – masseurs, bathers, rituals, etc. Ferries carry people among the two banks, boats carrying goods, and fishers collect fish, etc. The cruise starts a magnificent journey from Millennium Park. When the boat is moving under the Howrah bridge towards Belur Math, it wonders you.
Lunch in Vivada Cruise
Timings are – 12.30 pm to 3.30 pm.
Ticket – Rupees. 1500/- + 5% GST = 1575/- per person.
Taking lunch on the cruise is a rare experience. In Vivada Cruise, they arrange a fantastic lunch on the ship. The boat is floated on the Hoogly River at lunchtime.
Evening Lunch in Vivada Cruise
Timings are – 4.00 pm to 7.00 pm.
Ticket – Rupees. 1000/- + 5% GST = 1050/- per person.
The evening cruise steamer goes to Belur Math. After Sandhya Ayarati boat comes back to Millenium Park.
Dinner in Vivada Cruise
Timings are – 7.30 pm to 10.30 pm.
Ticket – Rupees. 1500/- + 5% GST = 1575/- per person.
In the evening, watch the Howrah lighted bridges from the ship bring magic to you. It may be another memorable experience for you.
Read more Mayapur Iskcon temple room booking
Kutighat ferry service
Due to maintenance of tala bridge, Kutighat to Bagbazar and Fairly ghat ferry service is running. Morning 7:45 am to 7:15 pm.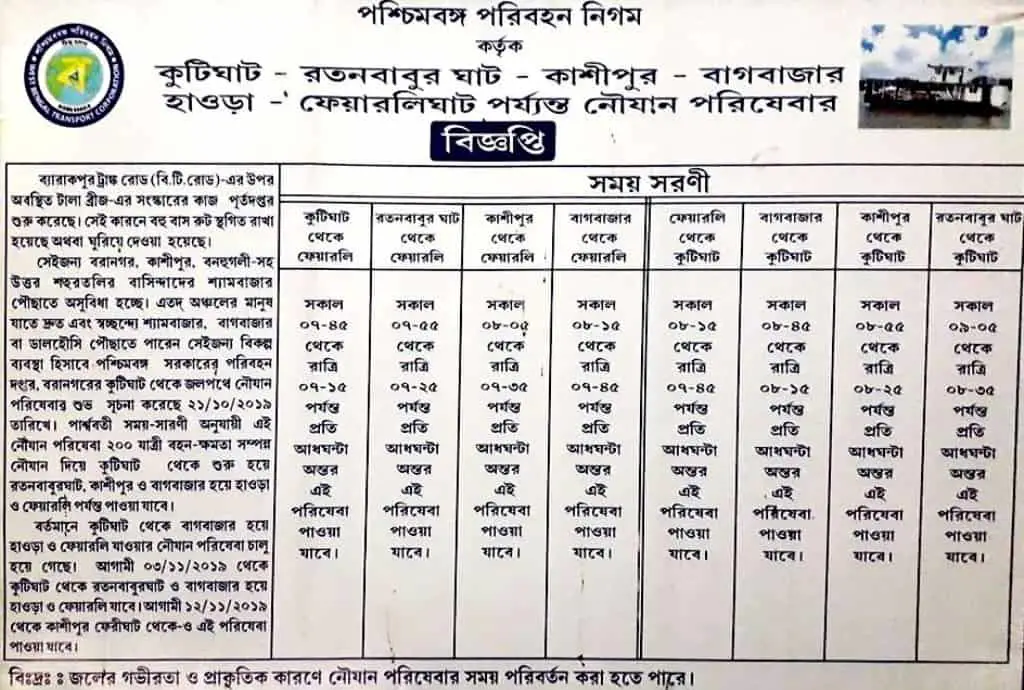 Kolkata Howrah ferry service all timetable and route till Bagbazar Ghat
From Howrah to Bagbazar Ghat, ferries are available within half an hour intervals. The ferry fare is 7 rupees. You can get a steamer for Bagbazar Ghat's private jetty.
For this route, Howrah to Bagbazar Ghat, one steamer will touch all the ghats one by one.
From Howrah launch ghat, the first ferry ghat is Golabari launch Ghat. Here you experience magical moments When your boat passes under the Howrah bridge.
The second ghat is Ahiritola launch Ghat. You can see different types of worship are performing in Ahirittala Ghat.
Also, a dedicated ferry service is available for BandhaGhat from Ahiritola. The boat is running within 15 minutes intervals, and the fair is 6 rupees.
The third ferry ghat is Sovabazar Launch Ghat. From Howrah to Sovabazar steamer fair is 6 rupees.
The last ferry ghat is Bagbazar Launch Ghat in north Kolkata.
Only for Bagbazar Ghat, the ticket price is increased from 6 rupees to 7 rupees. It's just beside the Bagbazar Chakra rail station. Kumartuli is near from Bagbazar and Sovabazar Ghat.
In the morning only one ferry is going to Cossipore ghat from Bagbazar.
Special tip – If you went to the Bagbazar Launch Ghat in the evening, don't miss the Sandhya Aarati. It is easy to reach Kumortuli from Bagbazar Ghat or Sovabazar Launch Ghat.
Special tip – When any special ceremony happens in Belur math, the Babughat to Dakshineswar ferry service is available from Bagbazar Ghat to Belur and from Howrah to Belur Launch Ghat.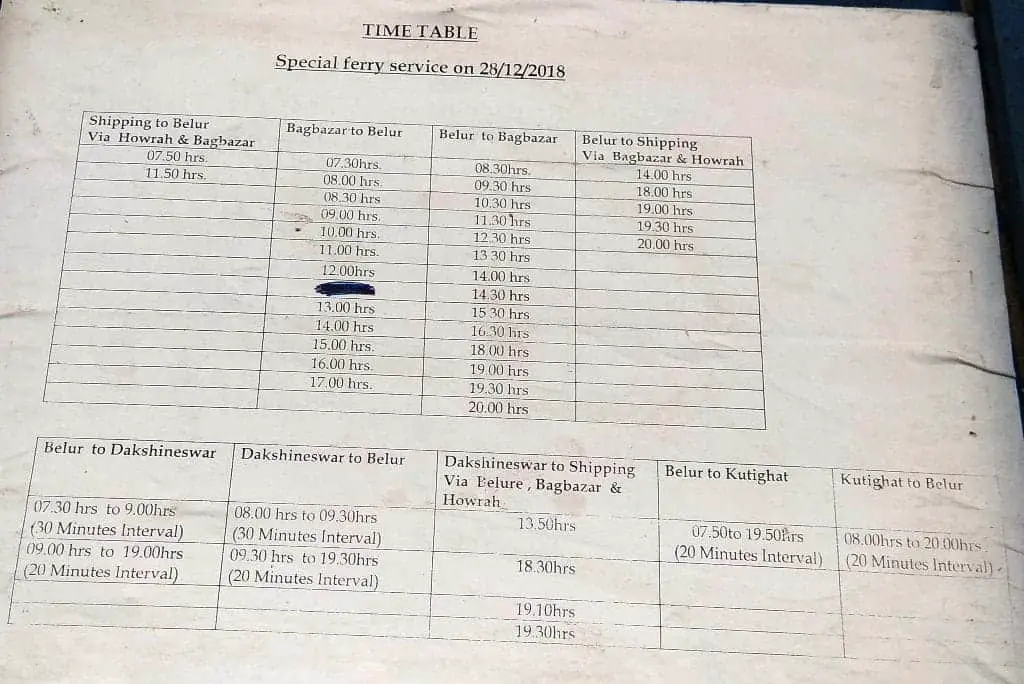 Kolkata ferry service History
The first Kolkata Howrah ferry service on the Hooghly River starts in 1975. This time the ferry service provider is Sunderban Launch Syndicate. But this agency could not continue this service for a long time.
After 1980, another organization was created called Hooghly Nadi Jalapath Paribahan Samabai Samiti Limited (HNJPSSL). It is a government-sponsored cooperative organization. The Kolkata Howrah ferry service is first running between Howrah and Babughat. As a result of this service, travel from Howrah to Kolkata is an effortless way within a short time.
In 1992, the Government of West Bengal started its ferry service with West Bengal Surface Transport Corporation (WBSTC). Currently, these two organizations are mainly providing ferry services. In addition, there are two other ferry services available, called Ghatal Stream Navigation Private Limited (GSNPL) and Indo Swiss Trading Company Private Limited (ISTCPL).
Read Visit [Port Blair] Capital of Andaman and Nicobar Islands
History of ferry ghats
All the ghats are age-old, like Calcutta. So let's know the history and the launch service in Kolkata.
Armenian Ghat – The first launch ghat kolkata
Fairlie Place Ghat
Shipping Jetty
Babu Ghat
Chandpal Ghat
Ramkrishnapur Ferry Ghat
Shibpur Ferry Ghat
Bagbazar Launch Ghat
Outram Ghat
Armenian Ghat – The first launch ghat kolkata
The Armenians are one of the earliest foreign immigrants to have settled in Kolkata. It was built in 1734 by Manvel Hazaar Maliyan, a famous Calcutta trader of Armenian origin. This ghat iron structure design is beautiful.
Few ferries cross Howrah every hour. The flower market sells various rare collections of flowers like Lilies, Dutch roses, Gladioli, Dahlias. An open amphitheatre where wrestlers practice "Kushti" every morning. Having a riverside massage relaxes you and watch fascinating sunrises and sunsets.
Fairlie Place Ghat
In May 1855, East Indian Railway Co. was established. This railway office is at Fairlie Place. At that time, this area much a crew of office passengers and the local public. So a ghat was created to overcome the transport problem. Now, this ghat is known as Fairlie Place Ghat.
Shipping Jetty
Shipping Jetty is located in the middle of Millennium Park's 1 and 2 no gate. This ghat is also an old one.
Babu Ghat
Babughat is one of the famous ghats built during British rule. The ghat is located on the bank of the Hooghly River and beside the Strand Road in Kolkata.
The ghat has a long colonial structure. It's a Doric-Greek-style pavilion with large pillars. Originally the ghat is known as babu Raj Chandra Ghat, and now the ghat is famous as Babughat or Babughat. In Bengali, Babu means the gentleman. Babu Raj Chandra Das was Rani Rashmoni's husband and zamindar of Janbazar. The ghat was built in 1830 in memory of Babu Raj Chandra Das.
Credit should go to Lord William Bentin to build the ghat because he encouraged such expenditure to improve the public facilities. It is the second oldest ghat in Kolkata.
Chandpal Ghat
Many years ago when Chandpur Ghat was the busiest ghat in Kolkata. In 1753, the name was the southernmost ghat of Hooghly in the planning of 'Fort William.' Chandpal Ghat created history when Sir Philip Francis and the Supreme Council colleague of India, under the East India Company, emerged in 1774.
It belonged to a separate class, which was different from other ghats of Kolkata. Lord Cornwallis was the first Governor-General of India who came to this place on September 12, 1786. Over time, Chandpur Ghat became the gateway of British India, not only Calcutta. As a result, Calcutta became India's most important trade center.
Generally, the ghat is named after a god or celebrity name. But Chandpal Ghat is an exception to this practice. Chandpal was neither a rich person nor a leading person. He was an ordinary person from an unknown family. Chandpal was a small shop owner who sold the everyday necessary family items beside the ghat. Over time, the name of a small man became synonymous with ghat.
The ferry service from Chandpal Ghat is continuing well. There are two active jetties. One carries passengers to Howrah and another to Ramkrishnapur and Shibpur.
Ramkrishnapur Ferry Ghat
Ramkrishnapur is also one of the old ghats. There is a direct ferry service available from Chandpal Ghat to Ramkrishnapur.
Shibpur Ferry Ghat
Shibpur ghat is very old. We can easily communicate the main area of Shibpur from this ferry ghat. There is a direct ferry service available from Chandpur Ghat to Shibpur. Also, you can reach Acharya Jagadish Chandra Bose Indian Botanic Garden from Shibpur ferry ghat.
Bagbazar Launch Ghat
Once called 'Rogo Meeter's Ghat,' after Raghu Mitra, the son of Gobind ram Mitra, Baghbazar Ghat is one of the city's oldest. Gobindram Mitra called the "Black Zemindar" due to his Indian birth, and dark colouring was the second Indian deputy collector.
He became renowned for the massive amount of wealth he accumulated and held immense power within the system after he took his position as zamindar in the early time of the East India Company.
The ghat later became known as Bagbazar, with a jetty next to it to carry passengers to the river's opposite bank. It is still in use by people who bathe in it and come to collect the holy water from the Hooghly, which is considered a part of the Ganges.
It is also used for performing religious ceremonies and for loading and unloading local boats. In addition, the ghat has another specific section called Mayer Ghat, a bathing area used by religious and cultural figures Maa Sharada.
Outram Ghat
Outram ghat was built and dedicated to Sir James Outram. He was a foot soldier in the British East India Company army and later rose to the rank of a general because of his bravery and commitment. Located to the south of Babughat, this ghat is known to be one of Kolkata's premier riverside entertainment spots.
A multipurpose ghat can use it for bathing, conducting ceremonies of birth and death, and immersion of idols during the festive season. Outram ghat is highlighted especially during the Durga Puja when mass idols are immersed here. The nearby tourist attractions are Maidan, Race Course, Victoria Memorial, and Millennium Park. But no ferry service is available here.
Is Howrah-Bagbazar Ferry Services available on Sundays?
Yes, the service is available. However, the frequency/ time is higher than regular days.
The starting time of the ferry service from Howrah to Chandpal Ghat on Sunday?
Howrah to Chandpal Ghat, the first boat time is 7:45 am on Sunday. Same as usual, but the boats are fewer.
What is the ferry service timetable from Uttar Para to Howrah shipping recently started due to LPK down on WB?
Uttar Para to Howrah Fairlie place boat time is 9:10 am to 6 pm.
What is the timing of Howrah Kolkata Ferry Services?
The ferry service is running all day starts from 8:am to 7:50 pm. Monday to Saturday.
You May like