Christmas Carnival Celebration in Kolkata [Park Street] 2023
The Christmas carnival celebration in Kolkata Park Street or Bow Barracks on cold December nights with decorations, parties, concerts, events, and more.
Now is the time to say goodbye this year and welcome New Year's 2024 with lots of excitement, happiness, and joy. Like other cities, Kolkata is also preparing to invite the New Year with a grand celebration, contests, shows, parties, etc.
Christmas Carnival Celebration in Kolkata
Christmas Carnival celebration in Park street Kolkata
Girls and boys wear LED devil horns and bunny ears, and almost everyone has a Santa clause cap. You notice many people are carrying the camera and all that stuff to take photos and videos about the madness of the winter holiday.
Park Street Christmas Carnival
Park Street looks like a galaxy from December 25 to New Year's Eve. Thousands of colourful lights make the whole environment cheerful and magical. This time, Park Street is people's must-visitable place in Calcutta. Like Navroz Parsi New Year, this party moment celebrates with friends, family, and loved ones once.
Many bars and clubs are organizing Christmas and New Year's Eve parties this time. You must pay attention to the roadside food stall by renowned restaurants. Try various types of food here. Come to Park Street during Christmas and New Year to taste this.
At Bow Barracks Kolkata Christmas festival
The Bow Barrack in central Calcutta still has a small population of the Anglo-Indian community, and it is a spectacular place during Christmas time. The famous red buildings are decorated with lights, and the residents of the areas arrange food stalls and other accessories. Various musicians from the group perform.
They also arrange a festival which is called the "Bow Festival." This festival is from December 23 to December 31. They organize singing, dancing, musical chairs, etc. Then Santa comes to Bow Barracks to spread his blessing. Finally, they arranged two days football tournament, and at the end of the year, it was complete with a dance at SFX church hall. There are no entry fees at all.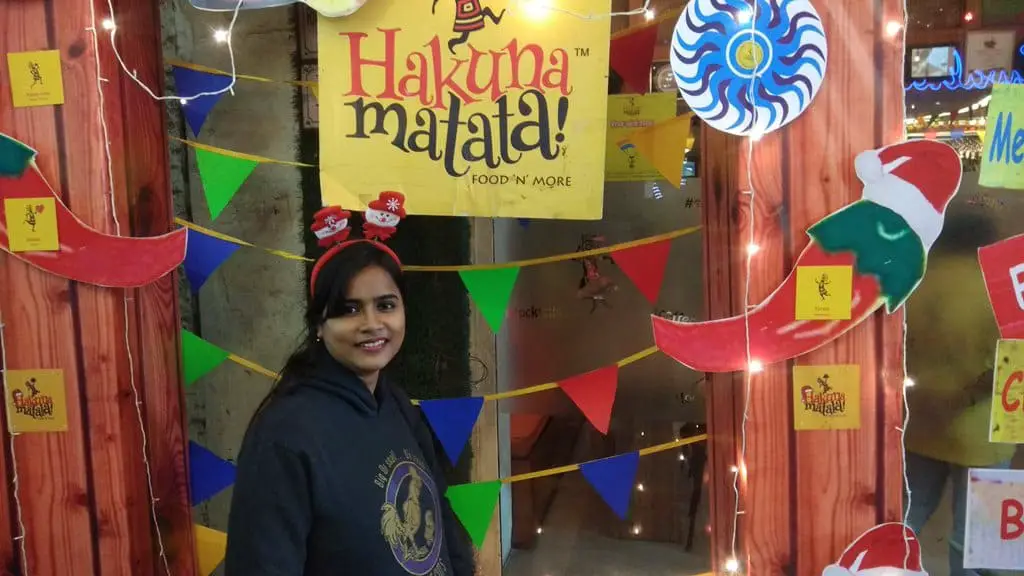 New Market and Esplanade for shopping
New Market is a famous shopping place in Kolkata, West Bengal. For any season, Calcutta's citizens love to go there first for shopping. Esplanade (Dharmatala) and the new market get a new look in this auspicious time of Christmas and the new year. Both places are always crowded. Many shops in New Market offer unique and beautiful Christmas decorations.
Many cake and pastries shop offers to bring some bakeries for you and your family. All the bars and restaurants celebrate this winter festive session in their style. Moreover, many of them arrange some unique programs for the entire night. From my experience, the Roxy cinema hall area's restaurants and bars are pocket-friendly.
Read Celebrates Harvest Festival in Kolkata
St Paul's Cathedral Christmas
St. Paul's Cathedral Church is opposite the famous Victoria Memorial and beside the Birla Planetarium. It is renowned for its Gothic architecture. It is 179 years old, and this cathedral is crowded throughout the year and attracts thousands of people. People love to see the decoration of the church and its exciting rituals.
What to do at Christmas in Kolkata
I have three plans for you which you can do with less cost and effort.
Morning Christmas celebration in Kolkata plan (1st)
(1) St. Paul's Cathedral, then visit -> (2) Birla Planetarium, which is just beside the church; after crossing the road, go to -> (3) Maiden and finish your breakfast and mind it do not throw dirt anywhere, use dustbin. After visit -> (4) Victoria Memorial. Then you come to -> (5) Rabindra Sadan, where you get many options like, you can watch a movie in Nandan cinema hall (if the ticket is available) or you can watch Drama at the Academy of Fine Arts, or you can watch exhibition at Gaganendra Pradarsanisala (if there is happening). Next, visit Nehru Children's Museum (kids love this place), take the Metro or bus, and visit 6. Smaranika tram museum in Esplanade and take a cup of coffee there. 7. Indian Museum and last, do some shopping at 8. Esplanade and New Market. In the meantime, finish your lunch. My first tour finished here.
Morning Christmas celebration in Kolkata plan (2nd)
My second plan is to spend the first half of the day in Alipore zoological garden in Kolkata. It is a very famous destination in this holy session. It is well connected with Rabindra Sadan or Exide connector. Next, visit Nehru Children's Museum and gossip in the Nandan area.
Morning Christmas celebration in Kolkata plan (3rd)
Visit New town Eco-park seven wonders Kolkata. I assure you your whole day will be busy with fun-loving activities.
Evening Christmas celebration in Kolkata plan
In the evening, come to Park Street; they are ready to welcome you. Here you can enjoy roadside foods and go shopping with the local hawker. They sell products like Santa caps, LED hair bands, etc.
Visit Allen Park Kolkata in park street, and they have the musical program for seven days except for the 24th and 25th of December.
From here, you can return to your home, or if you want more, you can visit Bow Barrack, where you get the natural flavour of Kolkata Christmas. They arrange many events and decorate the place very well. 
Last, plan for nightclubs, bars, or restaurants if you want to enjoy the night. This time, many nightclubs and bars arrange different programs for the entire night.
Which is the best church to on Christmas in Kolkata?
St John Church, St. Thomas Church, and St Paul's are famous churches in Kolkata.
Does Bengali celebrate Christmas?
Yes, of course. Like Durga Puja, We Bengalis also celebrate and participate in all Indian occasions. It's as popular as Christmas in New Delhi, Bangalore, Pondicherry, etc.
How is Christmas celebrated in Kolkata?
We celebrate this occasion primarily by shopping, eating cakes, and visiting churches. Popular places are park street, bow barracks, Allen Park, etc.
What are the best places to visit in Kolkata during Christmas, especially on Park Street?
Are malls closed on Christmas Day in Kolkata?
Shopping malls are open on Christmas day and decorated with light, Christmas trees, etc. On this holiday, people love to shop at that time.
Tourist spots to visit on New Year's evening in Kolkata?
Visit Victoria Memorial, M. P. Birla Planetarium, St. Paul's Cathedral, and the Christmas Eve program on Park Street, Allen Park, Esplanade, Bo Barak, etc.
What can we do on Christmas Eve in Kolkata?
I have three best plans for you: a guide map and the evening party; read this article.