Kolkata Tram Museum Smaranika & Victoria | Heritage AC cafe restaurant
Would you like to visit a luxury cafe in Kolkata for 20 rupees? Then you are in the right place. While you are shopping in the Esplanade area, you might feel hungry. I think (Smaranika) Kolkata tram museum is the right option for you.
Kolkata Tram Museum Smaranika & Victoria
Smaranika Tram Museum Kolkata West Bengal
People of Calcutta have found a new place to hang out, a unique combination of tradition and modernity. This type of cafe is trendy abroad, like a tram cafe in Dublin, a cafe in Munich, etc.
Read Jorasanko Thakurbari Museum
The East India Company started the first tramway service in 1873. At that time, it was very popular. Now, the Tram is our heritage. At the CTC bus Depot in Esplanade, An old tram is preserved as a symbol of the Tram's historical and heritage journey.
The museum was built by renovating a 1938 wooden tram; its name is "Smaranika", and it has two coaches. The first part of the coach is the cafeteria, and the second part is the museum.
Smaranika is Kolkata's only Tram Museum where anybody can have a good time with friends. This museum started its journey about four years ago, in October 2014. You can enjoy the museum and cafeteria for one hour at a time.
The Smaranika junction allowed sitting for one hour for just twenty rupees. One coach has been converted into a restaurant where you will get tea, coffee, and packed foods like – cakes, chips, biscuits and other snacks at a reasonable price.
Smaranika Tram Museum address
6, Sido Kanhu Dahar, Maidan, Kolkata, West Bengal 700069. Esplanade Metro gate number 2 is the nearest gate. The place can be reached by bus and Tram. Esplanade Tram Depot is Opposite KC Das Sweets shop.
Smaranika Tram Museum Timings
Throughout the year, the museum opens from 1 pm to 8 pm. The museum is closed on Thursday.
Kolkata Tram Museum Smaranika entry fee
The tram museum Entry fee is 20 rupees for an hour per person. Here, Tickets are on an hourly basis.
What will you find in the Tram Museum?
Smaranika Tram Museum's inside view is very pleasant and soothing. Here, you can see the oldest horse-drawn Tram, steam locomotive tram, and watering Tram, from the 'flat wagon tramcar' to the most modern AC tram, the Nonaapukur tram depot in 1931, will be seen in the special tram model number # 567. This Tram was used in 2013 in 'Detective Bomkesh Bakshi.'
You can find old Tram Controller Top Cover, Point Bar, and Coin Exchanger – And tram parts used at various times. Interested people will see the tram's old monthly and daily tickets, tram workers' uniform-training badge-hat-button, ancient coins kept in treasury etc.
Go with Kolkata Dakshineswar Kali mandir with Skywalk
Displays of newspaper cuttings and booklets of various festivals worldwide celebrating tram journeys and posters narrating trams of Kolkata in literature are on display. This exhibition briefly explains the history of 150 years of Kolkata's very own trams.
Lastly, sip a cup of hot coffee and watch a documentary on Kolkata's trams, then sit in the cafeteria and spend a few more moments there.
Smaranika Tram Restaurant in Kolkata
Kolkata's wooden trams car into stardom because of the Kolkata. Tramways Company has started a new AC tram restaurant in Kolkata to restore heritage values and revive current tramway routes across the city. The AC Tram is located in Esplanade in the heart of the city and is looking for you to enjoy history and food together.
Tram Museum Restaurant Menu
In this museum, you will get a cafeteria, where you get tea& coffee, packed foods like – biscuits, cakes, chips, chocolates, other snacks and cold beverages served inside the cafeteria.
What is the new idea about the tram restaurant in Esplanade?
The tram authority says there is a thought of abandoning a tram in that square. We have a lot of pictures of trams in our collection. The tram scene was repeatedly seen in the movie. It will be presented to the audience in a planned manner.
Why is the Smaranika Tram Museum So famous in Kolkata?
Most of the small museums in this city face a lack of visitors, but Kolkata Tram Museum, West Bengal, where an average of 75 people come daily to the memorial of the only collection of trams.
Smaranika is only an ac cafeteria within 20 rupees.
In 1902, the first electric tramcar service was started in Asia. The Tram was run from the Esplanade tram depot.
At that time (the 1900s), the first Tram left the depot at 4.40 am, and the service continued until the last Tram flowed with the passengers at 11.50 pm.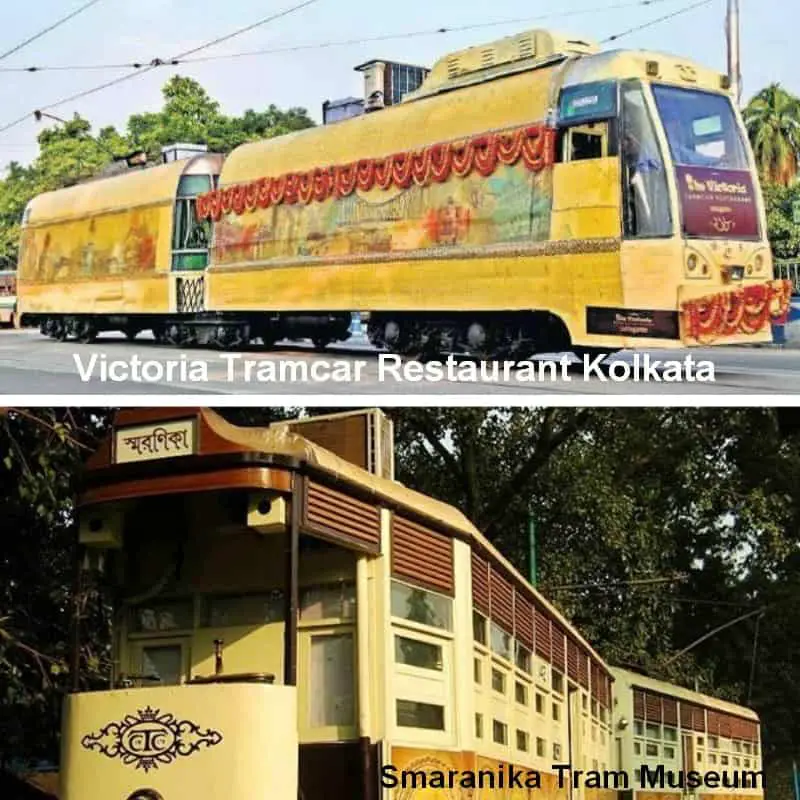 Victoria Tramcar Restaurant Kolkata
The Tram is our heritage and a part of our culture. When the Tram is on track, people say, "heritage on the track." A Calcutta-based event management company started a special tram from Shahid Minar to Khidirpur to see how the city of Joy and its traditional places look at the sunset. This tram service was started on October 13, 2018. It's the second tram restaurant in Kolkata.
The Tram Named is "Victoria on Wheels." The journey started from Shahid Minar and covered Victoria Memorial, Maidan, Eden Gardens, Akashvani, Fort William and Khidirpore Dock.
The Tram is refurbished, designed as a 28-seater restaurant of great food, a fully air-conditioned coach, and bio-toilets. It is decorated with an audiovisual setup to share historical information about Calcutta and its heritage. This step aims to attract tourists seeking a unique dining experience in a moving tramcar.
The tram journey provides you with a package for a non-vegetarian meal and vegetarian food, including a welcome drink, starters, main course, and dessert. The food is served during a 90-minute ride from Shahid Minar to Kidderpore and back.
Victoria Tram Restaurant Kolkata timing
Lunch – 12 p.m. to 2 p.m. and 2 p.m. to 4 p.m.
Dinner – 7 p.m. to 9 p.m. and 9 p.m. to 11 p.m.
Victoria AC Tam restaurant Kolkata Package Price
For non-veg 1040/- per person
For veg 840/- per person
Victoria Tram restaurant booking phone no 9836129270
Read more Pandal of Durga Puja in Kolkata
History of Kolkata's Tramways
On February 24, 1873, The East India Company started the first tramway service, operating a 3.9 km tramway from Sealdah to Armenia Ghat Street. However, the lack of encouragement for the tramway service initiative was no longer. This facility is closed in the same year and inactive for the next seven years. At that time, the Tram was drawn by horses.
In 1882, experimental steam engines were installed to drive tram cars. After two decades, in 1902, the introduction of electricity-powered trams came as a revolution, and since then, tram facilities have been available.
One of the defining moments in the history of the Calcutta Tramways was in 1902, when Asia's first electric Tram ran between Esplanade and Kidderpur in Calcutta. Soon, the tracks were extended, and service from Esplanade to Kalighat was started.
Check Most famous places in Kolkata
In the next decade, many other routes were established and became famous. The Esplanade Sialdahroute, Esplanade Bagbazar route, Howrah station, Bandhaghat route, BBD Bag from Bowbazar Junction and Haribagan junction to the Ahiritola Junction were included.
A Guide to the Incredible Trams of Kolkata
There are seven tram depots: Belgaasa, Rajbazar, Park Circus, Goriat, Tollygunge, Kalighat and Khidirpur. In addition, there are nine terminals and a workshop for the Tram of Calcutta.
Each tram has two coaches and a first-class compartment; the other is a second-class depot. Since 2013, trams have become less classless, providing all chambers with the same fares and benefits.
In recent years, some trams had a new life with air conditioners. Now, The Calcutta Tramway provides a beautiful tram journey where you can travel through the old traditional places, historical buildings and greenery of Maidan.
If you want to visit old Kolkata, try the 36/8 tram route, which starts from Kidarpur through BBD. Bag, Chitpur, and ends of Esplanade and Bagbazar.
What is the tram museum Kolkata timing?
The timing of the Kolkata tram museum is from 1:00 pm to 8:00 pm daily, except Thursday (closed). It is also known as Smaranika.
Where is the Smaranika Tram Museum?
The Smaranika Tram Museum is located at Esplanade (Kolkata). The entry fee is only 10 rupees/per person. It refreshes the old memories of thousands of people travelling in the Tram to reach their destination.
How to visit the Kolkata Tram Museum?
You can visit the Kolkata Tram Museum by bus/ metro/cabs (Ola, Uber). By bus 12/1 (available from SHYAMBAZAR), 222 (available from Tollygunge), etc. The nearest metro station is Esplanade (1-minute walking distance).