Millennium park Kolkata 2022 | Cruise ride, Ticket price, Timings
Do you want to enjoy a pleasant evening after a busy work schedule? Then, here is a place for you to enjoy a wonderful evening with a crouse ride on the Hooghly River. Yes, you guessed it right, it's Millennium Park Kolkata.
A fantastic view of 'Second Hooghly Bridge' and Howrah Bridge' from a well-maintained park will surely amaze you. Spend an evening with your loved one in a well-seeded garden and a cold breeze beside the Ganga river.
Table of Contents
Location and How to reach Millennium Park Kolkata
This park is located on the eastern bank of 'River Hooghly.' Just around the corner of B.B.D. Bagh and in front of Metcalfe hall and floatel restaurant.
There are several ways to reach Millennium Park. You can take a bus or cab from Esplanade metro station or Dharmatala. A few minute's walking distance from Dalhousie square. And the nearest circular railway station is B.B.D. Bagh. After reaching this railway station, you can see the Millennium Park gate.
Address – 12, Strand Road, Bara Bazar, B.B.D. Bagh, Kolkata, West Bengal 700001
How to go Millennium park from Howrah station
Kolkata Howrah ferry service is available from Howrah station to Millennium Park. The name of the ferry ghat is Fairly Place.
Top 4 Things to do in Millennium Park Kolkata
This place is filled with a landscape garden with verities of trees. A long walking path is formed along the bank. Many benches are within this garden. Enjoy an evening walk, especially for older people—benches to sit and chat with friends, family, and loved ones.
For children, this park has kid rides. They can enjoy their rides while their parents can have quality time together. You can find the merry-go-round, toy trains, and disco rides along with many rides. The cost is cheaper than local fairs, only 20 rupees per head per ride.
There are plenty of snack vendors and food stalls, so no problem easing your hunger. You can find small open-air restaurants with river-facing seating arrangements. And with various snacks, plenty of cuisines are available at an affordable price. From soft drinks to local Indian drinks like Lassi, Coconut water is available.
You can go for a boat ride whenever you want. Every Saturday and Sunday, the jetty launches a boat ride called 'Mayurpankhi (nao) cruise.' It will cost you only 100 rupees per hour. Kolkata cruise ride from Millennium Park is also available via Vivada cruise Millennium Park.
Apart from these, a lot to do in Millennium Park Kolkata. On a specific occasion, this place is a hidden gem for many people. Like on St. Valentine's Day, couples visit to enjoy their togetherness. 
The Government of West Bengal celebrates the "Ilish festival" in monsoons, where you can enjoy the prolific taste of 'Ilish' while cruising on the river.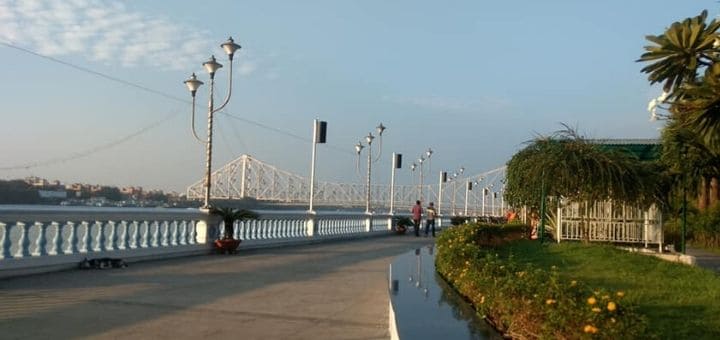 Millennium park Kolkata ticket price and timing
Millennium park ticket price is 10 rupees per person. This park usually opens at around 10 am and closes around 8 pm.
In the summer evening, this place is a relief. Sweet 'Ganges' breeze is always there to make you feel comfortable. This place is developed by CMDA/KMDA (Kolkata metropolitan development authority) and is a private park open to the public.
Is Millennium park open today?
Millennium park opens all day.
Things to visit near the Millennium park
The location of this place is impressive. There are several exciting places to visit nearby from Millennium Park Kolkata. Like 'Babu Ghat' 'Princep Ghat' Mallick ghat flower market, and many government buildings like G.P.O., Writers Building is nearby. Also, the famous Dalhousie Square is just around the corner.
Few exciting places are there. Postal Museum is just a walking distance from the park. And Howrah Railway Museum is too close, which is nearby Howrah station. Never forget the newly opened R.B.I. Coin Museum is also nearby.
Millennium park Cruise ride timetable
Kolkata Heritage River Cruise starts at Millennium Park Ghat. The launch floats in the Ganges for 1.30 hours and returns to Millennium Park. Tickets are Rs 169 per person. It's a two-story boat; there is no online system. Seating arrangements on both floors, you can sit anywhere. The ticket counter at the Millennium park entrance opens at 5:30 pm.
River Cruise Cafe is available for light snacks and music only. Various cutlets, patties, singara, cakes, coffee, and tea are available (paid).
Timings and Schedule
Monday to Friday at 6:00 pm.
Saturdays, Sundays, and holidays at 12 noon, 5:00 pm, and 6:45 pm.
Route: Howrah bridge – Vidyasagar Setu – Eastern Railways Headquarters – Eden Gardens, etc.
Floating Library in Kolkata
The Young Readers Boat Library launch is running from Millennium Park. Timing is 11AM, 1:30PM,and 3:30PM. Fare is 100 rupees and 50 rupees for students below 18 years.
Pollution of Ganga and Future of Kolkata and these parks
Hooghly River is a Branch of 'River Ganga.' And it's been a problem for a long time that 'River Ganga' is getting polluted every day. As a branch, the Hooghly river is also getting affected.
Being just beside 'Hooghly River,' this beautiful artificial park will also is at risk. Because all the toxic waste and harmful things the flow is bringing all the way can be dangerous. It seems this place will not stay very healthy soon.
In a while, an activist named G. D. Agrawal died in Rishikesh after 111 days of fasting. His longtime crusade for the Cleansing of Ganga ended after his heroic death. He understood the future situation of river pollution, and we mustn't let his sacrifice in vain. On behalf of everyone, we request our Government look after it as soon as possible.
Read Most famous places in Kolkata
Millennium park Kolkata to Gangasagar ferry
Ganganagar yatra from Kolkata by boat service starts from millennium park to Kachuberia by Vivada crouse and is an initiative of the West Bengal government. It's a same-day journey, but if you wish, you can stay one day in Ganganagar Dham and come back the next day.
The cruise has 90 seats, and it's approx a 3.5-hour journey. The fair is 1000 rupees in general and first class 1400 rupees. The ship started at 10:30 am from millennium park and reached the Kachuberia ferry ghat. They return from Kachuberia ghat to Kolkata millennium park around 6:00 pm.
Vivada Cruise Ride from Millenium park
Test a luxury cruise ride on the Hooghly River in Kolkata. Vivada Cruise offers a four-day cruise ride with Breakfast, Lunch, Evening, and Dinner. Total ride timings around are three hours. Online ticket booking is available.
The journey starts from Millennium Park. The morning breakfast cruise and evening cruise's journey path is from Millennium Park to Belur Math.
A lunch and dinner cruise ride is just floating on the chest of the Ganga River. You can enjoy the lighting of the Howrah bridge with your beloved one.
Conclusion
As I have said earlier, this place is delightful. You can always use this place for an evening gateway. Elders can rejuvenate their health by roaming around in this beautifully seeded landscape garden. Kids enjoy this as an amusement park because of all those fantastic rides. Couples can spend their time here. And most of the refreshing boat ride is waiting for you.
How do I get to Millennium Park Kolkata?
The place is connected with all the ferry ghats, including Howrah. Buses are available from Esplanade.
When did Millennium Park open?
3 pm to 8 pm every day is the timing for every day.
Is Millenium Park free?
Ten rupees is the ticket for two parks. And for the 3 no park another 5 rupees charge.
What is the name of Ferry Ghat near Millennium Park in Kolkata?
The nearest ferry ghat is the shipping corporation ferry ghat; another name is Millennium park ferry ghat.
What is the best way to go to Millennium Park from Sealdah station?
From Sealdah station you can easily reach Millennium Park by car or local transport. Take any bus (12c/2) for Dalhouse or Howrah. It is about 4 km from BB Ganguly Street or Mahatma Gandhi Rd.
You May Like
We Need 5 Second More From You To Share this On Your nearby Circle.