Rail Museum Howrah 2023 | Timings, Entry Fee, How to Reach
Is your train late or does reach early in Howrah Station? Instead of spoiling time on the platform, walk for 5 minutes and go offbeat West Bengal places in Kolkata and Howrah. Yes, I am talking about the Howrah rail museum, which is close to Howrah station.
Howrah Rail Museum
Rail Museum Howrah
It's the first Eastern India railway museum and India's second railway museum after The National Rail Museum (NRM) in New Delhi Chanakyapuri. The Rail Museum Howrah preserved an old and rare steam engine, the first electric locomotive built in India, various railway-related handmade replicas, models, the evolution of signals, electrification, track, etc.
You may like Alipore zoological garden Kolkata
Inside the museum, a miniature of Howrah railway station is built, which is seems good and a perfect place for taking Selfie. Come here, buy the toy train's ticket and get up into the toy train. It's a 360-degree tour inside the museum with a well-maintained garden premise. You can do a small picnic with your Bestie and kids in the green grass too.
Why do you visit the railway museum in Howrah West Bengal?
Rail Museum Howrah is the best educational museum in Indian rail history. On the right side of the entrance gate, the museum preserved tracks of various vintage trains and engines, and locomotive express models, including the famous Kobiguru Express. Here you can find the full collection of vintage trains and machines, which are belongs before independence.
An area called 'The Hall of Fame' where open tracks are displayed. It is shaped like a railway car shade with two engines and three luxury saloons.
Many statues you can see, are made of discarded rail spare parts. Here the displayed models, handmade replicas of trains and tracks, rare photographs, and unique obsolete train equipment are precious and rare in the current time.
Read International Kolkata book fair | Boi Mela venue stalls location
What is the special attraction of the Regional Rail Museum in Howrah?
1. Hall of Heritage
The Rail Museum has a unique collection of rare photographs and rich history of the East Indian Railway and Howrah Station. This hall is housed in a building that is a prototype of the Howrah Station.
The two huts inside the building capture the history of the EIR and Howrah Station through photographs. The walls take you on a journey on the various theme of Eastern Railway heritage.
There are working models and other rare oil lamps, token instruments, telephones, and crests used during earlier times. Two glass almirahs contain various occasions of Eastern Railway.
2. Black Beauty Engine (EAST INDIAN RAILWAY)
The bullet-nosed WP Locomotives were the mainstay of Broad Gauge Passenger Trains operations for a very long time and finally retired in 1995. This show is one of the 16 prototypes received from the USA.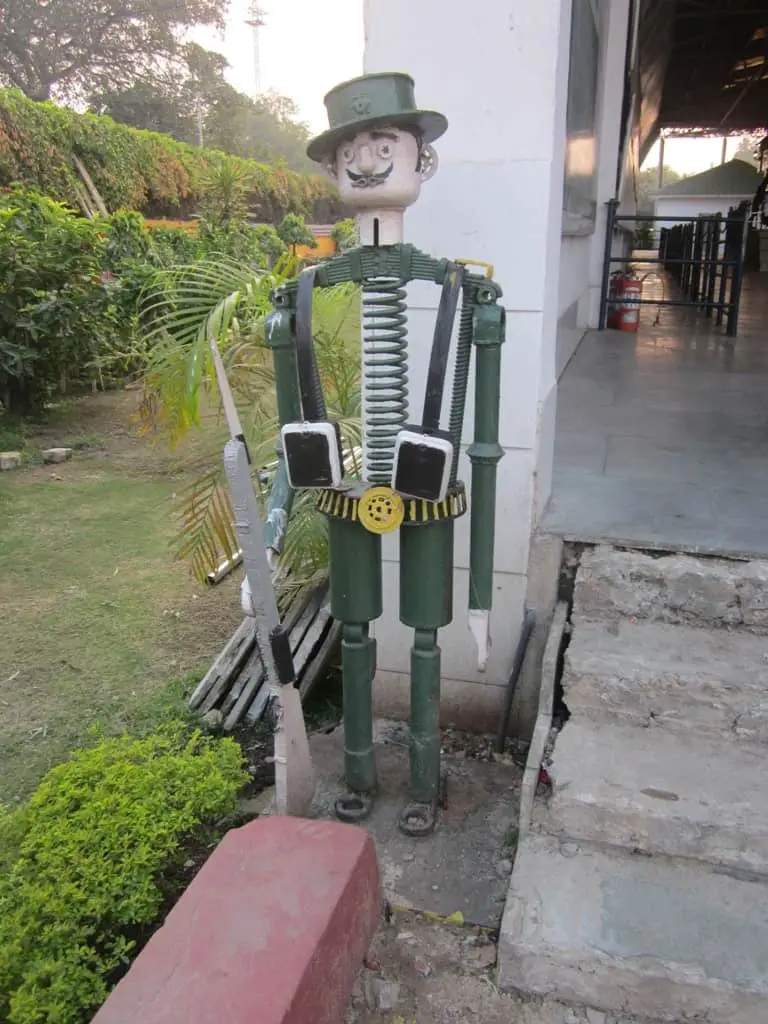 3. Model of WDM-2 class locomotive (engine)
4. East Indian Railway BESA, O & RR standard design locomotive of 4-6-O wheel arrangement HP class.
5. Silver Arrow (Passenger Trains)
6. NG FIRST CLASS COACH NG 75 FC DLX – Built for Darjeeling Himalayan Railways, it worked on a 2'gauge picturesque Darjeeling – Siliguri section.
7. 19th century Double Decker Coach, which ran over East Indian Railways in the 19th century. This four-wheeler coach was subsequently discontinued in service towards the end of the 19th century.
8. Crests – Crests signify the pride and motto of various railways beautifully painted on wooden plaques. They depict organizational respect of immense heritage value.
9. Vidyut (information booth) – Train travel has been so comfortable all through these years because of the electrical items used to be it gadgets or equipment. Lamps to give light, fans to give breeze, calling bells to call attendants and many such electrical things used in locomotives and coaches all aiming at a comfortable journey can be seen in this kiosk.
These items have evolved and improved over the years making train travel enjoyable for all. As a result, all the items displayed here are of immense heritage value.
10. Smritiyan (information booth) – Sow rare stamps of Railways and special Covers of various occasions of Railway history. These stamps are about steam, diesel and electric locomotives. The collection is very rare. Vintage documents and pamphlets stand witness to the rich and deep history of the railways in Eastern India.
11. Virasat (information booth) – This information booth has several railway uniforms which Drivers use, guards, TTE and even coolies. As they wear different uniforms to differentiate their job, they become an icon in the eyes of railway passengers.
12. Doorsanchar (information booth) – This information booth shows the railway's communication service. It shows the miscellaneous future of the Indian railway signalling system and how the system improves. Here you can see a replica of the signalling system and signal leavers, including Neale's Ball Token and machine.
13. The first ac electric locomotive, which belongs to 1960, different renowned trains including Howrah to Delhi Kalka Mail, Deluxe Express (now renamed as Poorva Express), Black Diamond Express, Coalfield Express etc. have been preserved in the rail museum Howrah.
14. Rail museum Howrah preserves a railway engine that belongs to East Pakistan Railway. During the Indo-Pak war of 1971, this Pakistani engine entered Indian territory, and the Indian army captured it.
Read more Kolkata tram museum Smaranika & Victoria | Heritage ac cafe restaurant
Rail museum entry fee
The entry ticket is 10 rupees per person, and children below three years are free.
Railway Museum Howrah West Bengal Toy Train ticket fees and timing
The toy train ticket fee is 10 rupees per person.
The timing of the eastern railway museum Howrah is morning 10.30 am to 5.30 pm.
Eastern railway museum Howrah is closed on Monday.
Also read 
How to reach the Rail Museum Howrah
The location is 5 minute's walk from Howrah Station. Howrah Rail Museum in Kolkata has a parking facility around 100 meters away from the museum and opposite the South Eastern Railway Complex.
Howrah rail museum's contact number is (033) 2641 3709
How to reach Howrah Kolkata Rail Museum?
You can get buses, taxis and other vehicles from anywhere in Kolkata to reach Howrah station. Secondly, you can avail Kolkata Howrah Ferry Service. There are many ferry ghats on Strand Road that connects the Howrah ferry ghat.
Popular ferry ghats are – Millennium Park, Fairley Place, Armenian Ghat, etc. You can also come from Babughart, Bagbazar Ghat, Shobhabazar Ghat etc.
Is the camera allowed in the rail museum Howrah?
Yes. All over the place, videography and photography are allowed.
How do I get to the National Rail Museum by Metro?
The national rail Museum is located in New Delhi. The nearest metro station is Sir M Vishveshwaraish Moti Bagh (21-minute walking distance).
How many railway museums are there in India?
6 Railway museums are situated in India. Famous railway museums are:
National Rail Museum, Delhi. 2. Joshi's Museum of Miniature Railway, Pune. 3. Howrah Railway Museum, Kolkata. 4. Chennai Rail Museum 5. Mysuru Railway Museum 6. Metro Museum, Delhi.